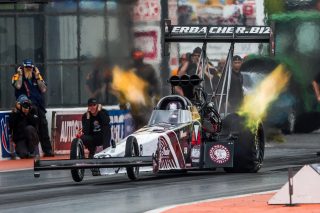 Top Fuel drag racing champion Urs Erbacher and his daughter Jndia will be firing up their Indian-sponsored drag racers at this weekend's NitrOlympix at Hockenheimring in Germany.
The NitrOlympX is a cult event that has been running for almost 30 years and each year the drag racing becomes faster, more dangerous, louder and crazier.
The unique mixture of racing, speed and a good show continues to lure fans to watch the quarter mile action.
It's a mind-blowing spectacle when the dragsters move up to the 'Christmas Tree' starting lights. Adrenalin shoots into the bloodstream of the drivers, methanol shoots into the engines, and the sound of the engines shoots far beyond the Motodrom.
Urs Erbacher, who is also a motorcycle customiser and owns an Indian dealership near Basel in Switzerland, has been racing his Top Fuel dragster throughout the summer season, but NitrOlympX is the big one.
Not only that, his 20-year-old daughter Jndia has also been racing in the championship, creating some friendly competition between father and daughter in their Indian logo-emblazoned Top Fuel dragsters.
"It's a duel between the drivers to have the best reaction to the lights going green," says Urs. "The dragsters get faster and faster, we can accelerate from 0 to 100 km/hr in less than a second these days. The Top Fuel class always lives up to its name as the flagship of drag racing, with speeds of up to 500 km/hr on the quarter mile of the Hockenheimring."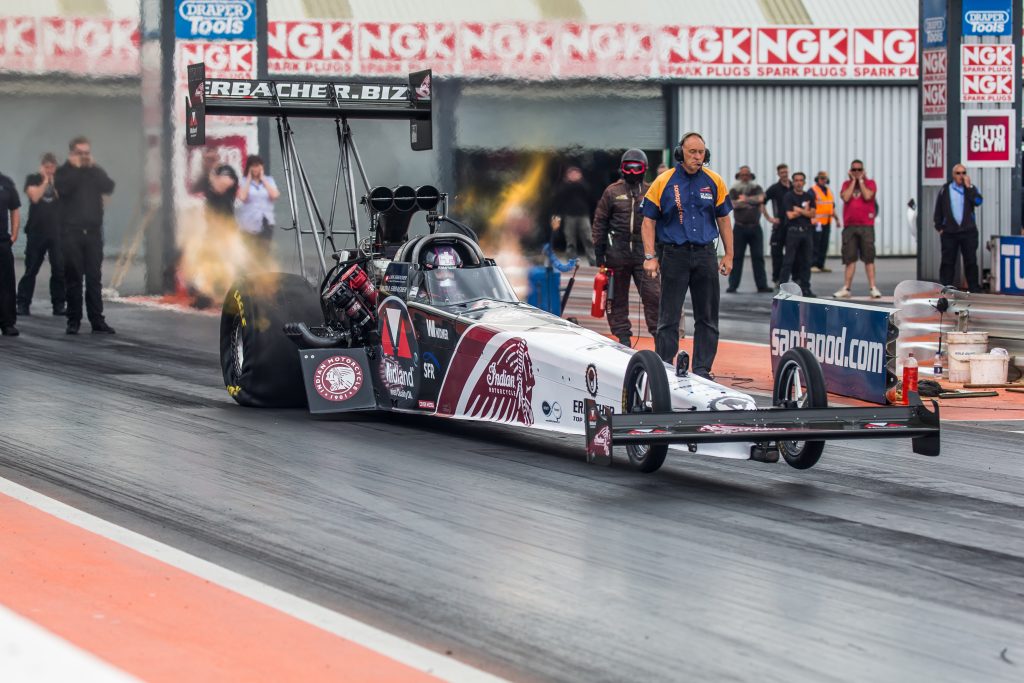 Jndia Erbacher earned her Top Fuel driving license in England in June and she will race for Indian at Hockenheim and the weekend after in Sweden.
Jndia has also passed her motorcycle licence and is now riding an Indian Scout Sixty.
Their 11,000-horsepower dragsters suck in more than 20 gallons of nitromethane fuel over the course of a run.
Did you also know that the 150-decibel, open exhaust headers are angled upwards, and they push enough exhaust gas out to give the car an extra 1,100 pounds of downforce!
Within 0.8 seconds of launch, they're doing more than 100 mph and they run a quarter mile in 4.5 seconds, hitting up to 332 mph at the finish line.
Indian Motorcycle is no stranger to racing and chasing high speed, which is why the brand is proud to support Urs and Jndia Erbacher at the controls of these dragsters.
Follow the action through Urs Erbacher Facebook page https://www.facebook.com/UrsErbacher/
 # # #
ABOUT INDIAN MOTORCYCLE
Indian Motorcycle Company, a wholly owned subsidiary of Polaris Industries Inc. (NYSE: PII), is America's First Motorcycle Company. Founded in 1901, Indian Motorcycle has won the hearts of motorcyclists around the world and earned distinction as one of America's most legendary and iconic brands through unrivalled racing dominance, engineering prowess and countless innovations and industry firsts. Today that heritage and passion is reignited under new brand stewardship. To learn more, please visit www.indianmotorcycle.eu
ABOUT URS ERBACHER
At the beginning of the 1980s, Urs Erbacher began competing in car racing and then switched to drag racing after being infected by the speed and the noise. After winning three FIA ​​European Championship titles in the years 2003 to 2005 in Top Methanol Funny Car class, Urs Erbacher switched to the Top Fuel class. With his team, the multiple record holder won the FIA ​​European Championship title in the Top Fuel class in 2007. He also won the season in 2010 and 2011. In addition to his involvement in motorsports, he is owner of Erbacher Custom Bikes.
ABOUT THE EUROPEAN DRAG RACING CHAMPIONSHIP
The European Championship in Drag Racing has been run under the FIA flag since 1996. It is made up of six events held in four countries; UK – Santa Pod Raceway (2), Sweden, Tierp Arena (2), Finland, Alastaro Circuit and Germany, HockenheimRing. Four competition classes run in the championship: Top Fuel Dragster, Top Methanol Dragster and Top Methanol Funny Car, Pro Modified and Pro Stock Car. Drivers from more than 10 countries compete and the championship season traditionally starts with the Main Event at Santa Pod in May and end with the European Finals at the same track in early September. Speedgroup administer the FIA European Drag Racing Championship www.speedgroup.eu. News from the championship events can be found at http://www.dragracingeurope.eu/ and the FIA European Drag Racing Championship on Facebook. Eurodragster.com a prime news provider in European Drag Racing also reports on the events.
MEDIA CONTACT
Dan Tye
PR Manager EMEA
Follow us on Twitter @IndianEMEA_PR
+44 (0) 1525 270100
press@indianmotorcycle.media