Files
Indian Riders Fest 2020 bude místem mezinárodního výročního sraz členů Indian Motorcycle Riders Group (IMRG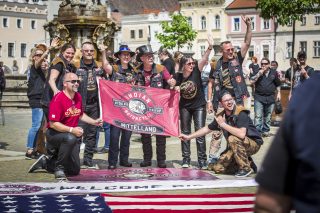 Official support from Indian Motorcycle to make Indian Riders Fest
bigger and bolder after record-breaking first gathering
CZECH REPUBLIC (NOVEMBER 11, 2019) – Indian Motorcycle has joined forces with the First Czech Riders Group, organisers of the 2019 Indian Riders Fest in cooperation with the Indian Motorcycle dealer in Písek, to make the second staging of the event even bigger and bolder for 2020 by combining the festival with the annual international meet of the Indian Motorcycle Riders Group (IMRG).
Several hundred Indian Motorcycle owners rode their motorbikes from right across Europe, and even from other continents, to come together for the first Indian Riders Fest in June this year. Held over two days in Budweis, Czech Republic, this record-breaking European gathering of Indian Motorcycle owners was so successful that First Czech have confirmed that the event will visit Budweis again from June 12 to 14, 2020.
Grant Bester, International Vice President for Indian Motorcycle, said, "We're pleased to be giving the event a boost by officially supporting the 2020 Indian Riders Fest and by making it the destination for our rapidly growing international IMRG annual meet. Since the re-introduction of Indian Motorcycle to Europe, we have seen rider groups and events grow dramatically throughout the region and it's really great to see the passion for our motorcycles and the history of the marque demonstrated so clearly."
Indian Motorcycle importer for the Czech Republic, Meteor Motor Tech CR, will also be supporting the festival.
"We are really looking forward to working with everyone involved to make the 2020 Indian Riders Fest another record-breaking event by welcoming Indian riders from near and far to celebrate their shared love of riding," said Jaromír Kouřil, Country Manager for the company.
The Indian Motorcycle Riders Group represents the official community of almost 10,000 Indian Motorcycle owners from all over Europe, the Middle East and Africa. Nearly a hundred regional Riders Groups have been set up in various countries under the IMRG umbrella, including the outstanding Indian First Czech Rider Group.
With the entire organising team already working hard at putting together a fantastic program, with the aim of attracting more participants than ever, Indian Motorcycle riders should save the dates in their calendar, join their local riders group and come and enjoy the Indian Riders Fest 2020.
To find out more about the Indian Riders fest and to purchase tickets, please visit the official event website: www.indianridersfest.eu
To join the Indian Motorcycle Riders Group, please visit: https://imrgmember.eu/
Please credit photos to Marek Vincik and František Holub
###
ABOUT INDIAN MOTORCYCLE
Indian Motorcycle, a wholly owned subsidiary of Polaris Industries Inc. (NYSE: PII), is America's first motorcycle company. Founded in 1901, Indian Motorcycle has won the hearts of motorcyclists around the world and earned distinction as one of America's most legendary and iconic brands through unrivalled racing dominance, engineering prowess and countless innovations and industry firsts. Today that heritage and passion is reignited under new brand stewardship. To learn more, please visit www.indianmotorcycle-intl.eu/select-country/
MEDIA CONTACT
Ian Austin
EMEA Press Indian Motorcycle
Follow us on Twitter @IndianEMEA_PR
+44 7471 030 606
press@indianmotorcycle.media