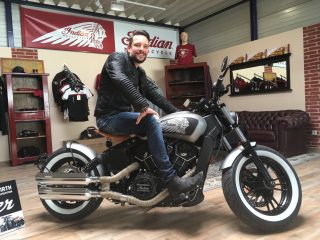 Over the past six months anyone taking a test ride on an Indian Motorcycle in Germany, England, the Netherlands, Belgium, France, Norway and Spain were entered in to a draw to win a special Scout Sixty.
Around 1,600 people took test rides and registered for the draw and today Indian Motorcycle is happy to announce the winner of the draw is 33-year-old Michael Wirth from Germany.
Michael was presented with the bike and keys at the German Rothsee-Choppers dealer in Hilpolstein.
"I am really impressed to see the bike live!" he said. "I can't really believe that I am the lucky guy who won this beautiful Indian Scout Sixty."
The Super Scout Sixty Tank Machine was built by a French designer called Clement Molina who runs a shop called Tank Machine. He built this bike in partnership with Indian Etoile (a Paris based dealer  22 Avenue de la Grande-Armée, 75017 Paris) for the Project Scout competition and was then put forward as the main prize for Indian's test ride campaign.
It's a unique, bare-look bike in bobber style. With white-sided balloon tyres, a leather seat, straight handlebars and a twin aluminium Supertrapp exhaust system, this Scout Sixty really stands out.
Michael is certainly very happy to have this Scout Sixty as his new ride for the summer. "I would like to thank Indian for organising the draw and to Rothsee Choppers for looking after me so well," he says. "I also thank my lucky stars for helping me win this magnificent Tank Machine."
Test rides are always available at dealers throughout Europe and in some countries an Indian truck is touring around for the brand's annual Roadshow.
Here's a brief Q&A with the winner Michael Wirth.
Q: Tell us who you are?
A: My name is Michael Wirth and I am 33-years-old.
Q: What is your job and what leisure activities do you enjoy doing?
A: "I and a business partner manage a planning and construction company called Schwan Projekt GmbH. As a pastime, I find it difficult to do anything other than ride my bike, except in the winter, when you'll find me snowboarding or skiing."
Q: What inspired you to become a biker?
A: "I had always wanted a chopper. After a big night out with friends, we challenged each other to pass the motorcycle test and we each had our licences three months later. Our group of friends grew and this draw introduced me to Indian Motorcycle, where I met Jürgen and Uwe from the Franconia Chiefs, a Riders Group affiliated to the IMRG and we spent some good times together."
Q: What do you like most about motorcycling?
A: "Everything, especially when I'm riding with friends. We go to meetings such as 'Bike and Music' in Geiselwind. Every year, I reserve a week in which I travel on my bike and last year I rode along the lakes and mountain passes in Switzerland and Italy."
Q: What do you dream of doing next?
A: "I've never been to Faak, for the bike week and I'd really love to go there on the Tank Machine this year. It would make a fine first trip and I would meet up with other Riders Groups from the IMRG."
# # #
ABOUT INDIAN MOTORCYCLE
Indian Motorcycle, a wholly owned subsidiary of Polaris Industries Inc. (NYSE: PII), is America's first motorcycle company. Founded in 1901, Indian Motorcycle has won the hearts of motorcyclists around the world and earned distinction as one of America's most legendary and iconic brands through unrivalled racing dominance, engineering prowess and countless innovations and industry firsts. Today that heritage and passion is reignited under new brand stewardship. To learn more, please visit www.indianmotorcycle.eu
MEDIA CONTACT
Dan Tye
EMEA PR
Follow us on Twitter @IndianEMEA_PR
+44 7471 030606
press@indianmotorcycle.media