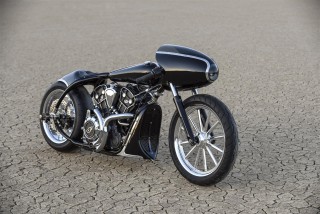 Inspired by pure speed motorcycles from the 1950s and 1960s
Built by hot-rod artisan, Jeb Scolman
2015 Scout engine at its heart
On display at Sturgis Rally
Part of the Custom Scout Series
We are proud to show off the latest from Indian Motorcycle – view video here.
This custom Indian Scout was built by Jeb Scolman – the same hot-rod artisan responsible for the Spirit of Munro that was built to celebrate the launch of the Thunder Stroke 111 engine in 2014.
Jeb was delivered a new 2015 Indian Scout engine and the simple instruction to build what he wanted. Jeb's flawless 100% custom metalwork in the Black Bullet Scout picks up on the designs of pure speed motorcycles from the late 50s and early 60s with a fork mounted bullet fairing and the most minimal frame possible. Bikes with this silhouette took to land speed and drag racing tracks across the country.
At the time, the post-war hot rod crowd was using airplane drop tanks for race cars and the motorcycle racers started to adapt nose cones to help them cut through the wind.
As this build took shape we started calling it the "Black Bullet". The minimal body and stout but seemingly simple frame are wrapped around a 1200cc Indian Scout engine as tightly as possible. This is one small motorcycle.
The all-custom, all-metal, and all hand-made Black Bullet has a custom windscreen that wraps around the front of the bike to fair in the headlight. Tight clip-ons and footrests mounted to the rear axle makes for as streamlined a riders position as possible. The minimal seat, controls and shapes all lens themselves to the single mission of exploring this bike's top speed. It was created to be beautiful and fast. Jeb Scolman even cast a custom intake manifold to turn the throttle body sideways and allow for an even tighter engine packaging.
The Black Bullet Scout will be on display in Sturgis at the company display on Lazelle St between July 31st and August 8th and is destined to eventually see the salt. It was built to race and continue the tradition of an Indian Scout ripping across the Bonneville Salt Flats.
Editorial outlets can download more images here:
By Barry Hathaway: https://www.yousendit.com/download/bXBZK3BEQzdFd2ZOUjhUQw
By Todd Williams: https://www.yousendit.com/download/bXBZK3BFdkdCSm9LSk5Vag
ABOUT INDIAN MOTORCYCLE
Indian Motorcycle, a wholly owned subsidiary of Polaris Industries Inc. (NYSE: PII), is America's first motorcycle company. Founded in 1901, Indian Motorcycle has won the hearts of motorcyclists around the world and earned distinction as one of America's most legendary and iconic brands through unrivaled racing dominance, engineering prowess and countless innovations and industry firsts. Today that heritage and passion is reignited under new brand stewardship. To learn more, please visit www.indianmotorcycle.com.
ABOUT POLARIS
Polaris is a recognised leader in the powersports industry with annual 2014 sales of $4.5 billion. Polaris designs, engineers, manufactures and markets innovative, high quality off-road consumer and military vehicles, including all-terrain vehicles (ATVs) and the Polaris RANGER and RZR side-by-side vehicles, snowmobiles, motorcycles and on-road electric/hybrid powered vehicles. Polaris is among the global sales leaders for both snowmobiles and off-road vehicles and has established a presence in the heavyweight cruiser and touring motorcycle market with the Victory and Indian Motorcycle and Slingshot brands. Additionally, Polaris continues to invest in the global Work and Transportation vehicle industry with Global Electric Motorcars (GEM), Goupil Industrie SA, Aixam Mega S.A.S., and internally developed vehicles. Polaris enhances the riding experience with a complete line of Polaris Engineered Parts, Accessories and Apparel, Klim branded apparel and ORV accessories under the Kolpin, Cycle Country and Pro Armor brands. Polaris Industries Inc. trades on the New York Stock Exchange under the symbol "PII", and the Company is included in the S&P Mid-Cap 400 stock price index. Information about the complete line of Polaris products, apparel and vehicle accessories are available from authorized Polaris dealers or anytime at www.polaris.com.
MEDIA CONTACT
Dan Tye
+44 7471 030606
@IndianEMEA_PR
press@indianmotorcycle.media
www.indianmotorcycle.media