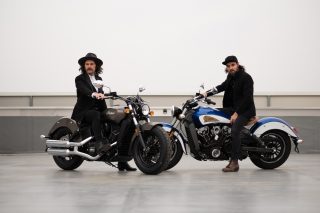 With San Marco and Phonz working on a special Scout Sixty project, we thought it useful to tell you more about the pair, what motivates them and why they decided to work with Indian.
Q: When did you two first meet?
A: "We met on the first day of high school as we both attended Art and Graphics school. That's where we had our first inspiration about what we are doing today."
Q: When did your love for motorcycling begin Phonz?
A: "My dad was a MX rider and he raced in the 70s. When I was born, the only motorbikes we had were the photos of his career. He didn't push me to follow his path, but he made a terrible mistake; he brought me home a mini cross bike when I was five, and that was the first time I rode a bike. I was so small that my feet couldn't touch the ground. There were always two people with me; one to help me start and the other one when I stopped. When I grew up, I had always shown a great passion for vintage motorbikes, maybe because I grew up with my dad's photos and that passion really helped me in the job I'm doing now. I learnt the history of motorbikes and how to interpret them, which is a fundamental part of our job."
Q: And the same question to you San Marco?
A: "Since I was young I've been attracted from all kind of engines. I remember my parents had to put me out on the car drive to make me sleep sometimes. The real love for motorbikes was born from a fall. When I was three my Grandpa gave me an electric Vespa. That was my first bike (even if it was electric), as soon as I saw it I couldn't contain myself. I started riding it but I fell down the stairs at home on it and I destroyed it. Motorbikes for me are passion and emotions, the same I felt that day, so intense that drove me to do my job today."
Q: What year did Anvil Motocliclette begin? Why did you decide to become an official business?
A: "Anvil was officially born in 2012 and we have been working full time on it for the past two years. The first bike we customised was created randomly; we both collected vintage motorbikes but one day we found one that couldn't even be restored. So we decided to build one that represented our taste. So we did it, we posted it on our social media and we had a great approval. Then we've been contacted by one of the most important motor Italian magazines and after that, it's been an ascent. At that time we both had different jobs, Phonz was working in the fashion industry with his own brand, Marco was working as art director for one of the most important communication Italian companies, then he worked on the relaunch of an historical pilot suit brand. In Anvil we put all our experience and sensitivity that we have matured in the past years. Now Anvil is not just a custom brand, we are also a communication studio working in the sectors we most like."
Q: Why the name Anvil?
A: "We both have the same tattoo on our chest and we did this way before the creation of Anvil Motociclette. Following with the story we told before, after the magazines contacted us , we needed a name. So we started thinking about something that could represent us and it was the tattoo we had on our chest, which is a symbol of our friendship. The anvil is an unbreakable item and it is the base on what everything is created. It represents us perfectly: we are genuine, we follow the values that our families taught us, this is our strength and it has always helped us in our lives. As the Anvil, we create new projects that could be motorcycles but could also be in other sectors. Anvil is a world in which we put our passions, fun and curiosity. Since it was born our brand has never stopped growing, we have a slow but constant evolution: this is our secret."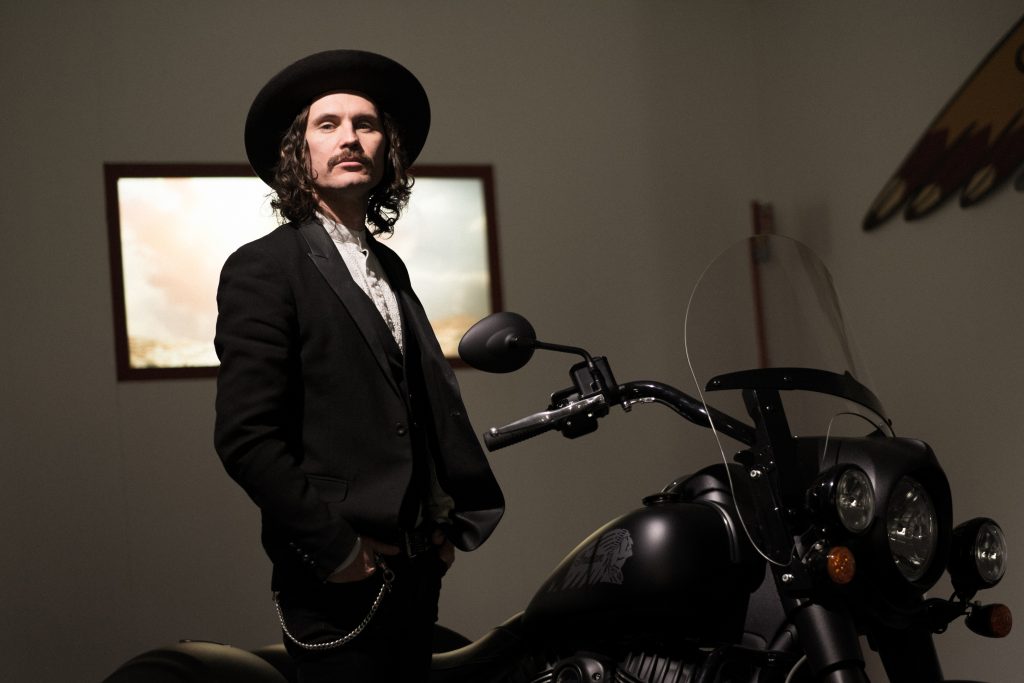 Q: What other hobbies do you both have?

Phonz: "I worked in the fashion industry and this is a passion that I still have with Anvil, for this reason we also work with fashions brands in collection design, like Eastpak, Colmar Originals and Velasca. I really like to research and since I was young I was really interested in vintage style, especially old working boots, camo and leather jackets. I really like to go to vintage markets; everything about the past fascinates me. Maybe I should have been born in 50s… or maybe in my past life I was really born in the 50s."
Marco: "Since I was young I really like to modify things. Even when I played with a toy, I then tried to change it to my taste, I don't know if this could be called hobby but this thing follows me since I have memory. Moreover I really like photography and graphics. One thing my dad transmitted to me is the passion for military jeeps and like Phonz I am attracted by everything that has a story to tell."
Q: Who are your favourite music artists/bands at the moment?
Phonz: "A great passion I have is music. Marco and I have also worked as DJs in Milan, playing Rock, Rock'n'Roll, Country and Folk music. I have many artists that I like: Creedence Clearwater Revival: this is our favourite band since ever, Johnny Cash e June Carter: Baby Ride Easy, Tom Petty: Free Fallin, this song has been a soundtrack for me both in good and bad times, it's a landmark for my life. Dire Straits: Walk Of Life, this song represents our friendship. ACDC: This is the band that gives me more strength in the world. Lynyrd Skynyrd, Willi Nelson, Waylon Jennings, Dolly Parton and many others!"
Marco: "Music is a background of my life, I listen to many different kind of music it depends on the period and on what I have to do. I can go from Country to Mexican music, but if I have to say some bands, these are Lynyrd Skynyrd and Creedence Clearwater Revival."
Q: When was the last time you felt most alive on a bike?
Phonz: "First, I need to say that Marco is the most talented between us, my dad was a pilot but I'm not like him. The last time I felt most alive on a motorbike was last year during W&W El Rollo Flat Track Race. I made my first appearance during that race and I won! In the final race I didn't start well, I was third, then slowly I started to come back and I finished first: when I think about it I still feel thrilled and I would like to go racing now."
Marco: "Motorbikes for me mean emotions and freedom. Emotions when I race and I feel the competition, while the freedom is the trips we do. Sure, I feel more alive on a motorbike when I can take things to the extreme, even when plans screw up. So I dare say the times I felt more alive on a bike is when things screwed up, and I felt more thrilled."
Q: How many custom motorcycles have you built to date? Which are your top three favourites?
A: "About 23 since 2012. We don't have any favourite one, we love them as they are like friends, we feel them alive but exactly then we finish them, the love is gone. We still respect them but exactly as a parent do, we like to give more attention to children that really need our attention and it's the same thing with new projects."
Q: Do you have any special tools or equipment in your workshop that you couldn't live without?
A: "Maybe our minds: that's the only thing we really need, all the others items could be substituted."
Q: What's the best piece of advice you have ever been given?
Phonz: "Unfortunately in our job we haven't had big teachings from more experienced people. In Italy people are often jealous and instead of enriching the custom bike sector, many people prefer to obstruct younger people. We are fighting this bad habit so everything we do, like Wildays Festival, and Over the Top Flat Track Championship is to bring people together. The only advice I had was from my mom, she told me to be positive even when everything is going bad: she is definitely right, even if it's not easy to do it everyday."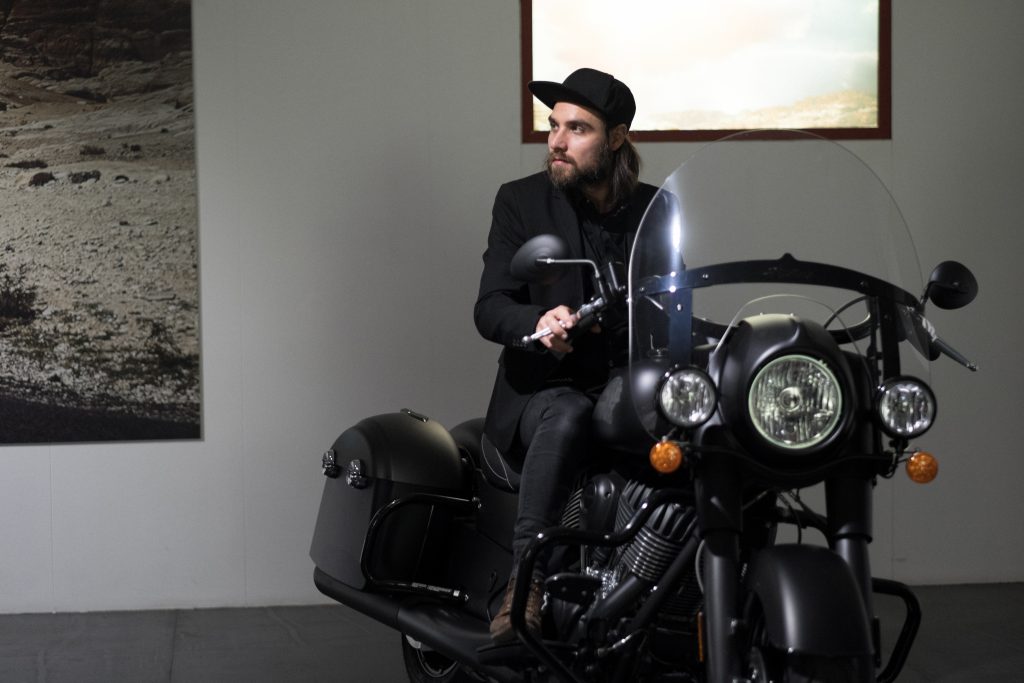 Q: When did you first know about Indian?
A: "We have always known the Indian brand, as we love their motorcycles, it's a milestone brand."
Q: What started off the talks with Indian?
A: "We saw a great opportunity with Indian, it is an historical brand that looks to the past to create a better future. That's exactly what we are trying to do in our projects. We feel on the same page and we are really impressed about the staff: young and passionate people that have a great expertise."
Q: What do you think to the Scout Sixty? Have you both ridden it?
Phonz: "Yes I tried it and it has a great potential to compete with rival bikes. Indian is doing a great job in these last years, the Scout Sixty is a powerful bike but it is also easy to ride: it's fun for an experienced rider, but it is also easy for a beginner. I'm very curious to ride the FTR1200 Custom, I desire it since the first time I saw it."
Marco: "I remember the first time I rode a Scout Sixty and the first thing I noticed was the lightweight: this is very important to compete with rival bikes, modern riders are scared about weight. I think Indian is walking the right path by reinterpreting its history in a modern way."
Q: Many of your bike builds have a black and white theme. Are you ever tempted to add more colour to your bikes?
A: "Nope, never! It is not part of our brand identity, but we never know. Maybe if there is the right motivation, we could try…"
Q: Which biking event are you most looking forward to in the summer?
A: "Is this a trick question? 😉 We organise two events: the first one is WILDAYS and it will be on June 1st, 2nd and 3rd. It is a festival about motors, nature, music and food in the Parma province. It is like a playground for all the bikers and this year we will have many different motor activities. The other event is OVER THE TOP, it is a non-professional flat track championship inspired to 80s Sci-Fi mood. There will be four challenges and this is our first stage, then we would like to do some twinnings with other European championships. So, we wait June 1st, 2nd and 3rd for WILDAYS and July 8th, September 2nd and October 7th for OVER THE TOP."
Q: You're staying quiet about exactly what you are building. Can you give us any idea of what you are building/changing on the Scout Sixty?
A: "We are on a strict embargo, if we reveal something now, we will ruin the surprise to all our fans. We just can say that we will do what we have always done: we will travel through history, to reinterpret the Indian Scout Sixty in our way."
# # #
ABOUT INDIAN MOTORCYCLE
Indian Motorcycle is America's first motorcycle company. Founded in 1901, Indian Motorcycle has won the hearts of motorcyclists around the world and earned distinction as one of America's most legendary and iconic brands through unrivalled racing dominance, engineering prowess and countless innovations and industry firsts. Today that heritage and passion is reignited under new brand stewardship. To learn more, please visit www.indianmotorcycle.eu.
ABOUT ANVIL MOTOCICLETTE
Anvil Motociclette is not just a garage, it is a creative studio and always aims to develop full projects following its own quality and beauty standards. Anvil always starts from history to create a story that describes their projects.
MEDIA CONTACT
Dan Tye
PR Manager (EMEA)
Follow us on Twitter @IndianEMEA_PR
+44 (0) 1525 270100
press@indianmotorcycle.media