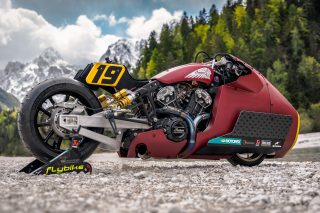 Highly modified Scout Bobber to make its comeback on the deepest lake on Earth
BELGIUM (February 18, 2020) – Indian Motorcycle and Workhorse Speed Shop have announced the comeback of Appaloosa at the 2020 Baikal Mile, an extreme test of rider and machine on the ice surface of Lake Baikal, Siberia. Appaloosa v2.0 will make its 2020 racing debut in Russia, revealing a radical new look, from February 25 to March 1.
The Baikal Mile first took place in March last year and is now set to become an annual fixture on the motorsport calendar. Run on the ice off the eastern shore of Lake Baikal, the festival is one of the most unique international motorsport and racing culture events due to the extreme conditions of Siberia. With specially prepared 1/8-mile and 1-mile ice tracks, teams will be challenging themselves to set speed records on a variety of specially prepared vehicles alongside stunt riding, drifting, drag racing, flat track and freestyle motocross.
Brice Hennebert, creator of Appaloosa, is looking forward to the challenge, "The feeling is crazy, it's a bit like going racing on the moon. There's absolutely no reference point, we go to a desert of ice in Siberia where it can be -40°C at night -20°C during the day. I'm super excited and a bit lost at the same time as we have no idea what to expect. With just a few days before the flight, I'm focussing on the practical aspects, but I know this journey will be one of the most insane experiences of my life."
The Scout Bobber, originally transformed by Brice Hennebert for the 2019 Sultans of Sprint series, has been modified for the challenges of racing on ice and the extreme Siberian conditions with continued support from top-level partners Akrapovič, Beringer Brakes, Dunlop Europe, Evok3 Performance, Motorex, Öhlins and tuning advice from Flybike.
To grab the ice and propel Appaloosa down the strip, the SportSmart Mk3 tyres supplied by Dunlop Europe, have been hand-fitted with hundreds of studs, a task which took Brice's mechanic, Dorsan, four days of work. To control the cooling of the engine from the extreme temperatures, the "mouth" of the fairing has been closed off with a new carbon fibre nose cap and smaller cooling intakes have been added to the side fairings.
Upgrading the NOS system was a priority for better reliability and power with the original system replaced with a Nitrous Express setup. Öhlins Racing has added a steering damper to the full suspension suite supplied in 2019 to keep Appaloosa stable at the higher speeds targeted. Finally, to protect the pilot and to keep a clear view ahead, areas around the wheels have been closed off inside the fairing to control the ice thrown up by the studded tyres.
With such a departure from its original purpose of tarmac sprints, it was fitting to give Appaloosa v2.0 a full makeover in the form of a new paint scheme designed by Benny Maxwell from Axesent, Japan (IG: @axesent) and expertly applied by Matthias from Moto Peinture (IG: @motopeinture).
For such an extreme challenge, Brice has chosen his teammates carefully. "I'm lucky enough to share this incredible adventure with two of my best friends. Sébastien Lorentz and Dorsan "DJ Peeta Selecta," he says. "Seb, from Lucky Cat Garage and organiser of the Sultans of Sprint championship, will be piloting Appaloosa. Dorsan, the DJ for Sultans of Sprint, will be helping me with the technical aspects as he will all season. Dorsan will also be keeping the ice party going as DJ for the Baikal Mile Speed Festival."
Sébastien Lorentz commented, "This will be an extraordinary adventure for us all, what can I say? I feel excited to race on ice for the first time, honoured to ride the IndianxWorkhorse Appaloosa and I can't wait to see what we can achieve with that beast in such crazy riding conditions. I think we are well prepared, and we'll all give our best to achieve a great result."
The completed build and new look will be revealed shortly after the team arrives at Lake Baikal in late February.
The epic trip to Siberia and the action from Lake Baikal can be followed across Indian Motorcycle social channels with the hashtag #IndianxWorkhorse.
More information on the 2020 Baikal Mile Ice Speed Festival can be found at baikalmile.com – Instagram – Facebook
Notes for editors
• Additional images are available to download at www.indianmotorcycle.media
• Sign in with your existing account or register for access at www.indianmotorcycle.media/register
###
ABOUT WORKHORSE SPEED SHOP
Workhorse is the story of a passion. Brice Hennebert grew up surrounded by his father's motorcycles and was raised by a creative mother. Learning mechanics at an early age, Brice later trained as a graphic designer before opening a custom motorcycle workshop in 2012 with a like-minded bike fanatic. In 2016, Brice returned to the workshop of his childhood in Nodebais, Belgium to launch Workhorse Speed Shop. Workhorse provides a full range of services from accessory fitment through to complete custom builds. To learn more, please visit www.workhorsespeedshop.com
ABOUT AKRAPOVIČ
Akrapovič is a market-leading manufacturer of premium exhaust systems for motorcycles and performance cars. It is a pioneer in the innovative use of super-alloys and at the forefront of carbon components. Akrapovič exhaust systems are renowned for increasing performance, unmistakable sound, innovative design, lightweight construction, quality workmanship, and durability. Founded in Slovenia twenty-eight years ago by former motorcycle racer Igor Akrapovič, the brand has grown to international prominence through its successful support of racing teams that lead their class in many forms of premier motorsport. To learn more, please visit www.akrapovic.com
ABOUT BERINGER BRAKES
BERINGER is a French human-scale company which, for more than 30 years, develops and produces motorbikes brakes in a spirit of quality and performance. Our products range covers all models of motorcycles, from all brands from 1970 to our days. To learn more please visit www.beringer-brakes.com
ABOUT DUNLOP EUROPE
Dunlop Europe is one of the world's leading manufacturers of tyres with an impressive track record of motorsport successes. Dunlop Europe is a technical partner for two teams motorcycle Endurance World Championship Racing, the official tyre supplier to the FIM Moto2 and Moto3 World Championship and the most successful tyre brand in the history of the Isle of Man TT. Off-road, Dunlop is the choice of MXGP race winners and champions. On four wheels, Dunlop is the most successful tyre manufacturer in the history of the Le Mans 24h race. Please visit http://www.dunlopmotorcycle.eu/www.dunlopmotorcycle.eu
ABOUT EVOK3 PERFORMANCE LTD
EVOK3 is your one stop partner for all your professional racing products. Being the Master Distributor for premium brands including Garrett turbos, AEM Electronics, G-Sport cats, Radium Engineering, Injector Dynamics, Vibrant Performance, Turbosmart and many more. Formed and run by engineers to help formulate the perfect match of products, to fulfil the requirements of racing teams and enthusiasts for the finest race bikes or cars. To learn more please visit www.evok3performance.com
ABOUT MOTOREX – Oil Of Switzerland
Manufactured to the highest standards in Langenthal, Switzerland, MOTOREX products are well-known around the world for their superior quality and performance. Founded by pioneer Arnold Bucher in 1917, the BUCHER-MOTOREX Group is an independent family-owned business that pride themselves on high-quality products and world-class customer care. To learn more, please visit www.motorex.com
ABOUT ÖHLINS
Öhlins Racing has been an integrated part of the motorsport industry as well as the motorcycle and automotive industry for 40 years. Our focus has always been on high quality products, service and support, all the way from the MotoGP circuits to the local national racing events in over 50 distributing countries. Our philosophy has always been to supply the aftermarket, OEM partners and teams with high-end suspension technology and we are all dedicated to exceed our customer's expectations throughout the world. To learn more, please visit www.ohlins.com
ABOUT INDIAN MOTORCYCLE
Indian Motorcycle is America's first motorcycle company. Founded in 1901, Indian Motorcycle has won the hearts of motorcyclists around the world and earned distinction as one of America's most legendary and iconic brands through unrivalled racing dominance, engineering prowess and countless innovations and industry firsts. Today that heritage and passion is reignited under new brand stewardship. To learn more, please visit www.indianmotorcycle.eu.