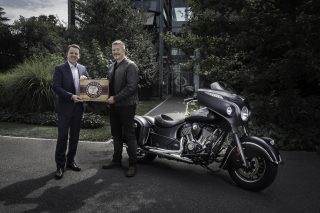 Swiss luxury watchmaker is the official timekeeper at Wheels & Waves Cuyucos
Legendary figures and motorcycles will inspire a future collection
Limited edition timepieces will be announced in due course
BONNEVILLE – 14 AUGUST 2017: Baume & Mercier, major Swiss luxury watchmaking company part of the Richemont Group and Indian Motorcycle, America's First Motorcycle Company, today announced an exclusive partnership.
The historic Bonneville Salt Flats served as the venue to unveil this unique brand alliance, as Indian Motorcycle and Baume & Mercier honoured the historic achievements of motorcycle trailblazer and famed land-speed record holder, Burt Munro.
It has been 50 years since Munro took his Indian Scout Streamliner to push the limits of speed at the Salt Flats, entering history to become "The World's Fastest Indian".
To celebrate the 50th anniversary of Munro's iconic land speed record, Lee Munro, Burt Munro's great nephew, recreated the historic run at Bonneville on Sunday 13 August.
For more information and content related to Indian's unique celebration of the 50th Anniversary of Munro's iconic land speed record, visit www.indianmotorcycle.com/en-us/burt-munro.
Upon announcing the partnership, Indian Motorcycle Vice President for the EMEA region, Grant Bester commented: "The core values that both Baume & Mercier and Indian Motorcycle share are intrinsically aligned, thanks to the dedication that delivers iconic products combining craftsmanship and state-of-the-art technologies. We are delighted to reach this agreement with one of the world's greatest watchmakers and believe this cooperation will bring great opportunities to both brands with wider exposure in new areas."
"We are very proud and honored to partner with Indian Motorcycle," said Alain Zimmermann CEO of Baume & Mercier. "Our agreement is cherished by our common pursuit of perfection, quality and craftsmanship, translated all in iconic design and contemporary esthetic. Our brands have both strong-shared values and exude exceptional spirit."
United by shared values, Baume & Mercier and Indian Motorcycle both boast rich history dating back over 100 years, from the days of their pioneering forefathers to the current day, where style, performance and superior quality are the focus and drive for both brands.
In this unique collaboration, the two brands will capture the iconic spirit and translate it into a series of limited edition watches paying tribute to Indian Motorcycle's iconic history, which will be revealed later this year.
Each design is enriched with exceptional details and will please watch enthusiasts and moto aficionados seeking uniqueness.
# # #
Picture caption: Alain Zimmermann CEO of Baume & Mercier and Grant Bester, Vice President, Indian Motorcycle EMEA, celebrate their partnership in front of a Chieftain Dark Horse outside Baume & Mercier's HQ in Geneva.
# # #
ABOUT INDIAN MOTORCYCLE
Indian Motorcycle Company, a wholly owned subsidiary of Polaris Industries Inc. (NYSE: PII), is America's First Motorcycle Company. Founded in 1901, Indian Motorcycle has won the hearts of motorcyclists around the world and earned distinction as one of America's most legendary and iconic brands through unrivalled racing dominance, engineering prowess and countless innovations and industry firsts. Today that heritage and passion is reignited under new brand stewardship. To learn more, please visit www.indianmotorcycle.eu
ABOUT BAUME & MERCIER
Baume & Mercier has been watchmaking for 187 years and has always been a generous Maison expressing excellence in all its creations. It maintains a simple, consistent motto devised by its founders: "Accept only perfection, only manufacture watches of the highest quality".
Current collections include the Clifton and Clifton Club that feature the sporty-chic Capeland, the timeless Classima and My Classima lines, as well as the rectangular shaped Hampton.
Dedicated lines for women are offered through Linea, a sparkling and daring offering. The newest line, called Promesse, offers a refined blend of elegance and preciousness.
Time captured with a Baume & Mercier watch is marked by rare, exceptional moments that punctuate a lifetime. The Maison celebrates these as a vibrant witness of these unforgettable moments filled with a wealth of emotion.
To learn more, please visit www.baume-et-mercier.com
INDIAN MOTORCYCLE MEDIA CONTACT
Dan Tye
PR Manager EMEA
Follow us on Twitter @IndianEMEA_PR
+44 (0) 1525 270100
press@indianmotorcycle.media
BAUME & MERCIER MEDIA CONTACT
Corinne DELLI GATTI
Head of International Media and PR
+41 (0) 22 999 51 51
corinne.delli-gatti@baume-et-mercier.com