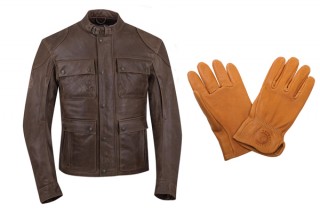 Those who have watched The Curious Case of Benjamin Button will know that the main character, Benjamin Button (played by Brad Pitt) rides an Indian 101 Scout in the film.
Since the film came out in 2008, many motorcyclists have aimed to re-create Brad Pitt's look and fans can now do so with Indian Motorcycle's brown leather 'Benjamin jacket' paired up with Indian Motorcycle-branded 'Deerskin gloves'.
The Benjamin jacket is available for both men and women and is 100% leather with a premium suede finish. There is CE armour in the shoulders and elbows (removable) and power stretch side panels for a comfortable fit. A cotton plaid inner can be zipped in and out and there's a buckle on the collar.
The Deerkskin gloves are very soft and supple, giving a great feel through to the handlebars and will gain more character the more they are worn.
There's also another scene in the film when Brad Pitt wears a Shearling Jacket. Indian Motorcycle also has one of its own, available for men made from 100% sheepskin leather and with a Shearling collar.
One of the most memorable scenes in the film is where Benjamin's daughter reads out a letter he wrote her while motorcycling around the world. The sentiment in his letter, of living life to its fullest, is something that all motorcyclists can relate to.
[Voiceover in the film; letter to Benjamin Button's daughter] "For what it's worth: it's never too late or, in my case, too early to be whoever you want to be. There's no time limit, stop whenever you want. You can change or stay the same, there are no rules to this thing. We can make the best or the worst of it. I hope you make the best of it. And I hope you see things that startle you. I hope you feel things you never felt before. I hope you meet people with a different point of view. I hope you live a life you're proud of. If you find that you're not, I hope you have the strength to start all over again."
There's never been a better time to buy an Indian Motorcycle, especially because the new 61ci Scout Sixty opens up ownership of the brand with its €11,990 price tag (the 69ci Scout is €13,650). The majority of dealerships throughout Europe, the Middle East and Africa now have demo units as well as a large selection of apparel and accessories to go with the bike.
Watch the Indian 101 Scout scene from The Curious Case of Benjamin Button here > https://www.youtube.com/watch?v=7Eyc0b1GHYM
ABOUT INDIAN MOTORCYCLE
Indian Motorcycle, a wholly owned subsidiary of Polaris Industries Inc. (NYSE: PII), is America's first motorcycle company. Founded in 1901, Indian Motorcycle has won the hearts of motorcyclists around the world and earned distinction as one of America's most legendary and iconic brands through unrivalled racing dominance, engineering prowess and countless innovations and industry firsts. Today that heritage and passion is reignited under new brand stewardship. To learn more, please visit www.indianmotorcycle.com
ABOUT POLARIS INDUSTRIES
Polaris Industries Inc. (NYSE: PII) is a global powersports leader with annual 2015 sales of $4.7 billion. Polaris fuels the passion of riders, workers and outdoor enthusiasts with our RANGER®, RZR® and POLARIS GENERAL™ side-by-side off-road vehicles; our SPORTSMAN® and POLARIS ACE® all-terrain off-road vehicles; VICTORY® and INDIAN MOTORCYCLE® midsize and heavyweight motorcycles; SLINGSHOT® moto-roadsters; and Polaris RMK®, INDY®, SWITCHBACK® and RUSH® snowmobiles. Polaris enhances the riding experience with parts, garments and accessories sold under multiple recognizable brands, and has a growing presence globally in adjacent markets with products including military and commercial off-road vehicles, quadricycles, and electric vehicles. www.polaris.com
MEDIA CONTACT
Dan Tye
+44 7471 030606
@IndianEMEA_PR
press@indianmotorcycle.media
www.indianmotorcycle.media