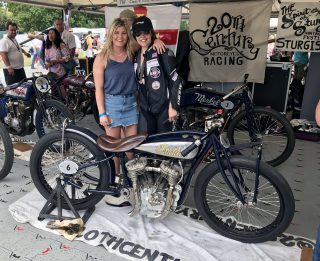 Sharing the passion for preserving the history of early American motorcycle racing
UNITED KINGDOM (July 4-7, 2019) – Brittney Olsen, champion American antique motorcycle racer and founder of 20th Century Racing, debuted her recently completed 1928 Indian Chief Class A Board Track Racer at the prestigious Goodwood Festival of Speed, bringing her love for the history of early American motorcycle racing to the international crowd. Held in the beautiful English parkland surrounding Goodwood House, the event is one of the most anticipated motorsport festivals on the international calendar and celebrates all aspects of the sport from two wheels to four, from the earliest racing machines to the very latest.
"I am beyond thrilled and honoured to be among the international racers to be invited to Goodwood," says Brittney. "I have never been to the United Kingdom, or Europe as a matter of fact, so I'm excited and humbled that my very first time travelling overseas is by invitation to such a prestigious, world-class motorsport event. If you had told me back in 2012 that I would be invited to ship over my early 20th Century race bikes to participate in the Goodwood Festival of Speed hill climb I wouldn't have believed you and most likely replied 'Maybe In my wildest dreams!'"
Inspired to become a racer at just three years of age after meeting three-times NHRA World Champion drag racer Shirley Muldowney, Brittney has racked up an extensive racing career since starting out in ATV racing at just 11, competing in drag racing at 14 and moving into motorcycle racing at 23. Career victories include three AMA-sanctioned Class A wins at the Sturgis Half Mile, winning the Class A race at the Black Hills Half Mile and becoming the very first champion of the inaugural Sons of Speed event during the 2017 Daytona Bike Week.
Born and raised in South Dakota, Brittney says she had a deep appreciation for Indian Motorcycle early in life because of the local Sturgis Motorcycle Races and Rally, founded back in 1938 by local Indian Motorcycle dealer, J.C. "Pappy" Hoel.
"That's where I first learned about their extensive racing past and, to me, Indian Motorcycle symbolises the history of motorcycling racing in my state. The Indian Motorcycle brand represents a golden era of the American Industrial Revolution, a means to travel anywhere, anytime and to go faster than the man next to you at any given moment."
At the age of 19, the fact that old Indians racers were rare and had numerous speed and racing records ignited a passion for learning more and digging deeper into the history of motorcycle racing and the Indian Motorcycle brand.
"It takes a great appreciation of this motorcycle history to have the enthusiasm and passion to build and race old Indians. Historically a legendary racing powerhouse dating back to the early 1900s, Indian's rivalry with Harley is older than Chevy vs. Ford and the fact that it continues on the roads and at race tracks across the world makes it a lasting legacy."
Building antique racing machines with her husband, fellow racer and renowned antique motorcycle restorer Matt Olsen, Brittney founded 20th Century Racing in 2012 to preserve the history of early American motorcycle racing by inspiring others through their builds and racing.
"When I first began my journey building and racing old American board track racers, information and parts for the bikes were very limited and there were only two events for us to race our antique bikes, one in America and one in Germany. Now there are over eight races in America for early Class A race bikes."
"Initially when I first started racing motorcycles, I did not race an Indian. However, I did train under fourteen-times board track class champion and master antique Indian Motorcycle builder Jim Wall aboard "FEEBEE," his 1928 Indian Chief board track racer. Since he was the man to beat at the races, I asked if he would coach me on these old bikes. He not only coached me to my first win, he infected me with the Indian race virus and sold me my first Indian race bike, 'The Spirit of Sturgis' a 1938 Indian Sport Scout. The machine came in a couple of boxes with no instructions. Luckily, between my husband, myself and with the support of Jim Wall and Indian Motorcycle Sturgis, 20th Century Racing had built our first ever Indian Motorcycle race bike in 2015. The following year in 2016, Jim allowed me to race his Indian board tracker at the Sturgis Half Mile races. Never before had I experienced the sheer, raw power to overtake a racer on the track, effortlessly."
It didn't take long before 20th Century Racing put out the word that they were looking for parts to build a Chief of their own to race. They found out that building a 1928 Indian Chief would take a lot of time and research, buying and collecting parts from all over the world, mostly Australia, and require actually making many of the parts needed.
As the pile of parts started to grow the project really kicked into gear in October 2018 when Brittney became the first female builder invited to the Born Free Show, a two-day custom motorcycle show in Southern California. Creating the Class A racer required a full-time effort over eight months with help from family and friends.
"We hand-built the frame from an original 1924 Indian Scout frame and had a set of custom cylinders, heads and the gas tank newly cast for us in Australia. We requested the head to be un-machined so we could machine our own combustion chamber for better performance. Everything from the bars to the seat are hand-made."
"To represent my team 20th Century Racing, Indian Motorcycles, American Motorcycle Racing History and the Sturgis Motorcycle Rally at one of the world's largest and most respected motorsports festivals as an invited American Racer really is a dream come true. To be given the honour of going up the prestigious Goodwood hill climb on a 1928 Indian Chief Class A Racer that we hand-built from the ground up is certainly the cherry on top of a vanilla ice cream cone."
After appearing at the Goodwood Festival of Speed, Brittney Olsen takes the Indian Chief back to South Dakota for its international racing debut at the Spirit of Sturgis Vintage Motorcycle Festival, a revival of the bygone eras of American motorcycle racing at the Historical Sturgis Half Mile on August 5th, 2019.
To find out more about Brittney Olsen and 20th Century Racing, please visit their website and social channels:
Web: www.20thcenturyracing.com
Facebook: /20thcenturyracing
Instagram: @20thcenturyracing
Notes for Editors
• Additional images are available to download at www.indianmotorcycle.media
• Sign in with your existing account or register for access at www.indianmotorcycle.media/register
###
ABOUT INDIAN MOTORCYCLE
Indian Motorcycle, a wholly owned subsidiary of Polaris Industries Inc. (NYSE: PII), is America's first motorcycle company. Founded in 1901, Indian Motorcycle has won the hearts of motorcyclists around the world and earned distinction as one of America's most legendary and iconic brands through unrivalled racing dominance, engineering prowess and countless innovations and industry firsts. Today that heritage and passion is reignited under new brand stewardship. To learn more, please visit www.indianmotorcycle-intl.eu/select-country/
MEDIA CONTACT
Ian Austin
EMEA Press Indian Motorcycle
Follow us on Twitter @IndianEMEA_PR
+44 7471 030 606
press@indianmotorcycle.media