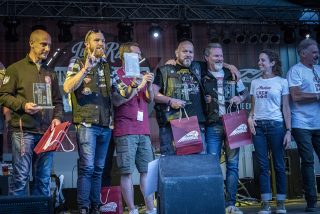 Display of exhilarating customised Indian Motorcycles at the Indian Riders Fest 2023.
Showcasing the exceptional craftsmanship of European custom bike builders.
American Motorcycle Dealer "Approved" status recognises the profile of the show.
Judging panel chaired by Onno Wieringa and President of Honour, Ola Stenegärd
The second edition of Budweis Custom Indian Motorcycle Show, the highly anticipated event that showcases the exceptional craftsmanship of European custom bike builders and Indian Motorcycle dealers, takes place during the Indian Riders Fest (IRF) in České Budějovice (Budweis), Czech Republic, June 9-11, 2023.
With the IRF already expected to be the world's largest gathering of Indian Motorcycle owners, the Budweis Custom Indian Motorcycle Show is a huge stage for builders to show the world their skills and vision with entirely transformed bikes, insane custom motorcycle concepts, unusual design projects, or spectacular masterpieces.
In recognition of the developing profile of the Budweis Custom Indian Motorcycle Show, American Motorcycle Dealer have confirmed their "AMD Approved" status to the show, making it one of just three shows to receive this accolade so far.
"A new event to the 'AMD Family' – the Indian Riders Fest and its associated Budweis Indian Motorcycle Custom Show has made great progress in terms of its status, backing and profile in the past 24 months. It represents a genuine first for AMD, and for the international custom motorcycle market in general, as the first show that is 100 percent dedicated to past and present Indian Motorcycles," said Robin Bradley, Editor-in-Chief, American Motorcycle Dealer.
The Budweis Custom Indian Motorcycle Show is committed to showcasing young, rising, and experienced custom builders with wild creativity and is open to all, regardless of experience or background. Prominently positioned next to the main stage, all participating bikes will be assessed by the international judging panel in six distinct classes, allowing each motorcycle to be judged on its own merits.
Chairing the judging panel will be Onno Wieringa, founder and owner of Madness Photography. Onno, an ambassador for AMD, has decades of knowledge and experience from running and judging many shows over several years. Conferred as President of Honour of the panel will be Ola Stenegärd, Director of Industrial Design for Indian Motorcycle, whose passion for customisation is evident from his long history of show winning builds.
"The custom world is on fire with cool builds based on every Indian Motorcycle model. Chops, bobs, baggers, trackers; you name it. The scene is just exploding with creative energy and I'm super stoked to see what builders will bring to the Budweis Indian Motorcycle Custom Show to display their creativity, skills and craftmanship," commented Stenegärd.
The six classes are designed to ensure that every participant has an opportunity to showcase their unique style and creativity. The classes are as follows:
Best Indian Scout
All Scout 1133 cc / liquid-cooled engine-based stock/modified/radical custom bikes
Best Chief & Non-Fairing
All 111/116 Thunderstroke engine-based stock/modified/radical customs bikes without fairing
Best Bagger
All Bagger-Style, Touring Bikes with 111/116 Thunderstroke engine or PowerPlus liquid-cooled engine-based stock/modified/radical custom bikes
Best Indian Vintage up to 1953
All customised/modified vintage Indian Motorcycle based on original model built until 1953, symbolising the proud heritage of Indian Motorcycle
Best FTR/Sportbike/Streetfighter
All custom bikes with an original Indian Motorcycle engine produced after 2013
Best Killer Look
The best paint job, surface enhancement like engravings, 3D metal artworks, hydrofoil. Push it further than just a custom airbrush.
Best of Budweis Indian Motorcycle Custom Show
The Best of the Budweis Indian Motorcycle Custom Show will also be awarded to the most outstanding build, combining the best elements from all six classes. This is the ultimate prize, awarded to the builder whose motorcycle stands out as the most exceptional and innovative creation at the Indian Riders Fest 2023.
This is an excellent opportunity for builders to showcase their passion for Indian Motorcycle and to be recognised by a panel of international experts from across the custom motorcycle industry.
For more details and to complete the official entry form, please visit:
Although ride in entries will be accepted during the show until Saturday, June 10, pre-registration is highly recommended as it provides entrants with three free entry tickets to the Indians Riders Fest 2023. Pre-registration closes on Wednesday, 31 May 2023.
Ola Stenegärd Invite Video Message
Indian Riders Fest 2023 Press Release
Indian Riders Fest 2023 Teaser Video
Indian Riders Fest e-Shop for Indian Motorcycle Rental
Indian Riders Fest Social Links
For more information on Indian Motorcycle visit IndianMotorcycle.eu and follow along on Facebook, Twitter and Instagram.
###
ABOUT INDIAN MOTORCYCLE®
Indian Motorcycle is America's First Motorcycle Company®. Founded in 1901, Indian Motorcycle has won the hearts of motorcyclists around the world and earned distinction as one of America's most legendary and iconic brands through unrivalled racing dominance, engineering prowess and countless innovations and industry firsts. Today that heritage and passion are reignited under new brand stewardship. To learn more, please visit www.indianmotorcycle.eu
INDIAN and INDIAN MOTORCYCLE are registered trademarks of Indian Motorcycle International, LLC. Always wear a helmet, protective clothing and eyewear and insist your passenger does the same. Ride within the limits of the law and your own abilities. Read, understand, and follow your owner's manual. Never ride under the influence of drugs or alcohol.
MEDIA CONTACT
Ian Austin
EMEA Press Indian Motorcycle
Follow us on Twitter @IndianEMEA_PR
+44 7471 030606
press@indianmotorcycle.media
INDIAN RIDERS FEST MEDIA CONTACT
Jean-Marie Guyon
IRF Event Organiser
+420 601 561 806
jm@indianridersfest.eu