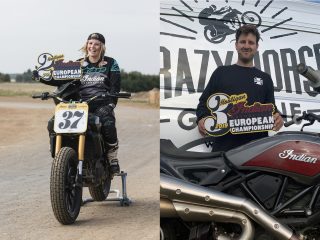 UNITED KINGDOM (September 22, 2019) – Greenfield Dirttrack, the home of UK Dirt Track Racing, was the final round in the Indian Motorcycle European championships. With an entry list of over 150 riders travelling from Italy, Spain, Germany, Switzerland, France, Holland and the UK the weekend was set to be a fantastic climax to the 2019 season.
In an action-packed Hooligan Championship final, Indian riders Tokelove and Kirkpatrick battled hard against a determined field of international riders, with racing incidents and two re-starts knocking both Indian riders out of contention. Despite the disappointment Leah Tokelove's consistent riding throughout the Championship enabled her to finish second overall in the European standing with Krazy Horse team mate Lee Kirkpatrick rounding out the Hooligan European Podium in third overall.
Gary Birtwistle continued his winning form in the Hooligan class and managed to take another top step on the podium to firm up his first place in the UK and European Championship. Italian rider Jacapo Monti who made the long trip to Greenfield managed to secure second place on the box ahead of Peter Boast in third.
Spanish rider Ferran Sastre not only won the final round of the DTRA Flat Track Nationals this weekend, he also secured his place at the top of the standings in the Pro Class of the DTRA's first ever European Championship. With this win he also secured his place on a trip to race in the USA with the Motoanatomy Team headed by Johnny Lewis.
A guest appearance from BSB riders Tim and Tom Neave was not enough to upset the dominance of the Spanish riders. Both Tim and Tom managed to win semi-final races but neither were able to upset the top three riders when it came to the final. Tim Neave looked promising in the final until a hard move in turn three saw him take down a bunch of riders resulting in a restart. Sastre led the restart from lap one to win with fellow Team Greenfield riders Gerard Bailo and Toby Hales rounding out the top three.
The Vintage class had a huge entry with over thirty riders taking part. Anthony Brown rode consistently all day, won the final and also secured the European Championship first place followed by Sean Kelly in second and Dimitri Coste in third. This meant that Swiss rider Michel Colaizzi's fourth place in the final was enough to secure a second place in the European Championships with Martin Huning finishing third overall.
Indian Motorcycle European Championship Results:
Hooligan Class: 1 Gary Birtwistle / 2 Leah Tokelove / 3 Lee Kirkpatrick
Pro Class: 1 Ferran Sastre / 2 Maikel Dijkstra / 3 Gary Birtwistle
Vintage: 1 Anthony Brown / 2 Michel Colaizzi / 3 Martin Huning
Editors Notes:
Hooligan class rules are simple to keep costs down and fabrication to a minimum. Riders must use a lightly modified street bike with 750cc+ multi cylinder engines, no front brake and standard frame, fitted with Dunlop flat track tyres.
# # #
ABOUT THE DTRA
The Dirt Track Riders Association (DTRA) is run by riders and racers to promote European Flat Track racing. The series has grown year on year and is gaining popularity with riders from all disciplines of motorcycle sport from Rookie riders to Pro racers. Racing classes mean racing is open to many different levels of riders and types of bike. The DTRA has been instrumental in growing all forms of Dirt Track Racing outside of the USA and the UK scene has grown to become the largest outside of North America. To find out more visit www.dirttrackriders.co.uk
ABOUT INDIAN MOTORCYCLE
Indian Motorcycle is America's first motorcycle company. Founded in 1901, Indian Motorcycle has won the hearts of motorcyclists around the world and earned distinction as one of America's most legendary and iconic brands through unrivalled racing dominance, engineering prowess and countless innovations and industry firsts. Today that heritage and passion is reignited under new brand stewardship. To learn more, please visit www.indianmotorcycle-intl.eu/select-country/
UK MEDIA CONTACT
Steve Cain
+44 7916 371 113
steve.cain@polaris.com
EMEA MEDIA CONTACT
Ian Austin
EMEA Press Indian Motorcycle
Follow us on Twitter @IndianEMEA_PR
+44 7471 030 606
press@indianmotorcycle.media