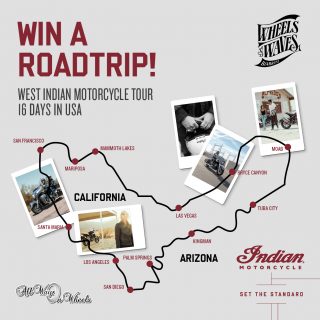 Buy an advance five-day pass for a chance to win a
16-day Californian tour on an Indian Motorcycle
FRANCE (February 24, 2020) – Indian Motorcycle has announced its fourth consecutive year as headline sponsor of Wheels & Waves with another impressive offer for advance five-day passes; automatic entry into a prize draw for a 16-day tour on the legendary roads of California with an Indian Motorcycle.
From Wednesday 10th to Sunday 14th June, Wheels & Waves will bring the culture, art, food and music surrounding motorcycling, surfing and skating to Biarritz with all advanced 5-day holders present at the prize draw, made at the main stage during the festival, in with a chance to win this trip-of-a-lifetime.
"Partnering with Wheels & Waves for our fourth year was an easy decision and we're really looking forward to seeing everyone again this June. The event has become a special part of our annual calendar attracting our owners and riders groups from all over the continent to celebrate the joy of riding and everything that surrounds the motorcycle lifestyle. I can't wait to meet and congratulate the lucky winner of the Californian tour," says Grant Bester, Vice President International, Indian Motorcycle.
Awarding an exciting prize during the festival has become a regular part of the Indian Motorcycle partnership with Wheels & Waves, with a brand-new FTR 1200 presented during the 2019 event to Rémi Bourderioux, a teacher in the Pyrénées-Atlantiques. This year's prize of an epic road trip also fits perfectly with the 'Timeless Experience' theme for the ninth edition of Wheels & Waves set by organisers, Jérôme Allé and Julien Azé.
"Timeless since, from its inception, Wheels & Waves has strived to maintain a subtle alchemy between the aesthetic of the past and modernity, its vision always focused on the future," explains Julien.

Jérôme continues, "Wheels & Waves is an experience first to be dreamed of, well before the start, since for many visitors coming to Wheels & Waves is already a trip in itself. An experience above all to be lived, letting go for a few days with the pleasure of riding, surfing and skating."
Over five days, Wheels & Waves 2020 will play host to an eclectic mix of events and on every day on the beautiful Basque coast there will be:
– A Village of tents and stands at the Cité de l'Océan
– Surfing contests, depending on weather conditions
– Skateboarding sessions & contests
– Music concerts
– Screening of films and documentaries on motorcycle, surfing, skateboarding
– Plus, a schedule of special events across multiple venues including flat track, enduro and sprint racing
Five-day advanced passes for Wheels & Waves 2020 can be purchased online at: wheels-and-waves.com
PRELIMINARY PROGRAM
WEDNESDAY JUNE 10
Opening of the Village – Cité de l'Océan Biarritz
"Log Surf Contest" – Milady Beach
Punk's Peak Sprint Race – Jaizkibel Hondarribia
"Hit the deck Skate Contest" – Cité de l'Océan Biarritz
Screenings / Concerts – Cité de l'Océan Biarritz
THURSDAY JUNE 11
Ride – Basque Country
"Log Surf Contest" – Milady Beach
Inauguration "Artride VII" – Skatepark Biarritz
"Hit the deck Skate Contest" – Cité de l'Océan Biarritz
FRIDAY JUNE 12
Ride – Basque Country
"Log Invitational Surf Contest" – Milady Beach
"Deus Swank Rally X" – Saint-Pée-sur-Nivelle
"Hit the deck Skate Contest" – Cité de l'Océan Biarritz
Screenings / Concerts – Cité de l'Océan Biarritz
SATURDAY JUNE 13
Ride – Basque Country
"Log Invitational Surf Contest" – Milady Beach
"El Rollo Flat Track Race" – Hippodrome de San-Sebastian
"Hit the deck Skate Contest" – Cité de l'Océan Biarritz
Screenings / Concerts – Cité de l'Océan Biarritz
SUNDAY JUNE 14
Brunch Concert – Cité de l'Océan Biarritz
"Sultans of Sprint" – Location to be confirmed
"Log Invitational Surf Contest" – Milady Beach
"Hit the deck Skate Contest" – Cité de l'Océan Biarritz
Notes for Editors
###
ABOUT WHEELS & WAVES
Founded in 2008, Wheels and Waves is the successful realisation of the dream of a group of friends, the Southsiders, who are passionate about motorcycles. Lovers of the Basque Country, Southsiders have brought together hundreds of like-minded individuals who gather in the spirit of companionship. "Wheels and Waves is about eliminating social barriers and bringing different sets of people together without judgement. It's about the joy of mixing together all kinds of communities, languages and cultures. It's about living in the present without being nostalgic for the past, but not losing sight of the best moments of the past." www.wheels-and-waves.com
ABOUT INDIAN MOTORCYCLE
Indian Motorcycle, a wholly-owned subsidiary of Polaris Industries Inc. (NYSE: PII), is America's first motorcycle company. Founded in 1901, Indian Motorcycle has won the hearts of motorcyclists around the world and earned distinction as one of America's most legendary and iconic brands through unrivalled racing dominance, engineering prowess and countless innovations and industry firsts. Today that heritage and passion are reignited under new brand stewardship. To learn more, please visit www.indianmotorcycle-intl.eu/select-country/
WHEELS & WAVES MEDIA CONTACT
Benjamin Monge
+ 33 6 77 67 52 17
benjamin@wheels-and-waves.com
INDIAN MOTORCYCLE MEDIA CONTACT
Ian Austin
EMEA Press Indian Motorcycle
Follow us on Twitter @IndianEMEA_PR
+44 7471 030 606
press@indianmotorcycle.media