Files
Специальная версия мотоцикла FTR 1200 S Race Replica с выхлопной системой Akrapovič
Schweiz - FTR 1200 S Race Replica Angebot inklusive Akrapovič Auspuffsystem - Medienmitteilung
Suisse - FTR 1200 S Race Replica sera équipée d'un échappement Akrapovič-Communiqué de presse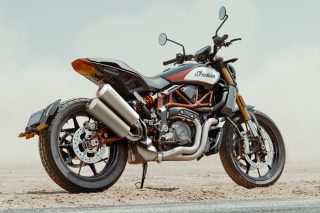 Indian Motorcycle has announced the range-topping 2019 FTR 1200 S Race Replica will be launched exclusively with an Akrapovič exhaust at a significant saving over aftermarket purchase.
"The overwhelmingly positive response we've received for the FTR 1200 S with the Akrapovič exhaust has shown what a dynamic combination they are," says Grant Bester, Vice President and General Manager for Indian Motorcycle EMEA. "It's this great feedback which inspired us to give more value to the first owners of the FTR 1200 S Race Replica by including the exhaust at a very special price."
Limited to the first year's production of the FTR 1200 S in Race Replica paint, the offer includes the Akrapovič low-mount exhaust in titanium and stainless construction with a protective black matte carbon fibre heat shield. The slip-on Akrapovič pipe enhances the impressive flat track styling of the FTR 1200 S Race Replica delivering a soundtrack to match.
Revealed during the FTR 1200 launch party at INTERMOT in October last year, the exhaust forms part of a sprawling catalogue of over 40 customisation options announced at EICMA the following month. Curated into four Collections to provide inspiration, owners can mix and match from the extensive options to create their own, truly unique FTR 1200.
Riders can learn more about the 2019 FTR 1200 S and Akrapovič launch offer by visiting their local Indian Motorcycle dealership. For more information on the FTR 1200 lineup and the full accessory range, or to find the nearest dealer, visit www.indianmotorcycle-intl.eu/select-country/
For local pricing of the launch edition FTR 1200 S Race Replica Akrapovič offer, please contact your country's Marketing Specialist.
###
NOTES FOR EDITORS
ABOUT INDIAN MOTORCYCLE
Indian Motorcycle, a wholly owned subsidiary of Polaris Industries Inc. (NYSE: PII), is America's first motorcycle company. Founded in 1901, Indian Motorcycle has won the hearts of motorcyclists around the world and earned distinction as one of America's most legendary and iconic brands through unrivalled racing dominance, engineering prowess and countless innovations and industry firsts. Today that heritage and passion is reignited under new brand stewardship. To learn more, please visit www.indianmotorcycle-intl.eu/select-country/
MEDIA CONTACT
Ian Austin, EMEA Press Indian Motorcycle
Follow us on Twitter @IndianEMEA_PR
+44 7471 030 606
press@indianmotorcycle.media