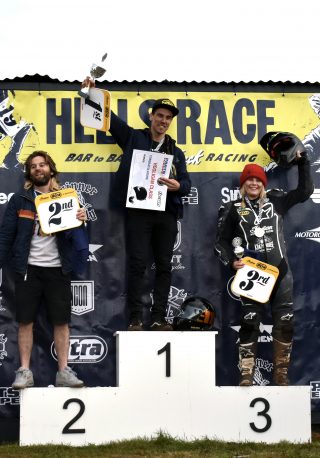 Europe's first official flat track championship
Pro Riders out in force from nine countries
Hooligan Class sees Indian Motorcycle rider Tokelove back on the podium
NETHERLANDS – The Indian Motorcycle Flat Track series, presented by the Dirt Track Riders Association (DTRA), Hells Race, Lelystad Stadium Sunday 5th May 2019
Dirttrack Lelystad in Holland hosted the first ever Indian Motorcycle European Championship during the amazingly popular annual Hells Race meeting. Over 150 riders raced classes including Hooligan, Vintage, Pro, Amateur, Newbie and Minibike. The program was action packed with some fantastic racing around Holland's premier short track venue.
The Hooligan class battle did not disappoint at Hells Race. Racing was fast and tough on the soft light shale surface. The big bikes were hard to handle on the tight and deep short track, and rain during the afternoon made the racing really tricky. It was Gary Birtwistle who skilfully lead the final from beginning to end. After a poor start Max Hunt managed to race to a very well deserved second place. Leah Tokelove, who raced superbly in her heats on the Indian Scout took a well-earned third place on the podium, giving the UK first, second and third positions.
Hooligan Class: 1 Gary Birtwistle – UK / 2 Max Hunt – UK / 3 Leah Tokelove – UK / 4 Jonathan Falkman – Sweden / 5 James Smith – UK
All three championship classes provided some amazing action and with riders from nine countries, the event had a truly international feel.
The Pro Class was packed with Europe's top dirt track riders, with a large showing from the UK, coupled with a strong field of other top riders from the Spain, Netherlands, Italy and Poland. The heats provided really tight racing. It was Ferran Sastre who was the only rider to win all his heats and took first pick for the Pro Final. Sastre had some very strong competition from Maikel Dijkstra who was fresh from training with Moto Anatomy's Johnny Lewis and was showing some excellent pace on his home track. Both Toby Hales (Greenfield Dirttrack) and Gerard Bailo (Greenfield Dirttrack) flew in from riding Copa Rodi in Spain the day before. Franc Sala was also racing well and taking heat wins. In the Pro final it was Ferran Sastre who raced with superb skill to win, with Maikel Dijkstra taking a very close second and Sala third giving the Spanish riders a strong presence on the podium.
Pro Class: 1 Ferran Sastre – Spain / 2 Maikel Dijkstra – Netherlands / 3 Franc Sala – Spain / 4 Toby Hales – UK / 5 Gerard Bailo – Spain
The vintage Class had a massive entry with some really close racing on some of Europe's most beautiful vintage machines. German rider Martin Huning was on fire in all his heats and won the finaI. In second place was DTRA Race Director Anthony Brown who was very strong in all his heats. And in third place was Swiss rider Michel Colaizzi.
Vintage: 1 Martin Huning – Germany / 2 Anthony Brown – UK / 3 Michel Colaizzi – Switzerland / 4 Sean Kelly – UK / 5 Christophe Canitrot – France
Krazy Horse's Hooligan Team return to continue their UK DTRA flat track championship attack with the Indian Scout at MCN's Festival of Motorcycling, Peterborough Arena, on May 18th and 19th – Join the event and experience the spectacle of Flat Track racing alongside live demo ride opportunities, see the entire Indian Motorcycle range on display and enjoy all the festival has to offer.
2019 HOOLIGAN CHAMPIONSHIP DATES
May 17/19 – MCN Festival, Peterborough Showground, UK
June 15 – El Rollo, Wheels & Waves, ESP – European Championship
August 9/10 – DIRTQUAKE, Arlington Stadium, Sussex, UK
September 21/22 – Greenfield Oval, Alford, UK – European Championship
Editors Notes:
Hooligan class rules are simple to keep costs down and fabrication to a minimum. Riders must use a lightly modified street bike with 750cc+ multi-cylinder engines, no front brake, and standard frame, fitted with Dunlop flat track tyres.
Additional images are available to download at www.indianmotorcycle.media
Sign in with your existing account or register for access at www.indianmotorcycle.media/register
###
ABOUT THE DTRA
The Dirt Track Riders Association (DTRA) is run by riders and racers to promote European Flat Track racing. The series has grown year on year and is gaining popularity with riders from all disciplines of motorcycle sport from Rookie riders to Pro racers. Racing classes mean racing is open to many different levels of riders and types of bike. The DTRA has been instrumental in growing all forms of Dirt Track Racing outside of the USA and the UK scene has grown to become the largest outside of North America. To find out more visit www.dirttrackriders.co.uk
ABOUT INDIAN MOTORCYCLE
Indian Motorcycle is America's first motorcycle company. Founded in 1901, Indian Motorcycle has won the hearts of motorcyclists around the world and earned distinction as one of America's most legendary and iconic brands through unrivalled racing dominance, engineering prowess and countless innovations and industry firsts. Today that heritage and passion is reignited under new brand stewardship. To learn more, please visit www.indianmotorcycle.eu.