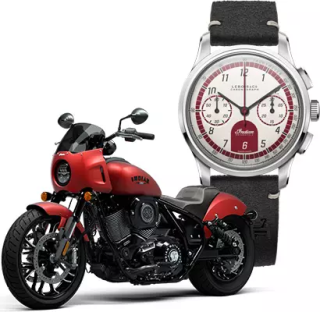 To celebrate Indian Motorcycle's launch of the all new Sport Chief, Swiss watch brand family CDMLEC's Lebois & Co will be issuing a matching edition of their Heritage Chronograph. Inspired by Indian Motorcycle's latest model and the features of this impressive machine, Lebois & Co will release the first fifty pieces early next year. These can be obtained in combination with the Sport Chief, or as a stand-alone purchase.
What Lebois & Co does with watches is not too different from Indian Motorcycle have done with the Sport Chief: reviving heritage classics using modern day technology. With the original Chief being one of the world's most iconic motorcycles since its birth in 1921, Indian Motorcycle decided to design a modern version which was presented in 2021 marking its 100th anniversary. The Sport Chief is now the fourth model in the family.
Vintage Charm
In celebration of the 2023 introduction and rewarding fans of both brands who value quality and beauty, Indian Motorcycle have banded up with Lebois & Co, the luxury watch brand that specialises in reviving old models. They are no stranger when it comes to vintage appraisal. Both brands share a passion for quality design and technology.
Unique Collectors' Piece
Putting two and two together, Lebois & Co have set out to create a custom version of their previously released Heritage Chronograph. Hinting at both brands' history, the Heritage Chronograph's dial, hands, tachymeter, fonts and colours will be a perfect reflection of the Chief's legacy and sleek, vintage looks, within the parameters of the Heritage Chronograph. The result is a unique collectors' piece that will rev up any vintage watch lover's engine.
Matching Numbers
Lebois & Co goes the extra mile: if you order a Sport Chief, the motorcycle's VIN number will be engraved on the back of the watch's case to emphasise the uniqueness of the bond. It also adds to the bike's allure: as we all know, classic vehicles dramatically increase when they have 'matching numbers'.
For those owners of a Sport Chief it is possible to go for 'ultimate matching numbers', forever connecting the motorcycle to the special edition chronograph. Added to the mix is a very special box with a plate reflecting the VIN number of the motorcycle, as well as a certificate of authenticity.
For owners of an Indian Motorcycle it is possible to purchase the chronograph and have the VIN number engraved in the case at cost. The watch will be delivered without the aforementioned box and certificate.
If you're more into watches than motorcycles, you can also order this special edition Lebois&Co separately, but without the engraved VIN number.
The first batch will be available H-1 2024. Fans are invited to pre-order as of June 2023, through LeboisandCo.com.
For more information go to:
https://www.leboisandco.com/lebois-co-x-indian-motorcycle/
If you want to try out the Sport Chief before deciding on a combined purchase, book your ride on:
NL: https://www.indianmotorcyclebenelux.com/lebois-chronograph/
BE-FL: https://www.indianmotorcyclebenelux.com/fl/lebois-chronograph/
BE-FR: https://www.indianmotorcyclebenelux.com/fr/lebois-chronograph/
LU: https://www.indianmotorcyclebenelux.com/lu/lebois-chronograph/
Voor meer informatie over Indian Motorcycle bezoek IndianMotorcycle.eu en volg ons op Facebook, Twitter en Instagram.
###
ABOUT INDIAN MOTORCYCLE®
Indian Motorcycle is America's First Motorcycle Company®. Founded in 1901, Indian Motorcycle has won the hearts of motorcyclists around the world and earned distinction as one of America's most legendary and iconic brands through unrivalled racing dominance, engineering prowess and countless innovations and industry firsts. Today that heritage and passion are reignited under new brand stewardship. To learn more, please visit www.indianmotorcycle.eu
INDIAN and INDIAN MOTORCYCLE are registered trademarks of Indian Motorcycle International, LLC. Always wear a helmet, protective clothing and eyewear and insist your passenger does the same. Ride within the limits of the law and your own abilities. Read, understand, and follow your owner's manual. Never ride under the influence of drugs or alcohol.
MEDIA CONTACT: INDIAN MOTORCYCLE
Ian Austin
EMEA Press Indian Motorcycle
Follow us on Twitter @IndianEMEA_PR
+44 7471 030606
press@indianmotorcycle.media
MEDIA CONTACT INDIAN MOTORCYCLE BENELUX
Ron Betist
Marketing Manager Benelux Indian Motorcycle
+31 629 563 006
rbetist@jeegee.nl