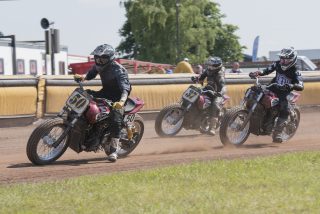 [PETERBOROUGH, ENGLAND] – A double-header of rounds at Peterborough Arena over the weekend saw podium joy for Indian riders Leah Tokelove and Lee Kirkpatrick, opening up an epic championship battle, that will be decided at DirtQuake in August.
DTRA flat-track riders from across the UK and Europe filled the Peterborough Panthers paddock with an increasingly professional array of Hooligan class race machines, which are modified twin cylinder road bikes of 750cc and above, demonstrating the increasing popularity of this very accessible race series.
Krazy Horse's Indian Scout Sixty Hooligan machines stayed at the sharp end all weekend, with Chris Hatton, Jonathan Falkman, Lee Kirkpatrick and Leah Tokelove all maintaining strong results across the heats.
In Saturday's final, Tokelove pushed for the lead from second place on the start gate before falling back to fourth after running wide. She quickly regained second despite stiff competition. Meanwhile Lee Kirkpatrick carved himself from 6th on the grid to 4th overall. Tokelove maintained her composure to bring the Indian Scout home in 2nd and gain a further 16 Championship points.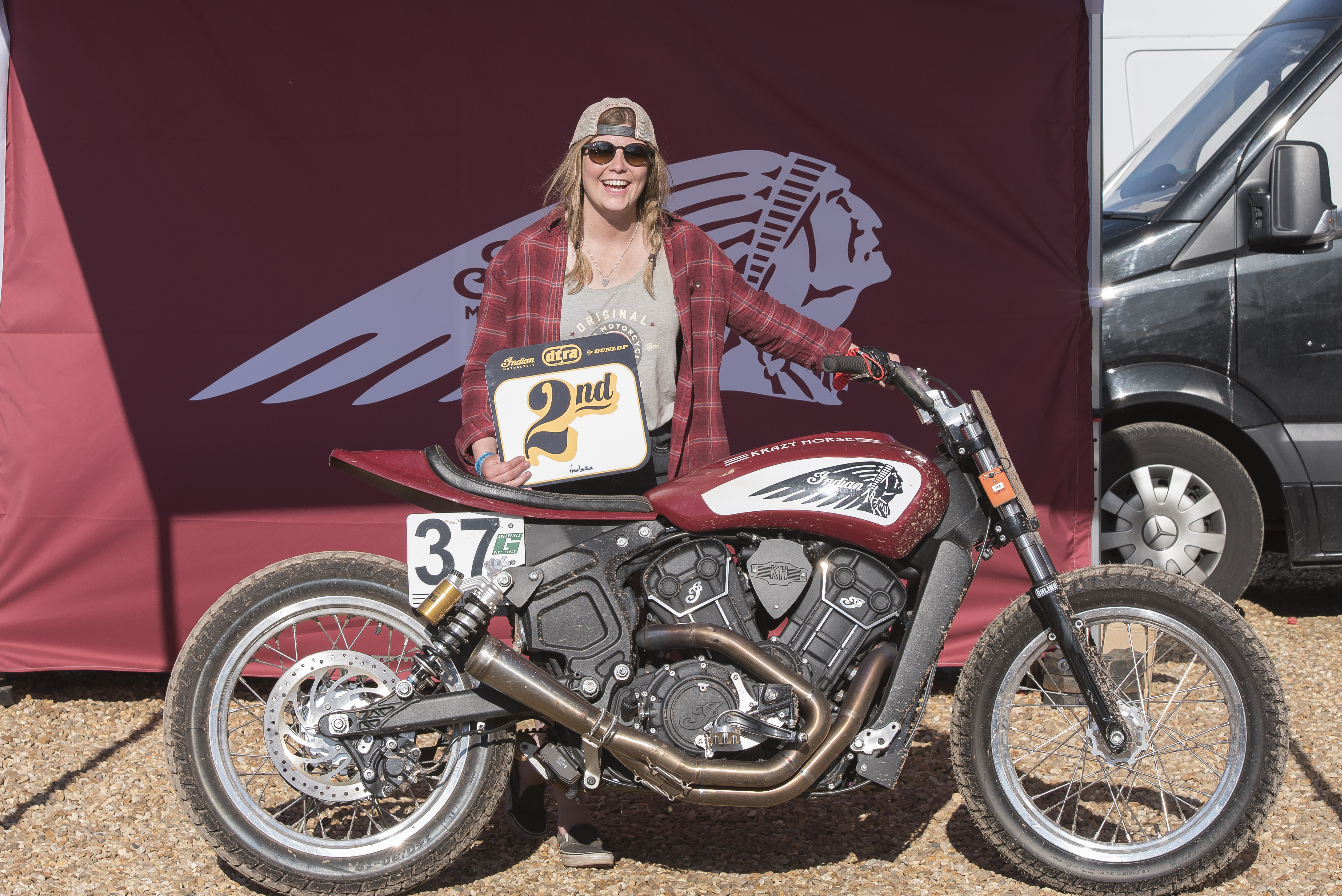 Racing commenced again on Sunday afternoon (Round 4) with just three points separating the top three riders, although no one could have predicted a dramatic twist as Lee Kirkpatrick suffered a punctured rear tyre just moments after convincingly winning his final heat; the Krazy Horse team hustled to remove and repair the tyre in record time with the day's final race looming moments away.
Kirkpatrick and Tokelove lined up on the front row, with Chris Hatton and Jonathan Falkman further down the field. Kirkpatrick maintained the hole-shot and got away with a stunningly fast start, while Tokelove was caught in a wheel-to-wheel, elbow-to-elbow battle on the outside line before an electrical gremlin took her out of competition. Kirkpatrick powered on to open up his advantage and claim his first winner's plate of the series and 20 Championship points.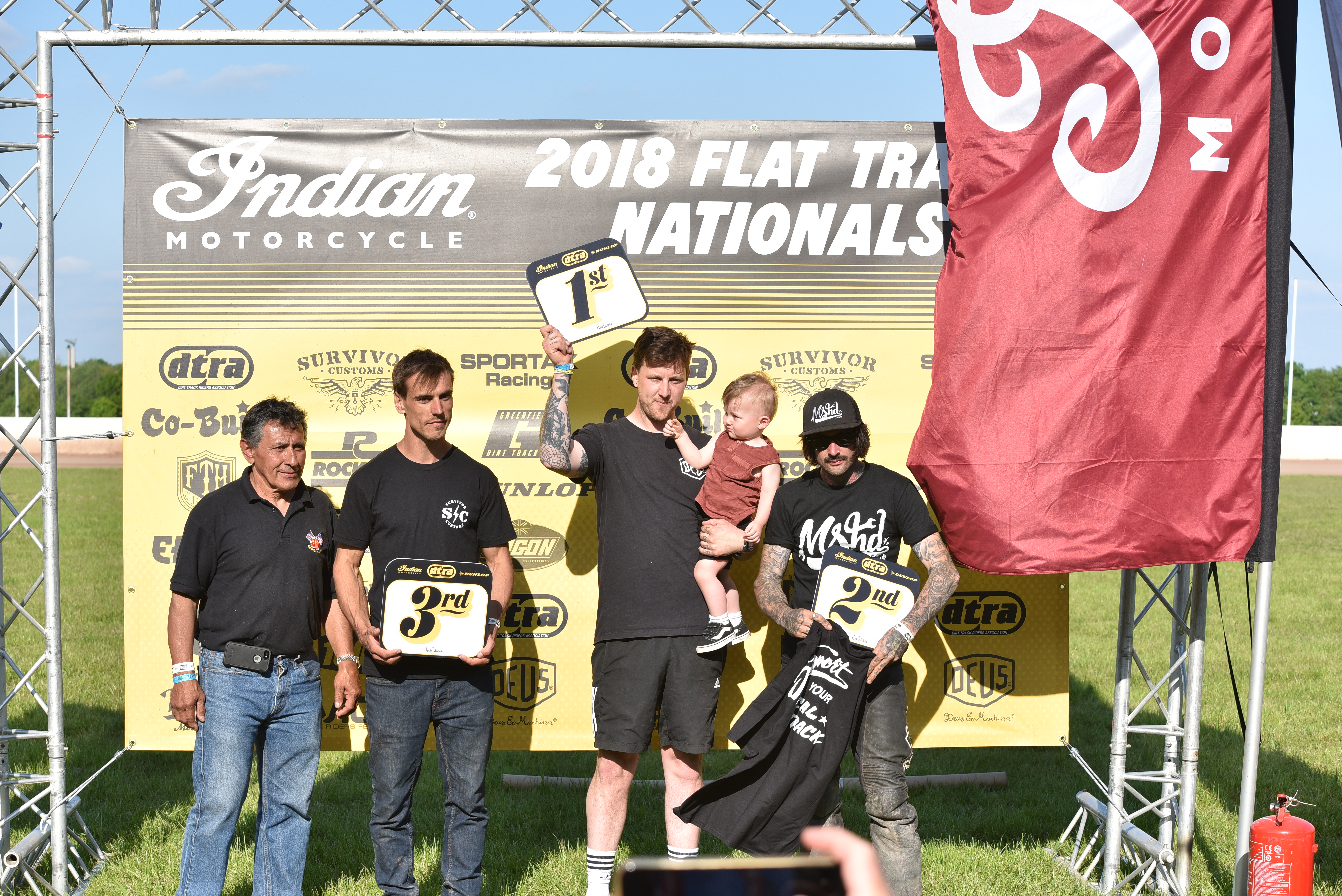 Between the races, Indian Motorcycle also laid-on a very special surprise for audiences of the DTRA's 'live stream' and the MCN Festival crowds at Peterborough, by unleashing the American Flat Track Indian FTR750 for the first time outside the US, piloted in turn by Johnny Lewis, Chris Walker and Leah Tokelove.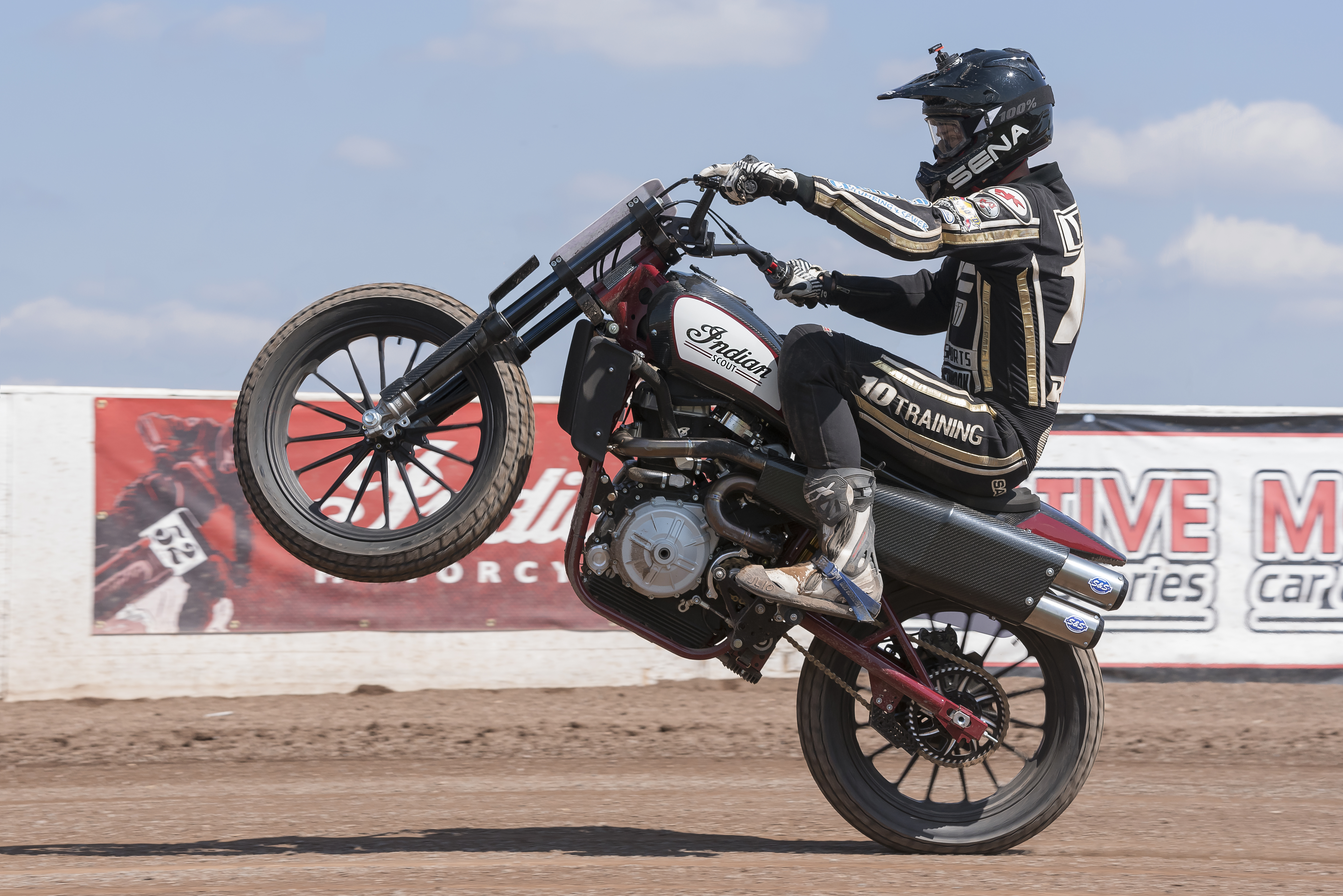 Johnny Lewis gets the front up on the FTR750 on his demo laps
The next stop for the Indian Motorcycle Hooligan Series is the decider at DirtQuake, Arena Essex, UK on Saturday 18th August.
Before DirtQuake, Indian's Hooligan riders will be appearing at the Wheels and Waves, El Rollo Flat Track Race at the Hippodrome de San Sebastián, Spain on Saturday 16th June.
# # #
Watch and embed a video of the action here https://youtu.be/yAglMgaXzFc
Round 1 https://youtu.be/9_sXrMyds4I
Round 2 https://youtu.be/jPP3l9oKJf0
Round 3 & 4 https://youtu.be/yAglMgaXzFc
You can direct readers to re-watch the live stream of the races on the DTRA's facebook page @DirtTrackRidersAssociationUK
Photo credit images in this release with: Jacqueline @barkingheadsphotography
There's a gallery by Tom Bing online too.
Indian Motorcycle Hooligan Series Standings to this point
P1: Grant Martin
P2: Gary Birtwistle
P3: Lee Kirkpatrick
P4: Leah Tokelove
# # #
ABOUT THE DTRA
The Dirt Track Riders Association is run by riders and racers to promote European Flat Track racing. The series has grown year on year and is gaining popularity with riders from all disciplines of motorcycle sport from Rookie riders to Pro racers. Racing classes mean racing is open to many different levels of riders and types of bike. The DTRA has been instrumental in growing all forms of Dirt Track Racing outside of the USA and the UK scene has grown to be the second largest outside North America.
ABOUT INDIAN MOTORCYCLE
Indian Motorcycle Company, a wholly owned subsidiary of Polaris Industries Inc. (NYSE: PII), is America's First Motorcycle Company. Founded in 1901, Indian Motorcycle has won the hearts of motorcyclists around the world and earned distinction as one of America's most legendary and iconic brands through unrivalled racing dominance, engineering prowess and countless innovations and industry firsts. Today that heritage and passion is reignited under new brand stewardship. To learn more, please visit www.indianmotorcycle.eu
MEDIA CONTACT
Steve Cain
External Relations Manager (UK)
+44 (0)7916 371113
steve.cain@polaris.com