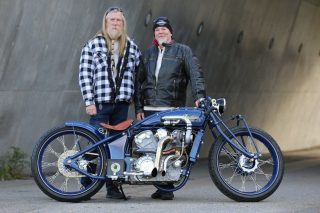 Anders Lundgren and Lasse Sundberg have built this incredible Super Scout and the pair say it's a tribute to the Swedish co-founder of Indian, Oscar Hedström.
When asked what it's like to ride Anders smiles and says: "It feels amazing, like you have moved back to the 1920s with a rocket between your legs."
Featuring a water-cooled Garret 25 turbo, the Super Scout was built during 2017 in their Stockholm workshop and now makes 150 to 200hp at the rear wheel depending on the boost pressure.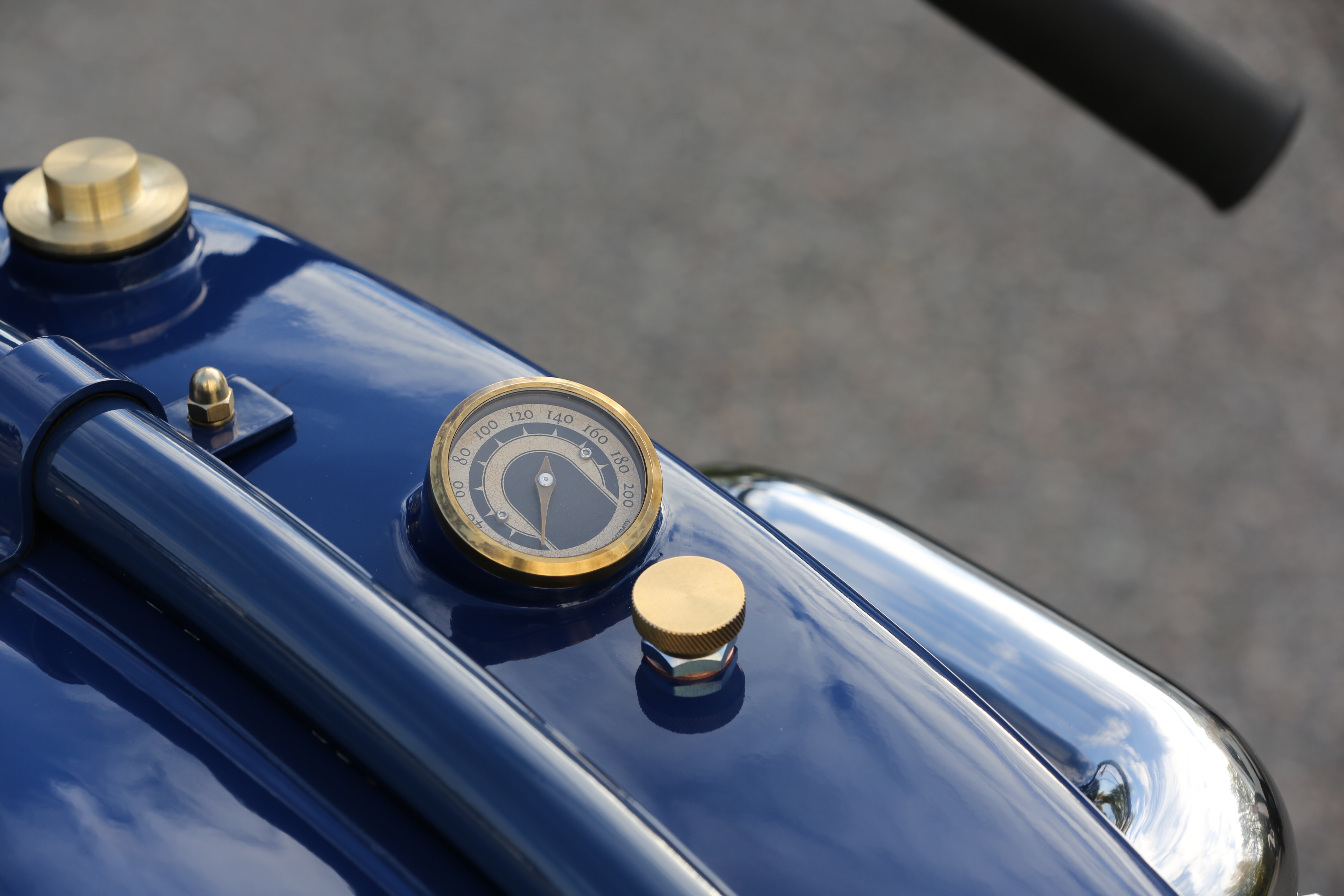 Anders says: "We wanted to build a bike that was related with the Indian history of board track racing and at the same time included the new era of technology that Indian stands for today. The Scout model was the perfect choice and we came up with the name Super Scout to honour the old Scout models that were almost unbeatable on the race tracks."
The engine, fuel pump, headlamp and shifter pedal are from a modern day Scout, but the frame is a one-off built from three sections. Lasse Sundberg (from Roth Engineering) built the frame up in-house and says it was the most difficult part of the build, surprisingly even more tricky than the fitting the turbo.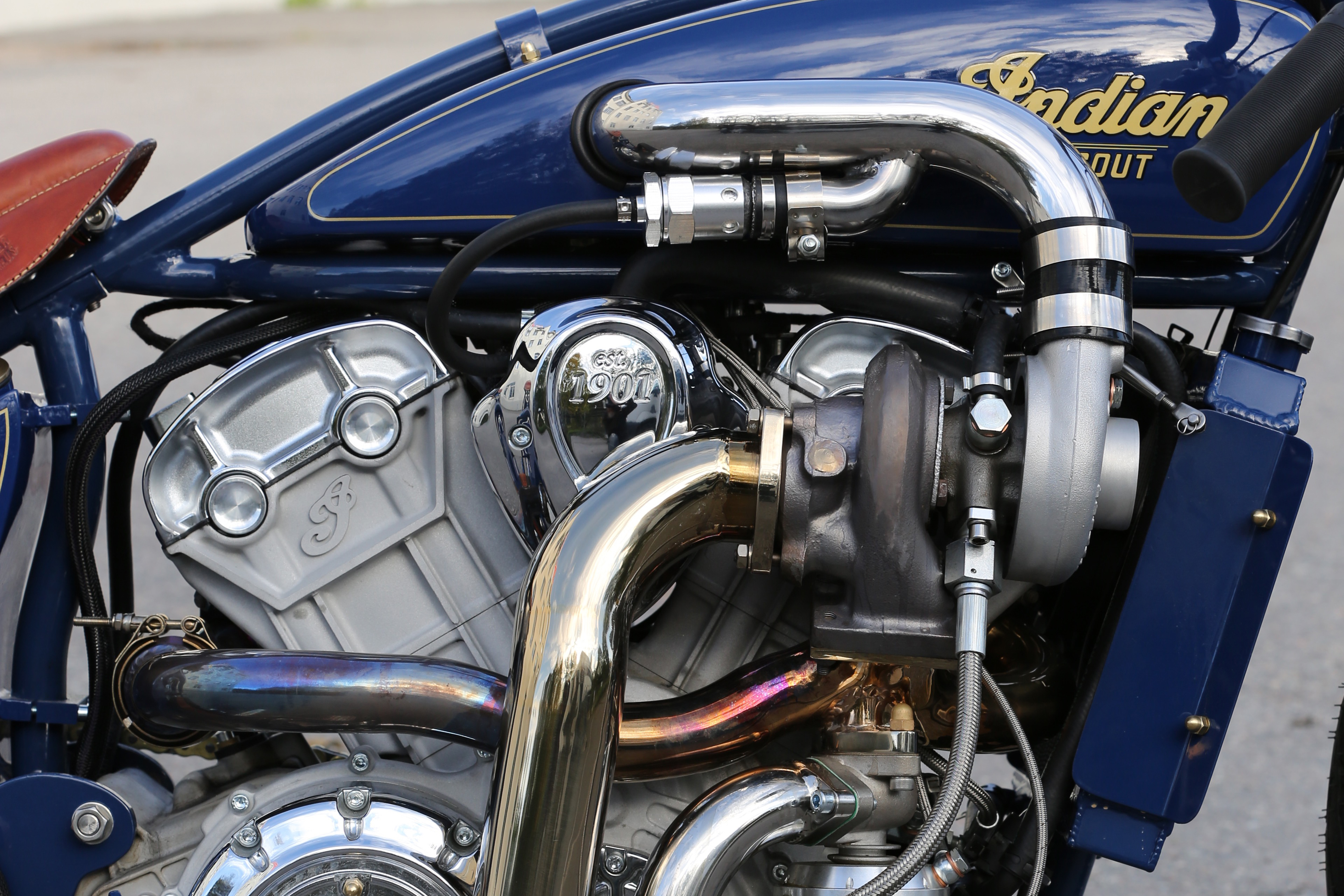 The Garret 25 turbo itself has an external wastegate (wait until you hear it) and boost control. The headpipes and downpipes to the turbo and the wastegate are all in stainless steel and fitted as tight as possible to the frame so to not interfere with the slim lines of the bike.
Anders explains the rational behind mounting the turbo: "We wanted to give the bike some extra boost of power and to also show that we can combine an old school look with modern technology."
The Super Scout has some seriously impressive electrics too. Anders fitted a fully programmable ECU and there is a key fob system with Bluetooth for monitoring engine data and tuning the ECU via an iPad.
The amazing paint job is by Pobben's Colour & Custom in Hagfors and the colour is Springfield blue.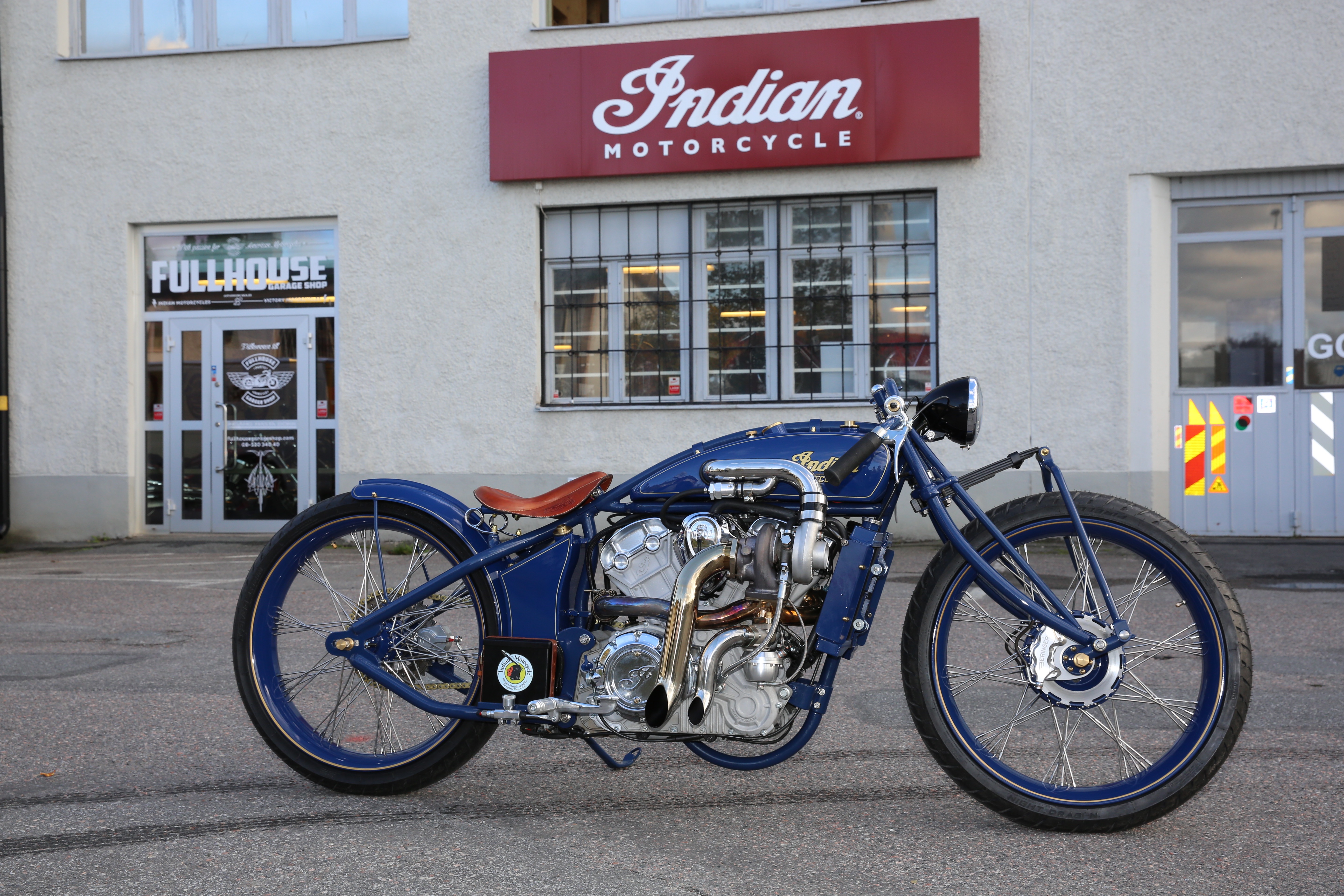 Anders is excited for the coming months: "I am still test riding the bike and we are just in a phase to finish the engine tuning," he says. "The Super Scout is planned to be a daily runner…if it's not already sold by then."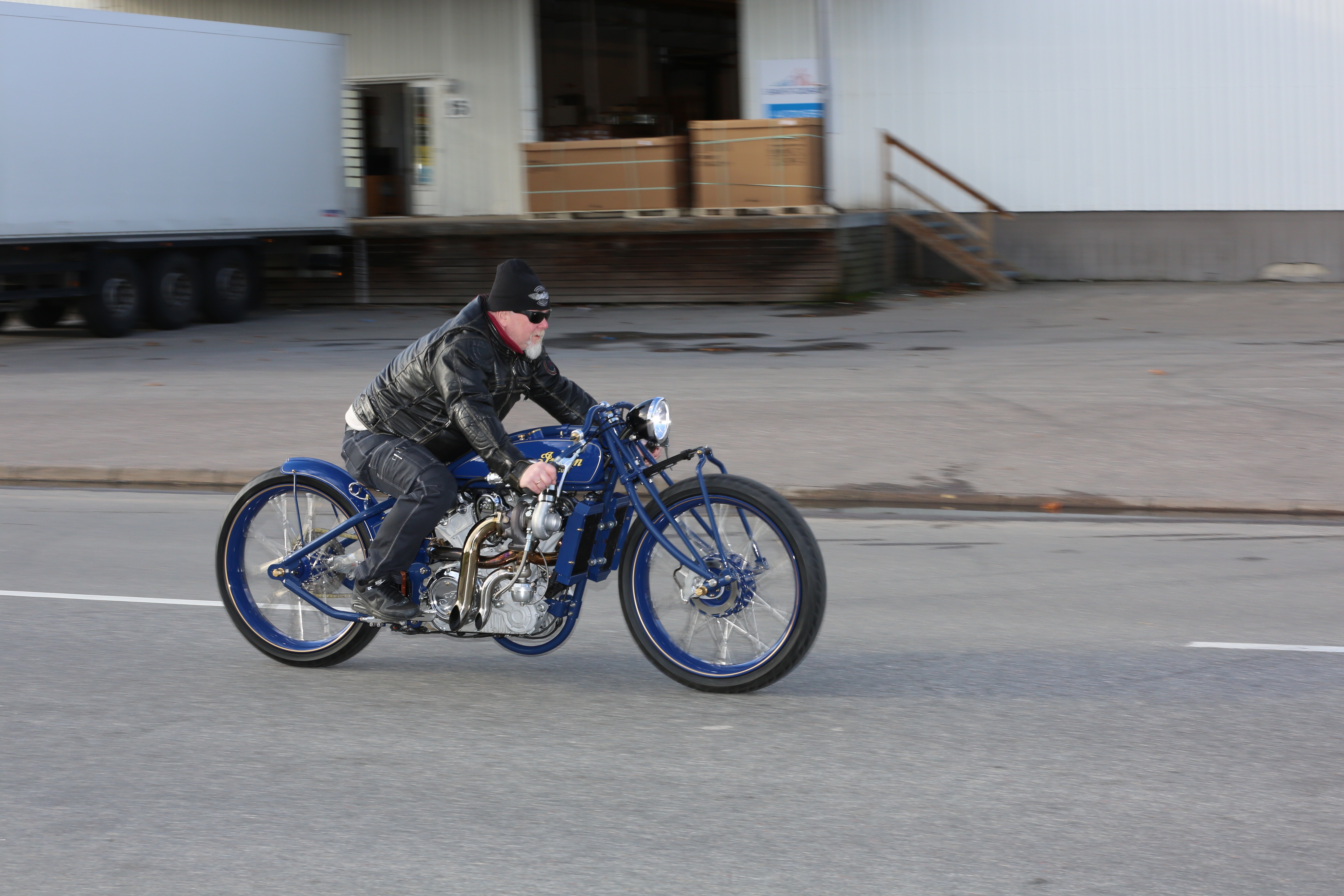 To speak to Anders or Lasse please email press@indianmotorcycle.media
PARTS LIST
Front wheel:               23 x 3,75" 60-spoke crossradial laced, Pirelli tyres
Front brake:                Beringer inboard system, wire operated to front master cylinder (K-tech hidden)
Rear wheel:               23 x 3,75" 60-spoke crossradial laced, Pirelli tyres
Rear brake:                Harrison billet sprocket brake, K-tech cylinder
Front fork:                   W&W Indian leaf spring
Handlebar:                 Roth Engineering Boardtrack style, internal throttle control, LED turn signals in handlebar
Dummy Fuel tank:     Styled like a 1920 Indian Scout. Hides all the electronics, throttle body, front master cylinder, etc
Fuel tank:                    Homemade by Roth Engineering, uses Scout internal fuel pump, and is fitted under the saddle
Saddle:                    H and F Mesinger boardtrack replica
Rear fender:               Homemade by Roth Engineering
Front Headlamp:       Indian Scout LED
Tail light:                      LED light under saddle, combined tail/brake/turnsignals
Engine:                    1133cc Indian Scout 2016, sandblasted to an old-school finish
Radiators:                   From a Honda CRF450, electrical fans
Fuel:                         E85 1,600cc injectors, fully programmable ECU
Electrical system:       Fob system with Bluetooth for monitoring engine data and tuning via an iPad
NOTES TO EDITORS
The changes on this bike may lead to a street legal status reassessment depending on the national regulations in force.
# # #
ABOUT INDIAN MOTORCYCLE
Indian Motorcycle Company, a wholly owned subsidiary of Polaris Industries Inc. (NYSE: PII), is America's First Motorcycle Company. Founded in 1901, Indian Motorcycle has won the hearts of motorcyclists around the world and earned distinction as one of America's most legendary and iconic brands through unrivalled racing dominance, engineering prowess and countless innovations and industry firsts. Today that heritage and passion is reignited under new brand stewardship. To learn more, please visit www.indianmotorcycle.eu
MEDIA CONTACT
Dan Tye
PR Manager (EMEA)
Follow us on Twitter @IndianEMEA_PR
+44 (0) 1525 270100
press@indianmotorcycle.media