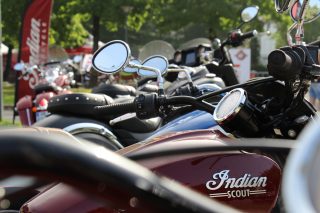 Last weekend, Indian Motorcycle owners living in France rode down to Dax in France, for the Indian Motorcycle Riders Group (IMRG) annual meeting.
Nearly 250 riders attended for the three days with around 100 of those passionate and enthusiastic Indian owners.
IMRG members met in the Dax Arena for a group photo before riding together on some beautiful routes near the ocean and mountains in the area.
Throughout the weekend the IRMG listened and partied to the music put on by the organisers of the Motors n' Blues festival.
As well as the riding, partying, music and food, members could also test ride the full line-up of Indian bikes.
Prizes were awarded to those who rode the furthest to attend. Members came all the way from Trieux (next to the Belgian border), Pierrefigues (Normandy), Strasbourg and Paris… riding more than 1,000km (625 miles) on their Indian.
Pierre Audoin, Indian National Sales Manager for France said: "We are overjoyed to gather (again) most of the French Indian riders and members of our club, the IMRG. All of us must remember that the DNA of our brand is about friendship, friendly spirit and staying close to our customers. The Motors n' Blues Festival in Dax is the perfect event to host our annual IMRG meeting. During the weekend we can chat with everyone, share ideas and listen to all the feedback about the brand, our motorcycles and the relationship between us and owners."
One of the most interesting characters was Alain Et Gerard who has ridden a million miles around France and Europe. Before realising his dream and owning an Indian, he handled a lot of different and prestigious bikes. Since he is now retired, Alain never misses an opportunity to ride his Indian to travel all over France and meet people…
That's how he gets to know Gérard, another passionate Indian owner, who lives near Montpellier. At the beginning of the year, both of them had a crazy idea to ride to the North Cape on their Indian. Between the 1st and the 20th June, the pair rode 12,000 km (7,500 miles) During the trip, Alain exceeded the 100,000 km mark on his Indian (62,000 miles) ­ this after just 25 months of ownership.
Hi res images of the IMRG event are on the media site and are free for editorial use.
A video of the event can be embedded from You Tube here > https://youtu.be/r1RhQStg77s
# # #
ABOUT INDIAN MOTORCYCLE
Indian Motorcycle, a wholly owned subsidiary of Polaris Industries Inc. (NYSE: PII), is America's first motorcycle company. Founded in 1901, Indian Motorcycle has won the hearts of motorcyclists around the world and earned distinction as one of America's most legendary and iconic brands through unrivalled racing dominance, engineering prowess and countless innovations and industry firsts. Today that heritage and passion is reignited under new brand stewardship. To learn more, please visit www.indianmotorcycle.eu
MEDIA CONTACT
Dan Tye
PR Manager – EMEA
Follow us on Twitter @IndianEMEA_PR
+44 7471 030606
press@indianmotorcycle.media