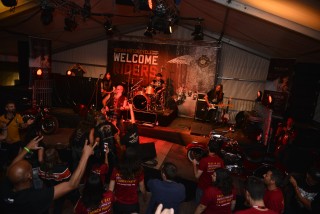 Hundreds of Indian Motorcycle owners partied at Faak Am See over the weekend to celebrate the launch of the Indian Motorcycle Riders Group (IMRG) in Europe.
IMRG members arrived at Faak Am See during Friday and Saturday morning ahead of a private Wall of Death Show and special concert held on the Saturday night.
During the Saturday afternoon riders met at the Stein Golf in Reifnitz, an hour's ride from Faak Am See, before setting off together for a communal ride in to the event.
"I was full of emotion to see so many IMRG members ride in together," exclaimed Dario Baraggia, Indian Motorcycle brand manager for EMEA. "We rode in with members from Russia, the Czech Republic, France, Spain, Germany, Austria and a good number of Italians."
On arrival, the IMRG members were hosted by Indian Motorcycle and then throughout the afternoon they could look at the new MY16 model line-up, enjoy a welcome drink and get to know other IMRG members from different countries.
Dario adds: "Three years have passed since Indian Motorcycle was re-launched and I think that riders in Europe are now starting to understand the appeal of Indian Motorcycle ownership. The launch party at Faak Am See is just the start of what IMRG members will experience in the future."
Come the evening, the IMRG members were treated to a private Wall of Death Show which was kicked off by the crew riding a standard production Scout around the wall. A female member of the IMRG (Iris Gerlach from Germany) was then invited to ride on one of the bikes giving her a taste of what it's like to whizz around inside the Wall of Death.
Afterwards, the IMRG members were treated to a concert put on by Gil Edwards and The Knuckleheads until late into the night. Dario said: "It was a really great performance by Gil, just the kind of fun and entertainment that goes hand-in-hand with the culture and heritage of Indian Motorcycle."
Jean-Marie Guyon, owner of a 2014 Chief Classic rode in from the Czech Republic with six other couples, all on Indian Motorcycle models, for the launch party. He said: "The launch party was super! It was a great evening and also good to meet other European Indian Motorcycle riders. I am looking forward to seeing more events like this aimed at European riders. Above all I enjoyed the friendly no-nonsense attitude of all the Indian Motorcycle staff and I feel like I know them already although this was only our first encounter with them!"
Dario says that going forward there will be an annual party especially for IMRG members. In the meantime, Indian Motorcycle owners wishing to join the IMRG can do so by speaking to their local Indian Motorcycle dealership.
NOTES TO EDITORS
1. Photos for editorial use only. Please credit Mike Senkl www.senkl.at
# # #
ABOUT INDIAN MOTORCYCLE
Indian Motorcycle, a wholly owned subsidiary of Polaris Industries Inc. (NYSE: PII), is America's first motorcycle company. Founded in 1901, Indian Motorcycle has won the hearts of motorcyclists around the world and earned distinction as one of America's most legendary and iconic brands through unrivalled racing dominance, engineering prowess and countless innovations and industry firsts. Today that heritage and passion is reignited under new brand stewardship. To learn more, please visit www.indianmotorcycle.com
ABOUT POLARIS
Polaris is a recognised leader in the powersports industry with annual 2014 sales of $4.5 billion. Polaris designs, engineers, manufactures and markets innovative, high quality off-road consumer and military vehicles, including all-terrain vehicles (ATVs) and the Polaris RANGER and RZR side-by-side vehicles, snowmobiles, motorcycles and on-road electric/hybrid powered vehicles. Polaris is among the global sales leaders for both snowmobiles and off-road vehicles and has established a presence in the heavyweight cruiser and touring motorcycle market with the Victory and Indian Motorcycle and Slingshot brands. Additionally, Polaris continues to invest in the global Work and Transportation vehicle industry with Global Electric Motorcars (GEM), Goupil Industrie SA, Aixam Mega S.A.S., and internally developed vehicles. Polaris enhances the riding experience with a complete line of Polaris Engineered Parts, Accessories and Apparel, Klim branded apparel and ORV accessories under the Kolpin, Cycle Country and Pro Armor brands. Polaris Industries Inc. trades on the New York Stock Exchange under the symbol "PII", and the Company is included in the S&P Mid-Cap 400 stock price index. Information about the complete line of Polaris products, apparel and vehicle accessories are available from authorized Polaris dealers or anytime at www.polaris.com
# # #
MEDIA CONTACT
Dan Tye
+44 7471 030606
@IndianEMEA_PR
press@indianmotorcycle.media
www.indianmotorcycle.media