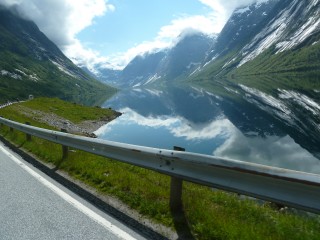 Indian Motorcycle owners that went on a tour around Norway in June have returned with wonderful memories of superb roads and breathtaking scenery. 
Twenty riders were led by Magne Ingebretsen from the Thunder Twin dealership from Saturday 14th June to Sunday 22 June.
The group rode on the famous Atlantic Road to Molde and along 'Route 666' to Trollstigen, a steep, widing mountain road.
Magne describes a few of the stages of the tour: "The first stage was from Lyngdal to Skien and we went on the coast road in beautiful sunshine through Langenes, Kristiansand, Lillesand, Grimstad and Arendal before we trawled through narrow streets in Tvedestrand with stops for coffee and ice cream. We arrived at the CBP dealership in Skien late afternoon where they had served up with grilled meals and drinks."
"The final leg from Bergen to Lyngdal was also a great stage in glorious weather through Hard Ager and Ryfylke. The tour went from Bergen to Nordheimsund with a stop at Steinsdalsfossen to contemplate a waterfall that you can walk behind.
"We then went on the RV13 which is a National Tourist route, through to Hardanger on some ferries, before we arrived Odda and had a short stop at Låtefossen.
"We had seen Western Norway from its best side with steep mountains and calm fjords situated between steep mountains with snowy peaks.
"We stopped at Langfossen to contemplate the wonderful scenery and had a little cheering up before taking the ferry to Rennfast and Stavanger.
"The final leg took us back to square one, the Twin Thunder dealership in Lyngdal. Here we were served good food and well-deserved drink. For us the trip was over – the rest of the gang then had to ride a further good distance home to Eastern Norway / Sweden on Sunday."
"Little traffic and great roads made this motorcycle tour through Norway very special. To bring together riders that share the same passion for the Indian Motorcycle brand on these fantastic roads for a fantastic event has given us memories for life."
See also the original press release.