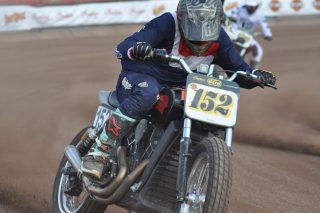 UNITED KINGDOM (21st August, 2018) – Indian Motorcycle were out for fun and mayhem at DirtQuakeVII, Arena Essex Raceway, Saturday 18th August. Thundering Chief tourers, Scout Hooligan racers and the World beating FTR750 combined to create a spectacular show like no other.
Amateur riders, road racers and celebrities from far and wide converged on Arena Essex with a spectacular array of Street Trackers, Choppers, inappropriate road bikes and just one goal Go Fast, Turn Left!
Headlining the racing schedule was the DTRA's Indian Motorcycle Hooligan Championship, with the Krazy Horse Race Team lining up four supported entries: Leah Tokelove, Chris Hatton, Jonathan Falkman and Lee Kirkpatrick piloting Scout Sixty based machines.
Kirkpatrick's consistent pace meant that he headed up the Indian riders in the points standings; but he still faced stiff competition, with Tokelove hot on his heals and confident after her blistering performance at the Wheels and Waves festival. Falkman and Hatton also had their sights set on a good performance. Falkman always the showman in metal flake livery and a cape. Racing on Arena Essex's tight short-track oval was fast and furious, hustling the road-based Scout Sixty, Kirkpatrick pushed hard to challenge the lighter Hooligan class machines, snapping at their heals to claim a solid P3 Podium closely followed by Tokelove in P4.
Not to be outdone by the Hooligans, DirtQuakeVII also saw Indian Touring bikes take to the dirt, with old masters Steve Parrish and Neil Hodgson sliding the range topping Roadmaster and Chieftain Limited around the oval to the delight of the crowd.
Indian Motorcycle added extra excitement to the weekend by unleashing the American Flat Track Indian FTR750 for a special Celebrity Hot Lap, DirtQuake Presenter Neil Hodgson, Flat Track Champion Alan Birtwistle and Jenny Tinmouth the fastest woman ever at the Isle of Man TT, all showed their skills on the dominant US American Flat Track championship machine, with podium finishes in every 2018 AFT round so far, the FTR750 recently secured a second consecutive manufacturer's championship for Indian Motorcycle.
DirtQuakeVII Hooligan Race Results
1/ Gary Birtwistle
2/ Max Hunt
3/ Lee Kirkpatrick
4/ Leah Tokelove
5/ Gary Inman
Watch and embed videos of the Indian Scout Hooligans in action:
● Round 1 https://youtu.be/9_sXrMyds4I
● Round 2 https://youtu.be/jPP3l9oKJf0
● Round 3 & 4 https://youtu.be/yAglMgaXzFc
● Round 5  https://youtu.be/Q1JiVQ2o0x8
NOTES TO EDITORS
For more information about Indian Motorcycle's Hooligan racing programme, rider interviews and the chance to try a Krazy Horse prepared Indian Scout Hooligan Racer in the UK, contact Steve Cain direct on +44 7916 371 113 or steve.cain@polaris.com
Please give photo credit to: Barkinheads Photography & @dandidthis
###
ABOUT DIRTQUAKE
DirtQuake VII is the inclusive festival of motorcycling that sees professional and amateur riders, plus celebrities from across the world of motorcycling, race flat track for the fun of it. With rare and unique bikes, family activities and star names, DirtQuake attracts a diverse crowd of motorcycle fans to enjoy a weekend centered on the racing which is the heart of the event. Such is the growing popularity of DirtQuake that, for the second year running, the event is being broadcast on a major UK television network. See all the action on Wednesday 29th August, 8pm, ITV4, it's going to be a belter!
ABOUT INDIAN MOTORCYCLE
Indian Motorcycle, a wholly owned subsidiary of Polaris Industries Inc. (NYSE: PII), is America's first motorcycle company. Founded in 1901, Indian Motorcycle has won the hearts of motorcyclists around the world and earned distinction as one of America's most legendary and iconic brands through unrivalled racing dominance, engineering prowess and countless innovations and industry firsts. Today that heritage and passion is reignited under new brand stewardship. To learn more, please visit www.indianmotorcycle.eu
MEDIA CONTACT
Ian Austin
EMEA Press Indian Motorcycle
Follow us on Twitter @IndianEMEA_PR
+44 7471 030606
press@indianmotorcycle.media