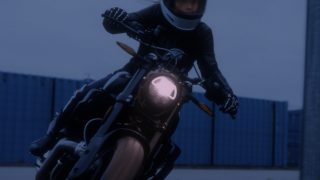 Custom Indian FTR to blend American, British and Japanese Moto Cultures
Unique bodywork to be fabricated by Tokyo based customiser, Toshiyuki "CHEETAH" Osawa.
Final build to be revealed at the famous Bike Shed London Show
Indian Motorcycle UK and Sideburn magazine have announced a collaboration to realise a special, custom-built Indian FTR celebrating the American flat track heritage of the FTR, the burgeoning UK dirt track scene while also spanning the globe to blend the moto cultures of America, Britain, and Japan by partnering with one of the most current and creative customisers, Toshiyuki "CHEETAH" Osawa.
Gary Inman, founder of Sideburn, commented "Sideburn grew out of my love of flat track racing and the aesthetics of the sport, so our relationship with Indian Motorcycle, who absolutely dominate in the sport, has always been a natural fit. Being able to collaborate with Indian Motorcycle and my favourite custom builder is a real high point in Sideburn's history and I can't wait to bring Cheetah's sketches to life."
Based out of his Tokyo workshop, Cheetah Custom Cycles, is one of the most respected custom builders anywhere in the world. He creates stripped down customs often featuring his own flawless, hand-formed alloy bodywork. While never limiting himself to one brand or style of motorcycle, Cheetah has created a number of Indian customs using both vintage and modern models as his starting point. Cheetah is also one of the driving forces behind the grassroots resurgence of dirt track in Japan, so the tie-in with the FTR and Sideburn is perfect.
"Despite the wildly varied custom scene in Japan, Cheetah and I are on the same page, and we are keen to create a custom that, while celebrating the moto cultures of the US, UK and Japan, still retains all the great elements that make the FTR such a desirable motorcycle. Alongside a plan to add some choice components, the real highlight for me will be when Cheetah flies into the UK to fit the aluminium bodywork that he'll be fabricating in Japan," said Inman.

Claire D'auria from Indian Motorcycle UK said, "We've always had a great relationship with Gary and Sideburn and when the idea for this FTR build was first discussed, we all knew it would be a very special project. It's also very exciting to have Cheetah involved in the project bringing his highly creative design and fabrication skills to the FTR. I can't wait to see the reaction at the Bike Shed show in May."
As part of the build, a series of videos will follow the project from the build to its unveiling at the prestigious Bike Shed Show London and beyond when the 'Tokyo Connection' can drop show bike duties and get back to riding hard.
The first video kicks off the project with a little British humour and features Indian Motorcycle flat track racer Leah Tokelove taking advantage of Sideburn's brand new Indian FTR.
For more information on Indian Motorcycle visit IndianMotorcycle.eu and follow along on Facebook, Twitter and Instagram.
###
ABOUT INDIAN MOTORCYCLE®
Indian Motorcycle is America's First Motorcycle Company®. Founded in 1901, Indian Motorcycle has won the hearts of motorcyclists around the world and earned distinction as one of America's most legendary and iconic brands through unrivalled racing dominance, engineering prowess and countless innovations and industry firsts. Today that heritage and passion are reignited under new brand stewardship. To learn more, please visit www.indianmotorcycle.eu
INDIAN and INDIAN MOTORCYCLE are registered trademarks of Indian Motorcycle International, LLC. Always wear a helmet, protective clothing and eyewear and insist your passenger does the same. Ride within the limits of the law and your own abilities. Read, understand, and follow your owner's manual. Never ride under the influence of drugs or alcohol.
MEDIA CONTACT
Ian Austin
EMEA Press Indian Motorcycle
Follow us on Twitter @IndianEMEA_PR
+44 7471 030606
press@indianmotorcycle.media