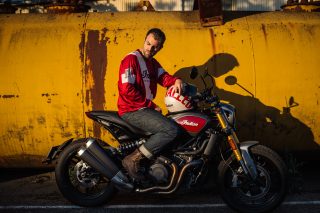 Limited Edition apparel and Limited Edition Hedon helmets celebrating:
120 year anniversary of Indian Motorcycle – 10 year anniversary of Wheels & Waves
6 year anniversary of Indian Motorcycle partnership with Wheel & Waves
Indian Motorcycle and Wheels & Waves have collaborated on a lineup of limited edition apparel and Hedon helmets to celebrate the return of Wheels & Waves and three special anniversaries. The year 2021 not only sees the welcome return of the event to the calendar, it also marks the 120th anniversary since the establishment of Indian Motorcycles in 1901. Wheels & Waves also hits the significant milestone of 10 years since its inaugural edition and sees Indian Motorcycle return as headline sponsor of Wheels & Waves for the 5th year, continuing a 6 year partnership.
After postponement in 2020 due to the global pandemic, the unique festival of custom culture returns to Biarritz, France from June 30 through to July 4. The 10th Edition of the festival will again celebrate motorcycling, skating and surfing as well as the diverse creative expressions of art, music and food that emerges from these scenes.
"Continuing our partnership with Wheels & Waves was a given for us, especially after the complicated year that everyone has experienced and last year's understandable postponement. What better way to celebrate these significant anniversaries than to be a part of the return of this unique, flamboyant event and to collaborate on a collectors lineup of clothing and helmets. Like Indian Motorcycle, the team behind Wheels & Waves have always maintained its unique identity and it's this that has always resonated with us and our riders." says Grant Bester, Vice President International, Indian Motorcycle.
Organisers, Jérôme Allé, Julien Azé, Valérie Allé and Benjamin Monge have again set out to make Wheels & Waves an immersive space inspired by motorcycle culture and to create a timeless experience that mixes in the various influences of surfing, skating, music and art.
"This is a symbolic anniversary for us and we are very happy to welcome back Indian Motorcycles and be able to celebrate these multiple anniversaries with a return to the custom culture and our vision of a contemporary lifestyle that combines our favourite activities," explains Julien.

Jérôme, who designed the lineup said, "This limited edition collection seals a long-standing partnership between Indian Motorcycle and Wheels & Waves while arriving as a gift to the enthusiasts of our common universes for the 10th anniversary of the festival. The artistic creation of this collection was inspired by our history, the different artists who have accompanied us throughout these years and also by the history of America's first motorcycle company. I'd also like to thanks Alain Rehm, who accompanied me, and stylized the FTR in the UNRIVALLED design featured on the Hedon helmet."
The Limited Edition celebration apparel lineup will see just 200 units of each design available with a choice of four designs for men and two for women. For the real style icons, the uniquely designed Hedon helmet is definitely one for the collectors with just 50 being made.
Riders going to the 10th Edition of Wheels & Waves will have the first opportunity own these unique and exclusive items when they go on sale at the festival.
For more information on Wheels & Waves 2021 please visit: wheels-and-waves.com
###
ABOUT INDIAN MOTORCYCLE®
Indian Motorcycle is America's first motorcycle company. Founded in 1901, Indian Motorcycle has won the hearts of motorcyclists around the world and earned distinction as one of America's most legendary and iconic brands through unrivalled racing dominance, engineering prowess and countless innovations and industry firsts. Today that heritage and passion are reignited under new brand stewardship. To learn more, please visit. To learn more, please visit www.indianmotorcycle.eu
INDIAN and INDIAN MOTORCYCLE are registered trademarks of Indian Motorcycle International, LLC. Always wear a helmet, protective clothing and eyewear and insist your passenger does the same. Ride within the limits of the law and your own abilities. Read, understand, and follow your owner's manual. Never ride under the influence of drugs or alcohol.
ABOUT WHEELS & WAVES
Founded in 2008, Wheels and Waves is the successful realisation of the dream of a group of friends, the Southsiders, who are passionate about motorcycles. Lovers of the Basque Country, Southsiders have brought together hundreds of like-minded individuals who gather in the spirit of companionship. "Wheels and Waves is about eliminating social barriers and bringing different sets of people together without judgement. It's about the joy of mixing together all kinds of communities, languages and cultures. It's about living in the present without being nostalgic for the past, but not losing sight of the best moments of the past." www.wheels-and-waves.com
INDIAN MOTORCYCLE MEDIA CONTACT
Ian Austin
EMEA Press Indian Motorcycle
Follow us on Twitter @IndianEMEA_PR
+44 7471 030 606
press@indianmotorcycle.media
WHEELS & WAVES MEDIA CONTACT
Benjamin Monge
+ 33 6 77 67 52 17
benjamin@wheels-and-waves.com