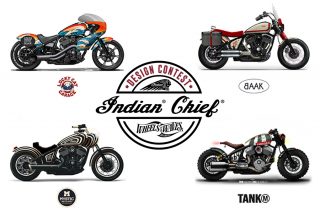 Public And Panel Of Super Voters To Determine Which Design Is Realised
Public Voters Entered Into A Prize Draw To Win The Completed Motorcycle
Indian Motorcycle, in collaboration with Wheels & Waves, has commissioned four European builders to design their vision of an Indian Chief inspired from the past, anchored in the present, and looking towards the future. Just one of these unique designs will be realised based on a public vote and a panel of Super Voters. Simply by voting for their favourite design, one lucky winner will be taking home the final customised Indian Chief from a VIP trip to Wheels & Waves to enjoy the event and receive their prize.
The new Indian Chief is the perfect blend of old and new supplemented with modern technology, performance, and zero compromises. With its classic compact stance and simple steel frame, the Chief's design team always had customisers in mind making it the perfect canvas on which builders can express themselves.
To highlight these qualities and celebrate their long-term partnership, Indian Motorcycle and Wheels & Waves have again joined forces to gather outstanding talent and highly respected figures in the scene to bring a unique Indian Chief to life for one lucky rider.
The winning design will be determined by the sum of points awarded by the public vote and the panel of Super Voters.
Each design will be awarded points based on the results of the public vote and the Super Voters ranking. The winning design will be the one with the highest total when the public vote points are added to the Super Votes.
Public Vote
Super Voter's Ranking

First = 4 points

Second = 3 Points

Third = 2 Points

Fourth = 1 Point

First = 4 Points

Second = 3 Points

Third = 2 Points

Fourth = 1 Point
Online voting for the public's favourite design will take place between December 17th and February 18th with everyone who votes put into a prize draw for a chance to win the Indian Motorcycle Chief in the top-ranked design.
For more information and full terms & conditions, please visit:
#indianmotorcycle #IndianChief #wheelsandwaves
The Designers
BAAK – After having been an optician, Rémi focused on his passion in 2012 and became a trendsetter by creating BAAK Motocyclettes. Self-taught, he directs BAAK and each personalisation project. Today, the company offers parts for cars and motorcycles, a bespoke service, adventures as well as a collection of clothing. Rémi Réguin is now leading his company towards a complete brand that combines beauty, utility and functionality.
LUCKY CAT GARAGE – Lucky Cat Garage is, above all, the love story of Laurence & Sébastien who share the same passion for motorcycles, crafts and decorative arts. Always creative, they never hesitate to come up with innovative projects with a touch of humour and great attention to detail. Competitors at heart, they are happy to take to the circuits to do battle on their sprintbikes as part of the Sultans of Sprint challenge that they organise.
MYSTIC MECHANIC – François Crèche, a graduate of the Brassart school and a tenant at the Beaux-Arts in Tours and then in Paris, founded his own Design Workshop in 2001 to specialise in merchandising, publishing, and packaging. At the same time François also discovered the world of American motorcycles, including Indian Motorcycle. After falling in love with the scene he founded Mystic Mechanic in 2018 in the south of France, exclusively dedicated to his two passions: design and motorcycles.
TANK MACHINE – The Concept Tank Machine is a Workshop in the Paris region founded in 2015 by Clément Molina specialising in Motorcycle Design, customisation and the development of Plug & Play Kits. The workshop has always had a special link with the Indian Motorcycle brand and Wheels & Waves, which is why today the Tank Machine team is joining forces with Antonin Bazin from the "RiseDesign.fr" Agency to merge their "Board Culture".
The Super Voter Panel
Ola Stenegärd – Surrounded by choppers and hot rods from a young age on the family farm in Sweden, Ola has been part of the long-established Swedish chopper and custom scene all of his life with many world-famous builds to his name. From the early days of modifying his own, and the local kids, bicycles through to his first show winning chopper moped at 15 years of age and a road trip across America at 20 to soak up the scene and collect parts, Ola's innate feel of lines and stance has been honed from a long study and appreciation of all the builders and designers around the world. With a Masters in Applied Art (Industrial Design) his working design life started with cars. But Ola was destined to return to motorcycles and joined Indian Motorcycle in 2001 during the Gilroy years. After moving on to progress through the industry, Ola returned to Indian Motorcycle in 2018 as Director of Industrial Design and was honoured to be assigned to lead the team that would re-imagine the Iconic Indian Chief for its 100th anniversary.
Roland Sands – From Long Beach, California, Roland's first dirt bike was given to him on his 5th birthday. His love of speed on two wheels took him to the professional racing ranks for 10 years setting multiple track records and becoming 1998 American Motorcyclist Association 250GP champion. Roland traded in his racing leathers for hammer, pencil, and computer design to build motorcycles and custom motorcycle products founding Roland Sands Design in 2005. Playing a pivotal role in popularizing high-performance custom bikes to the masses his designs have earned many awards throughout the years as well featuring in over 500 magazine articles world-wide and on over 100 magazine covers. Sands has also starred in many TV shows including Nitro Circus, Chopper Nation, Biker Build-Off, American Thunder and many others.
Paul d'Orleans – Paul d'Orleans – Paul d'Orléans is a globally recognised expert on motorcycle history and culture. He founded The Vintagent as a blog in October 2006 sensing a new opportunity to explore imagery and ideas. The immediate popularity of The Vintagent led him to abandon a 25-year career as a decorative paint specialist by 2009, in favour of a new career of writing, photography, and film, mostly related to motorcycles. As a writer, Paul is author of four books, editor of four more, and has written for dozens of magazines worldwide, including stints as Custom & Style editor at Cycle World magazine, editor-at-large for At Large magazine, a monthly columnist for Classic Bike Guide, and a regular contributor for print sources as diverse as Men's File and The Automobile. Paul is a regular judge/host at major events like the Concorso di Villa d'Este, the Quail Motorcycle Gathering, and the Las Vegas antique motorcycle auctions every January for Mecum auctions on NBCSN TV.
Michael Lichter – Michael is a commercial photographer based in Boulder, Colorado who specializes in motorcycle photography. He has been capturing the bikes, the people and the attitude since 1977 when he realized he was a better photographer than drummer and left the BeBop band he was in. By 1979, Easyriders was publishing his work and in the years since, assignments have taken him around the globe many times over. He has photographed the best builders in the business and for numerous commercial clients. His work has been published in more than a thousand features in magazines around the world and his name is on the cover of 11 coffee table books. Michael continues to shoot editorially, for commercial clients and to exhibit his Limited Edition archive prints in galleries in the USA and abroad.
Tadashi Kono – Tadashi has been creating articles about motorcycles as a freelancer for over 20 years for both magazines and digital media. More than 25 years ago, Tadashi joined the editorial office of a motorcycle magazine that focused on vintage and custom motorcycles. Alongside an editorial office stocked with old books and photographs about many motorcycles, colleagues who were full of experience and knowledge, the need to have multiple abilities, Tadashi was able to acquire the all the skills he needed to work as a freelancer. Having to become a photographer, graphic designer, copywriter, how to get communicate specialist knowledge of mechanics, and gaining riding skills it was very important time in shaping his philosophy. In 2015, Tadashi started to cover custom motorcycle shows such as Wheels & Waves in France and Glemseck in Germany as well as Bike Shed London, Pure & Crafted, Auerberg Klassik, Throttle Roll and One Moto Show.
Katharina Weber – Katharina entered the motorcycle world in 1996 as a trainee at a German publisher. It was the heyday of customising. Motorcycles had fat tires and black paintworks and the first years she worked in the editorial office of Bikers News, a one percenter rocker magazine, tough times. In 2005 she switched to CUSTOMBIKE, one of Europe's oldest print magazines for customised motorcycles. It was love at the first sight: With the scene, the bikes, and the people behind. She made her motorcycle license immediately and to this day she still has a weakness for vintage bikes. The current own project is a Seventies two stroker. In 2013 Katharina became editor in chief for the magazine. Over fifteen years she built up an own network of professional and private bike builders, photographers, writers and chroniclers of the custom motorcycle scene – always with the goal to bring the best stories to the readers. And always with a passion for handmade motorcycles and print magazines. After the bankruptcy of the old publisher in 2020, Katharina and a small team of enthusiasts start to publish CUSTOMBIKE and the partner magazine DREAM-MACHINES completely independent and with no big company or sponsors in the background. Katharina is the only woman worldwide who publish print motorcycle magazines by her own, in 2022 CUSTOMBIKE will celebrate its 30th Anniversary.
For more information on Indian Motorcycle visit IndianMotorcycle.eu and follow along on Facebook, Twitter and Instagram.
Notes to editors:
The voters eligible to win the customised Indian Chief must be residents of:
• Austria
• France
• Germany
• Portugal
• Spain
• Switzerland
• United Kingdom
###
ABOUT INDIAN MOTORCYCLE®
Indian Motorcycle is America's first motorcycle company. Founded in 1901, Indian Motorcycle has won the hearts of motorcyclists around the world and earned distinction as one of America's most legendary and iconic brands through unrivalled racing dominance, engineering prowess and countless innovations and industry firsts. Today that heritage and passion are reignited under new brand stewardship. To learn more, please visit www.indianmotorcycle.eu
INDIAN and INDIAN MOTORCYCLE are registered trademarks of Indian Motorcycle International, LLC. Always wear a helmet, protective clothing and eyewear and insist your passenger does the same. Ride within the limits of the law and your own abilities. Read, understand, and follow your owner's manual. Never ride under the influence of drugs or alcohol.
ABOUT WHEELS & WAVES
Founded in 2008, Wheels and Waves is the successful realisation of the dream of a group of friends, the Southsiders, who are passionate about motorcycles. Lovers of the Basque Country, Southsiders have brought together hundreds of like-minded individuals who gather in the spirit of companionship. "Wheels and Waves is about eliminating social barriers and bringing different sets of people together without judgement. It's about the joy of mixing together all kinds of communities, languages and cultures. It's about living in the present without being nostalgic for the past, but not losing sight of the best moments of the past." www.wheels-and-waves.com
MEDIA CONTACT
Ian Austin
EMEA Press Indian Motorcycle
Follow us on Twitter @IndianEMEA_PR
+44 7471 030606
press@indianmotorcycle.media
WHEELS & WAVES MEDIA CONTACT
Benjamin Monge
+ 33 6 77 67 52 17
benjamin@wheels-and-waves.com