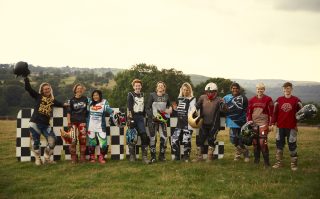 Bring the good vibes and a smile and get ready for the best weekend of your summer.
Indian Motorcycle and VC London today announced their partnership that sees Indian Motorcycle as a headline sponsor for the 2022 edition of Camp VC, the annual women's motorcycle and outdoor adventure weekend that pushes boundaries and smashes stereotypes. Bringing like-minded women together for the weekend of July 29-31, Camp VC 2022 will be bigger and better than ever due to the increased capacity of its new home at the Sweet Lamb Motorsports complex in Llanidloes, Wales.
"VC are so proud to announce our partnership with Indian Motorcycle for Camp VC 2022. Teaming up with such a legendary brand with roots so steeped in motorcycle history is a huge driving force in helping us to take the Camp VC to the next level at our incredible new site and introduce more womxn to the community, confidence, adventure and freedom that motorcycles bring. Working with Claire D'Auria and the Indian Motorcycle UK team is a true inspiration to us knowing that there is brand support from like-minded women within the motorcycle industry. We can't wait to welcome the Indian Motorcycle fleet to our new site and make Camp VC 2022 better than ever!" Gemma Harrison-Warman – Co-founder, Camp VC

"We believe the choices you make define you. It takes no effort to join the crowd. But it takes confidence to go your own way. Camp VC encapsulates the ethos of Indian Motorcycle – the freedom to do exactly that. We're really proud to be able to share that passion at Camp VC 2022 with other like-minded individualists for an empowering, inspirational weekend of motorcycling and the open road with no pressure, just positivity and good times." Claire D'Auria – Marketing, Indian Motorcycle UK & Eire
Camp VC has been providing women with one hell of a weekend since 2016, growing in scale and reputation every year and creating such a stir in the scene that Camp VC 2021 sold out in just 72 hours, returning with a bang after the 2020 pandemic postponement.
For 2022, Camp VC will take advantage of the increased capacity of the Sweet Lamb Motorsport complex with even more attendees and activities including an opportunity to test ride an Indian Motorcycle and meet the team. From camping to dirt biking, skateboarding to yoga, ride outs to workshops, there will be something for everybody, even those who do not ride.
With a riding school and skate lessons onsite for anyone who wants to give riding or skating a first try, there are also plenty of non-riding activities to take part in including; live talks from inspirational women, film screenings, creative workshops and crafts, dirt bike classes, and live entertainment every night, all set in Wales' incredible countryside.
Tickets go live on Saturday April 2 at 9am GMT / 10am BST and more details on the event can be found at: https://www.campvc.co.uk/
Camp VC can also be followed on social media at: https://www.instagram.com/camp_vc/
For more information on Indian Motorcycle visit IndianMotorcycle.eu and follow along on Facebook, Twitter and Instagram.
Notes to Editors:
Lead group image photo credit Amanda Fordyce @amandafordycephoto
Indian Motorcycle x Camp VC images photo credit VC London
###
ABOUT INDIAN MOTORCYCLE®
Indian Motorcycle is America's first motorcycle company. Founded in 1901, Indian Motorcycle has won the hearts of motorcyclists around the world and earned distinction as one of America's most legendary and iconic brands through unrivalled racing dominance, engineering prowess and countless innovations and industry firsts. Today that heritage and passion are reignited under new brand stewardship. To learn more, please visit www.indianmotorcycle.eu
INDIAN and INDIAN MOTORCYCLE are registered trademarks of Indian Motorcycle International, LLC. Always wear a helmet, protective clothing and eyewear and insist your passenger does the same. Ride within the limits of the law and your own abilities. Read, understand, and follow your owner's manual. Never ride under the influence of drugs or alcohol.
ABOUT VC LONDON
VC London is a collective of like-minded individuals that support, encourage and help to enable others to do what they love. Running events, camps, talks, workshops, lessons, sharing information, creating connections and providing a platform that promotes positivity and community with the aim to inspire anyone and everyone.
Started in a back street workshop in East London in 2015 by three friends – Gemma Harrison, Maite Storni & Namin Cho, who were struggling to find other women to ride with, VC London was born from a DIY grassroots approach to helping other women to start riding. Since then VC London has grown into a global community trading skills and helping each other out through events, lessons, talks, camps, brand collaborations, meetups, workshops and the online VC platform. Rooted in motorbike culture, VC has grown to include everything, from skateboarding, dirt biking and flat track to automotive sport, providing a gateway to support and encourage anyone to get into the stuff they've always wanted to try. To learn more visit: https://www.vclondon.co.uk/ and follow on social media at https://www.instagram.com/vc_london/ and https://www.facebook.com/vclondon/.
INDIAN MOTORCYCLE MEDIA CONTACT
Ian Austin
EMEA Press Indian Motorcycle
Follow us on Twitter @IndianEMEA_PR
+44 7471 030606
press@indianmotorcycle.media