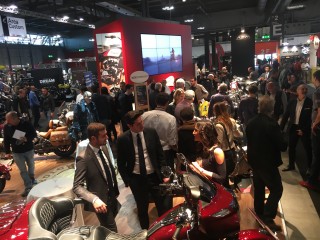 Indian Motorcycle is excited to unveil its 2017 line-up at the EICMA show and has the following news to announce:
We've launched a Ride Command touchscreen infotainment system
Scout and Scout Sixty can now be made A2 licence compliant
There are new colours for many of our 2017 models
Scout is the original platform for customisation
We celebrate our 115th anniversary this year
Come and see the engine for our new AMA Pro Flat Rack FTR750 race bike on our stand E48 in Hall 2
There are now nine models in the line-up – full details of each model can be seen on the press website here http://www.indianmotorcycle.media/product-category/motorcycles/
###
RIDE COMMAND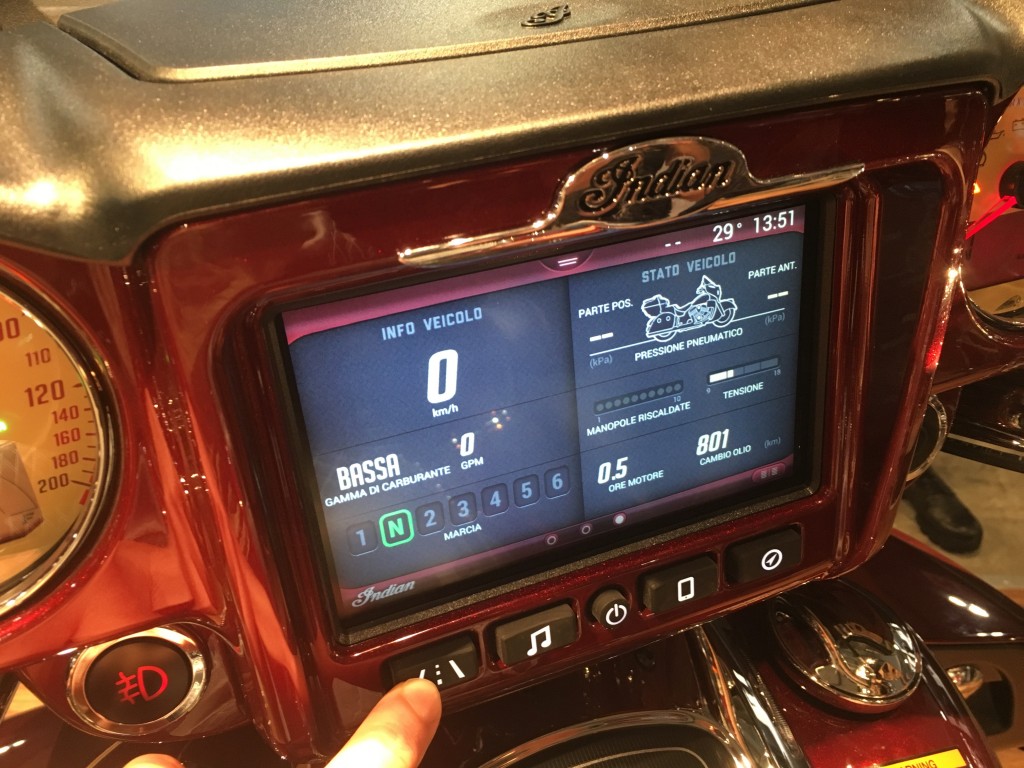 The headline addition for 2017 is the Ride Command touchscreen infotainment system that will come as standard equipment on the Chieftain and the Roadmaster.
This 7" touchscreen lets the rider navigate, see ride statistics and how the motorcycle is performing as well as giving first class music entertainment.
It gives the most information available on any system on two wheels. Riders can customise screens to monitor statistics like run-time, the mileage to next oil change, engine hours. They can even track the altitude change over a ride.
Riders can connect their phone to Ride Command using Bluetooth or they can place it in a special slot in the top of the fairing and connect directly to a USB socket.
Ride Command makes it easy to listen to music as you ride. You can easily switch between radio stations, stream music from your phone or play music from a USB stick.
Software updates are free for life (updated using a USB stick and computer) and regular software enhancements will continue to make Ride Command the best infotainment system in the industry. Owners will also get three years of free map updates.
###
SCOUT, SCOUT SIXTY & THE A2 LICENCE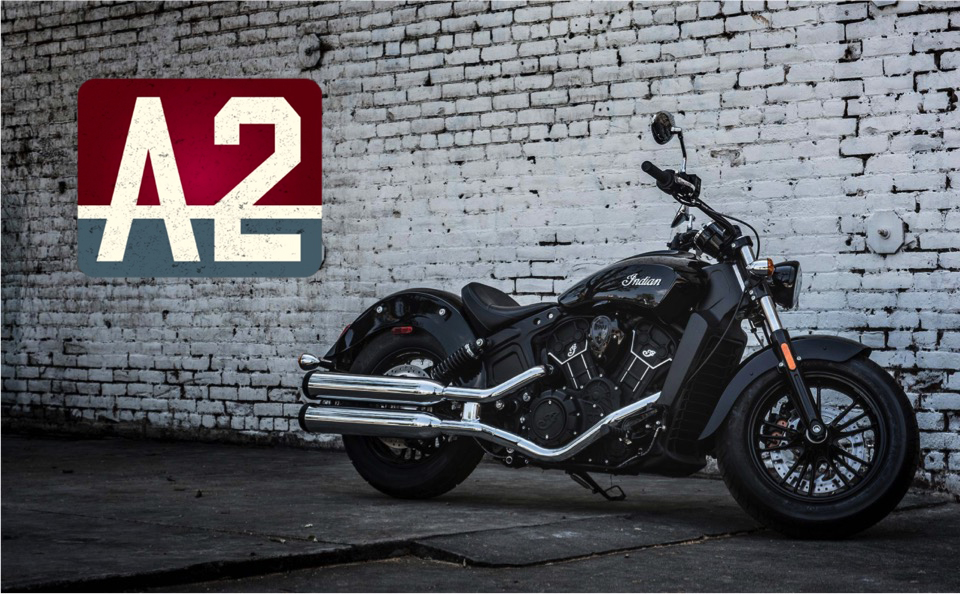 Scout Sixty (61ci) can now be made A2 licence compliant. Dealers will fit a restricting kit before delivery to the customer so that Scout Sixty's regular 78bhp (58kW) power is restricted down to 47bhp (35kW). The licensing rules state that the A2 test must be taken on a bike with at least 395cc with a power output of between 33bhp and 47bhp (25kW to 35kW). Upon passing, the rider is restricted to bikes with a limit of 47bhp (35kW) and a power-to-weight ratio of no more than 0.2kW/0.26bhp per kg, for two years. This power-to-weight ratio is important because it's not as simple as having a straightforward limit on the bhp. In real terms the minimum weight of a bike must be 175kg to use the full 47bhp, so in the case of Scout Sixty, its 246kg weight along with 47bhp means it easily meets the power-to-weight ratio. After two years the restricting kit can be removed and Scout Sixty will return to its full 78bhp. Scout (the 69ci version) will also be A2 compliant, but later in mid 2017.
###
2017 MODEL YEAR NEWS
Scout Sixty
Scout Sixty colours for 2017 remain the same as last year:
Thunder Black
Pearl White
Indian Motorcycle Red
Scout
Scout is available in seven colour schemes for 2017 and for the very first time is available in two-tone colours. One of these is Indian Motorcycle Red over Black and the other is Brilliant Blue over Pearl White with Fireball Red Pinstripe (a nod to the colours of the United States flag). On the two-tone models, the Indian Scout logo on the fuel tank is replaced by an Indian headdress logo.
Thunder Black
Thunder Black Smoke
Burgundy Metallic
Silver Smoke
Ivory Cream NEW
Brilliant Blue over Pearl White with Fireball Red pinstripe NEW (& two-tone)
Indian Motorcycle Red over Black NEW (& two-tone)
Chief Classic
The Chief Classic was only available in Pearl White last year, but it now comes in a new two-tone scheme – Burgundy Metallic over Thunder Black.
Pearl White
Burgundy Metallic over Thunder Black NEW
Chief Vintage
The Chief Vintage comes in two new striking two-tone colours for 2017.
Thunder Black
Willow Green over Ivory Cream
Indian Red over Ivory Cream NEW
Springfield Blue over Ivory Cream NEW
Chief Dark Horse
Remains the same as last year.
Springfield
Springfield is now available in two-tone colours for the first time – Steel Grey over Burgundy Metallic with Silver Stripe and Springfield Blue Metallic over Star Silver.
Indian Motorcycle Red
Thunder Black
Steel Grey over Burgundy Metallic with Silver Stripe NEW
Springfield Blue Metallic over Star Silver NEW
Chieftain
Chieftain comes in five colours this year – two of them new. It also has the new Ride Command touchscreen as standard.
Black Pearl
Silver Smoke
White Smoke NEW
Star Silver over Thunder Black
Wildfire Red over Thunder Black NEW
Chieftain Dark Horse
Remains the same as last year, but won't come with Ride Command like other Chieftain models do.
Roadmaster
There are five colours to choose from and it now comes with Ride Command as standard.
With a tan leather seat:
Willow Green over Ivory Cream NEW
With a black seat:
Burgundy Metallic NEW
Thunder Black
Thunder Black over Ivory Cream
Steel Grey over Thunder Black
###
SCOUT IS A MODEL FOR CUSTOMISATION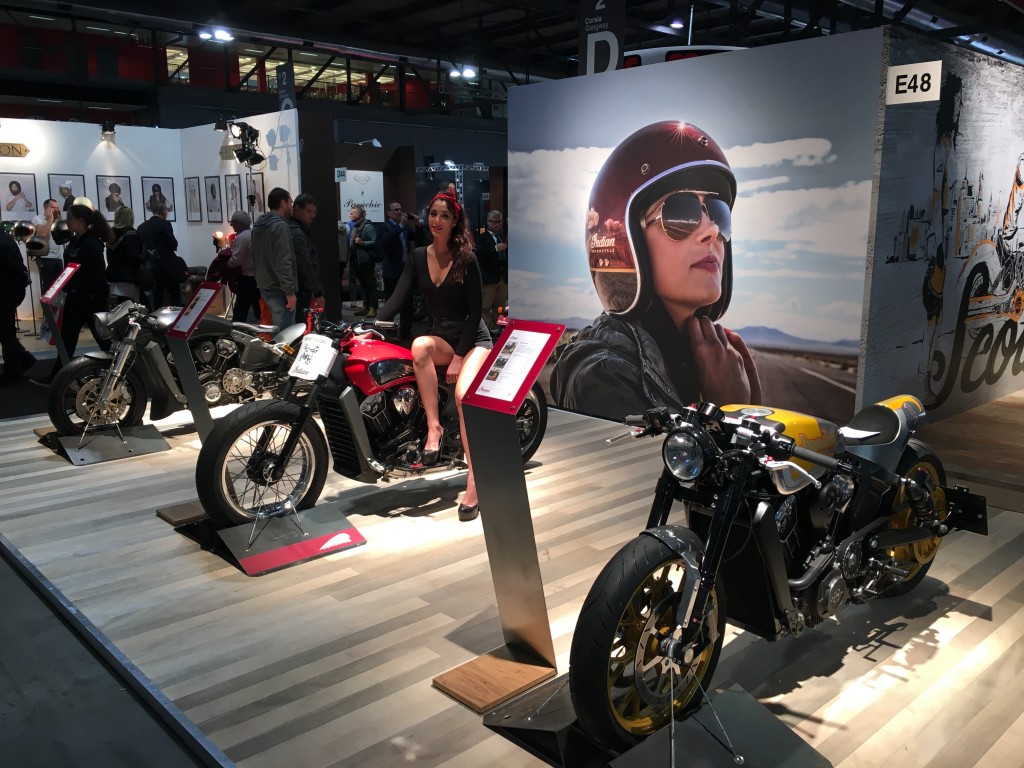 While many manufacturers are joining in the trend for bike customisation, this has been a natural part of Indian's history. Scout was the original motorcycle that was customised for racing, hill climbs, speed record attempts and for the military. Today, Indian has created over 100 official accessories for the Indian Scout so that owners really can add to the standard motorcycle and create a bike according to their own tastes and wants.
On the stand at EICMA, Indian had four different custom Scouts on display. One of these being the Wall of Death Scout that Guy Martin used to help set a World Record for the fastest speed on a Wall of Death (built by Krazy Horse in the UK). The brand also had the Spirit of Freedom Scout (built by Styrian Motor Cycle in Austria) and Apache One (built by Naumann & Co in Germany) on show. Indian is currently running a campaign where anyone test riding a Scout or Scout Sixty between now and March 2017 are entered in a draw to win a Super Scout Sixty Tank Machine custom bike built by Indian Paris.
www.win-scout-sixty.com
Note: residents of Italy, Finland, Portugal and Sweden cannot enter the draw due to local contest rules.

###
OUR 115th ANNIVERSARY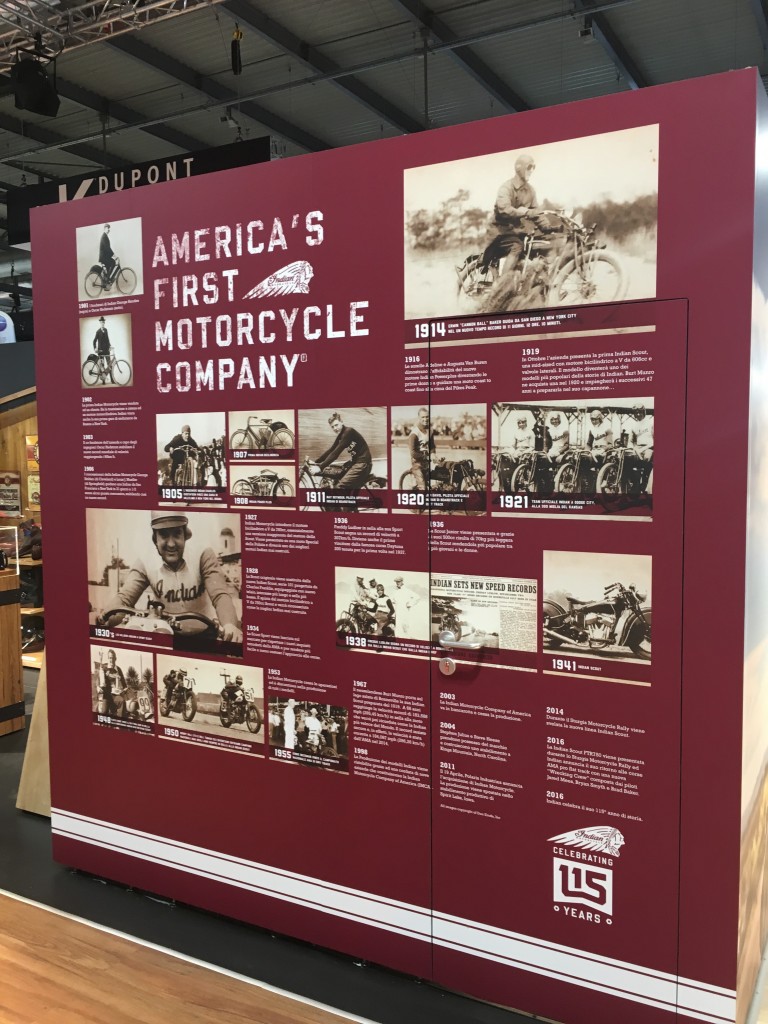 This year marks 115 years since George Hendee and Oscar Hedstrom brought an Indian motorcycle to market. In 1897 George Hendee was already manufacturing push bikes with the name 'American Indian', but this was shortened to 'Indian'. Three years later in 1900, Oscar Hedstrom joined the firm. Both Hendee and Hedstrom were former bicycle racers and they decided to build a motorised bicycle to use as a pace bike in cycling races.
A prototype and two production units were built in 1901 and the first Indian motorcycles were sold to the public in 1902. In 1903, Oscar Hedstrom set a world motorcycle speed record of 56 mph and in 1904 the company introduced the deep red paint scheme that would become Indian's trademark colour. In 1905 Indian built its first V-twin factory racer, putting a road-going version of the motorcycle on sale in 1907.
In 1923 the Indian motorcycles were selling so well that The Hendee Manufacturing Company changed its name to The Indian Motocycle Company – no "r" was used in motocycle when used along with the name Indian – but the "r" has since returned into the modern day name.
It was a rapid pace of development that Polaris, the modern day custodian of the brand, continues to do after acquiring Indian in 2011. In the five years that Polaris has overseen Indian Motorcycle, the number of models in the line-up has grown rapidly to nine, with the most recent additions being Scout Sixty, Springfield and the Chieftain Dark Horse.
While it's an American brand, many European motorcyclists are being tempted by the appeal of an Indian Motorcycle and over 6,000 motorcyclists across the region are now proud to call themselves Indian Motorcycle owners. There's now also a European version of the Indian Motorcycle Riders Group (IMRG) that has thousands of members and allows like-minded owners to meet and ride together (www.imrgmember.com).
The growing community of Indian Motorcycle enthusiasts really pleases Grant Bester, the EMEA general manager for Indian Motorcycle, who says: "Reviving Indian Motorcycle has been a real success story for Polaris. With new models like Scout Sixty and Springfield this year adding to the existing line-up, there now really is a model to suit most demographics. The future of Indian Motorcycle is very promising across the region and we have big plans to leverage the brand and expand the family of proud Indian Motorcycle owners."
The appeal of riding an Indian remains the same today as it did 115 years ago. Back in 1915 a newspaper advertisement entitled "Wouldn't You Like to Be With Them?" featured some words that are equally applicable in today's world.
"Once you own an Indian, the spirit of life tingles in your veins – the exhilaration of power thrills you – the world lies before you to explore – the joys of touring are yours."
See a timeline of Indian Motorcycle's past 115 years here www.indianmotorcycle.com/en-us/history
###
AND FINALLY…OUR INDIAN SCOUT FTR750 RACER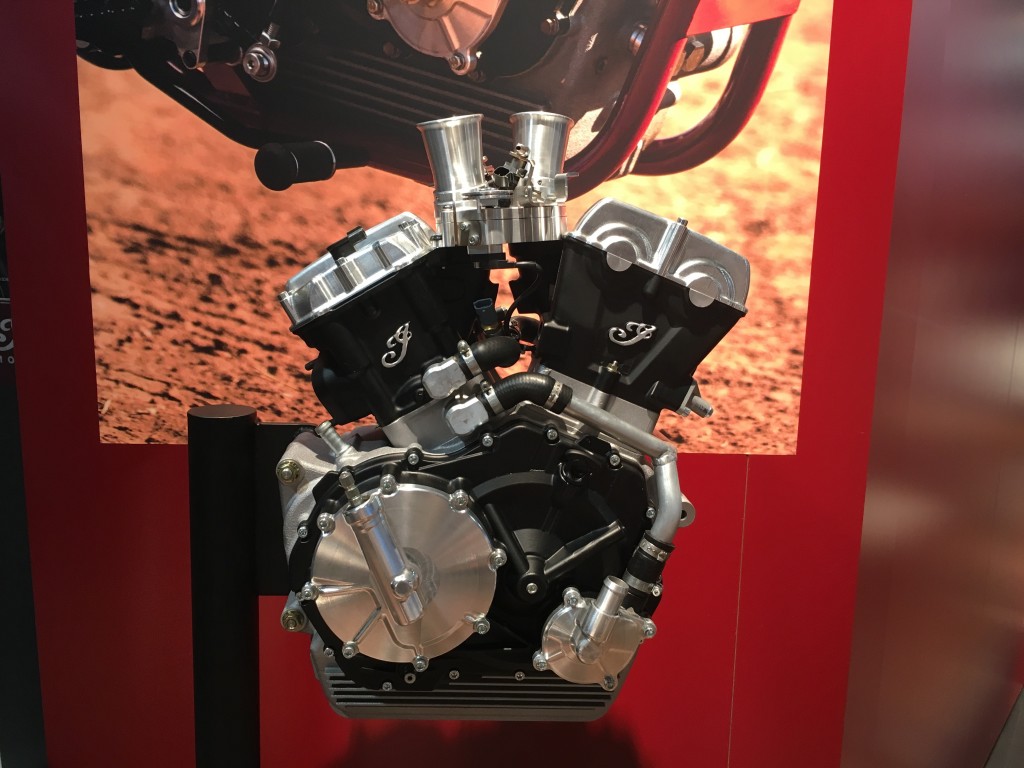 This year Indian Motorcycle announced its return to professional AMA Pro Flat Track racing with a three-rider team and a newly developed Indian Scout FTR750.
We are delighted to have the engine for this new model on show on our stand at EICMA this year. The engine was developed in just six months by a team at Polaris Swissauto based in Burgdorf, Switzerland.
"Indian Motorcycle has its DNA in motorcycle racing," said Gary Gray, Product Director for Indian Motorcycle. "We will continue that push towards excellence with our production bikes and in competition with the introduction of the Indian Scout FTR750."
"AMA Pro Flat Track racing is highly competitive and we leaned on a global team for this factory effort and have signed up three of the best riders in the world to exhibit our commitment to this legendary sport. That said, we are entering the series to do one thing – win."
Having successfully developed a line-up of nine award-winning production motorcycle models, Indian Motorcycle has fully dedicated its resources to a successful return to AMA Pro Flat Track.
The #3 Indian Scout FTR750 was piloted in its debut by AMA flat track racing legend Joe Kopp on Sunday, September 25 at the Ramspur Winery Santa Rosa Mile AMA Pro Flat Track race in Santa Rosa, California.
Kopp's debut of the Indian Scout FTR750 was highly successful with strong heat races that put him on the inside front row for the final race.
After quickly locking in his position in "the show" he attacked the Dash for Cash race and won.
In the final race, Kopp took a holeshot when the green flag flew and led the first lap. Over the course of the race the rough track conditions slowed the veteran racer, yet he still earned a solid 7th place in the final.
"Our team worked hard and had a pretty confident feeling coming into the weekend," says Reid Wilson, Director of Marketing for Indian Motorcycle. "Our goal was to make the main event, a great achievement for a 100% new motorcycle racing in a highly competitive GNC1 class. Joe was outstanding on the motorcycle and taking a strong win in the Dash for Cash was an epic first AMA checkered flag for Indian Motorcycle since the early 1950's. With our performance this weekend and the announcement of the new riders, we are showing our commitment to both the sport and the history and future of Indian Motorcycle."
 ###
ABOUT INDIAN MOTORCYCLE
Indian Motorcycle, a wholly-owned subsidiary of Polaris Industries Inc. (NYSE: PII), is America's first motorcycle company. Founded in 1901, Indian Motorcycle has won the hearts of motorcyclists around the world and earned distinction as one of America's most legendary and iconic brands through unrivalled racing dominance, engineering prowess and countless innovations and industry firsts. Today that heritage and passion is reignited under new brand stewardship. To learn more, please visit www.indianmotorcycle.eu
MEDIA CONTACT
Dan Tye
EMEA PR
Follow us on Twitter @IndianEMEA_PR
+44 7471 030606
press@indianmotorcycle.media