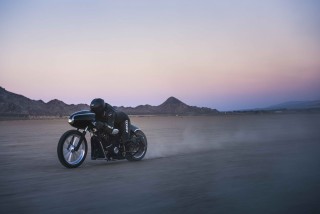 The legendary Indian Scout name has been a part of many stories throughout history, powering Burt Munro's dogged pursuit of a world land speed record at the Bonneville Salt Flats.
As a tribute to our past and the legendary power of this bike, Indian Motorcycle presents the custom Land Speed Scout, coined the "Black Bullet Scout".
This custom Indian Scout was built by Jeb Scolman – the same hot-rod artisan who was responsible for building the Spirit of Munro to celebrate the launch of the ThunderStroke 111 engine in 2014.
Jeb was delivered an Indian Scout engine and the simple instruction to build what he wanted. His flawless 100% custom metalwork picks up on the designs of pure speed motorcycles from the late 50's and early 60's with a fork mounted bullet fairing and the most minimal frame possible. Bikes with this silhouette took to land speed and drag racing tracks across the country.
The post-war hot rod crowd was using airplane drop tanks for racecars and motorcycle racers started to adapt aircraft nose cones to help them cut through the air.
As the bike took shape Jeb started calling it the "Black Bullet". The minimal body and stout but seemingly simple frame are wrapped around a 1200cc Indian Scout engine as tightly as possible. This is one small motorcycle.
The all-custom, all-metal, and all hand-made bike features a custom windscreen that wraps around the front of the bike to fair in the headlight.
Tight clip-ons and footrests mounted to the rear axle makes for as streamlined a riders position as possible.
The minimal seat, controls and shapes all lens themselves to the single mission of exploring this bikes top speed.
It was created to be beautiful and fast.
Scolman even cast a custom intake manifold to turn the throttle body sideways and allow for an even tighter engine packaging.
It was built to race and continue the tradition of an Indian Scout ripping across the Bonneville Salt Flats.
Q&A WITH JEB SCOLMAN
What was the inspiration for the build?
"The inspiration of the build was taken from the drag bikes of the 50s and 60s. Iconic drag Bikes like Brutus and Icarus were a big influence on the overall shape and style.
How long did the build take?
"I stated this project in Oct 2014, while working on this bike along side two other projects (a 1937 Ford woodie and a 1932 Ford coupe). It lasted approxiamately seven months."
Is the final result exactly what you imagined?
"Yes, that being said I don't build like most people. I don't draw a design on paper and then build the paper drawing. Instead I take the approach that a sculptor may take, I have an image in my head, I know the chassis specs and then I let the bike tell you what it needs and where it needs it. I feel you get a more natural and better product. Otherwise you have to have all your best ideas on day one, whereas if you are open to change the project grows to its potential. But the shape of the bike is the same shape I had in my head from day one…so the answer is yes."
What's your favourite feature of the bike?
"I am happy with the nose fairing. It was a small challenge to make a modern/retro version of the iconic cone style fairings the early bikes had. I had the idea of the windscreen turning into the headlight for quite a while prior to actually making it and I'm happy with the result as I was with the original idea months prior."
What was the hardest job to do and why?
"The hardest part of this build was giving the bike a horizontal look while still being a rigid. A rigid frame lends itself very well to a bike that visually has a diagonal line (like a chopper, or a stock rigid) but trying to take that visual aesthetic and make it horizontal was a challenge. I solved the problem with an arching frame that is continues from neck to axle adjusters."
Any engine work done other than the changed air intake?
"The engine is stock other than the custom cast intake, exhaust and a modified computer. At least for now."
What is it like to ride?
"It rides well, there is a bit of weight on your hands in comparison to a sport bike due to the stretched position but other than that it pulls hard, we have a couple different gear options for the track to play with."
SEE THE VIDEO AT https://www.youtube.com/watch?v=wo7KtsKLSoM
# # #
ABOUT INDIAN MOTORCYCLE
Indian Motorcycle, a wholly owned subsidiary of Polaris Industries Inc. (NYSE: PII), is America's first motorcycle company. Founded in 1901, Indian Motorcycle has won the hearts of motorcyclists around the world and earned distinction as one of America's most legendary and iconic brands through unrivalled racing dominance, engineering prowess and countless innovations and industry firsts. Today that heritage and passion is reignited under new brand stewardship. To learn more, please visit www.indianmotorcycle.com
ABOUT POLARIS
Polaris is a recognised leader in the powersports industry with annual 2014 sales of $4.5 billion. Polaris designs, engineers, manufactures and markets innovative, high quality off-road consumer and military vehicles, including all-terrain vehicles (ATVs) and the Polaris RANGER and RZR side-by-side vehicles, snowmobiles, motorcycles and on-road electric/hybrid powered vehicles. Polaris is among the global sales leaders for both snowmobiles and off-road vehicles and has established a presence in the heavyweight cruiser and touring motorcycle market with the Victory and Indian Motorcycle and Slingshot brands. Additionally, Polaris continues to invest in the global Work and Transportation vehicle industry with Global Electric Motorcars (GEM), Goupil Industrie SA, Aixam Mega S.A.S., and internally developed vehicles. Polaris enhances the riding experience with a complete line of Polaris Engineered Parts, Accessories and Apparel, Klim branded apparel and ORV accessories under the Kolpin, Cycle Country and Pro Armor brands. Polaris Industries Inc. trades on the New York Stock Exchange under the symbol "PII", and the Company is included in the S&P Mid-Cap 400 stock price index. Information about the complete line of Polaris products, apparel and vehicle accessories are available from authorized Polaris dealers or anytime at www.polaris.com
MEDIA CONTACT
Dan Tye
EMEA PR
Twitter @IndianEMEA_PR
+44 7471 030606
press@indianmotorcycle.media