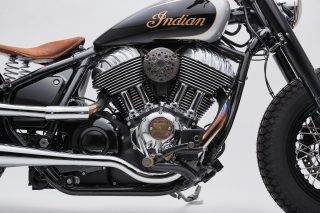 Indian Motorcycle, America's First Motorcycle Company, revealed its second unique customisation project recently, working in collaboration with renowned Japanese builder Go Takamine, to highlight the vast personalisation possibilities of the all-new Indian Chief line-up once more.
Forming his own unique approach to bike building from what was effectively necessity; living in Japan in the late nineties and needing to get through Tokyo's heavy traffic, Go's 'Brat Style' was, and still is, about being simple and effective. 
"For me bike culture started at school. Half of my class were bike crazy and that's what shaped my life and direction," commented Go. "I learned a lot in the early days from friends and my local bike shop. Brat Style evolved from this, as did my shop. It's about things being simple and effective and yet still feeling like a kid".
Having relocated his life and shop to California eight years ago, Go's passion for building and racing vintage bikes became more achievable thanks to the scene being more active than in his native homeland. And of course, his exposure to Indian Motorcycle became even greater. 
The build of the Brat Style Chief came from conversations with Indian Motorcycle's Ola Stenegärd, a friend of Go's who had shown him some early sketches of the new Chief. 
"The frame design was the first thing that caught my eye," continued Go. "Straight away I could see the potential, which of course Ola had intended when he and his team designed the new Chief. It fits so well with what I like to create and so the seed was sewn for this project."
Like in so many of Go's creations, his vision was to create something 'simple not flashy', and work began to bring Brat Style to the Chief. The fuel tank design was a big part of the core aesthetics. Taking the shape that Go loved but condensing the width and reducing the height. Next was the rear fender. Once again taking inspiration from great functional period design, Go went with a rear fender from a 1937 Ford, honing it to work and fit perfectly with the rear wheel and swingarm of the Chief. 
As the Brat Style look began to form, Go selected and machined key components, like the fork covers and chain guard, handmade form sheet metal, through to the Brat Style original megaphone exhausts, the handlebars and unique brass risers and foot pegs.
With such unique attention to detail, the final aesthetics needed to be just right, with Go selecting a simple yet classic paint scheme for the Brat Style Chief, featuring a scallop with the old Indian Motorcycle logo.
"It's my baby, but the customers reaction when I hand over the bike is the most important thing," said Go.
On this occasion, the customer was none other than renowned actor Nicholas Hoult, famed for his roles in Mad Max and Young Ones where he found his passion for motorcycles.
Hoult was blown away with the finished result of Go's Brat Style Chief, becoming the custodian of one very special Indian Motorcycle. 
To see more detail of the build and Hoult's reaction, visit the Indian Motorcycle YouTube channel and to read an in-depth interview with Ola Stenegärd and Go Takamine, click here.
The Brat Style Chief is the second in the series of three renowned V-twin customisers selected by Indian Motorcycle to produce totally unique builds from the 2022 Indian Chief. The third and final project to be revealed will be from freestyle motocross legend Carey Hart. Stay tuned. 
Social Channels
Go Takamine Instagram @go_takamine
Nicholas Hoult Instagram @nicholashoult 
For more information on Indian Motorcycle visit IndianMotorcycle.eu and follow along on Facebook, Twitter and Instagram.
###
ABOUT INDIAN MOTORCYCLE® 
Indian Motorcycle is America's first motorcycle company. Founded in 1901, Indian Motorcycle has won the hearts of motorcyclists around the world and earned distinction as one of America's most legendary and iconic brands through unrivalled racing dominance, engineering prowess and countless innovations and industry firsts. Today that heritage and passion are reignited under new brand stewardship. To learn more, please visit www.indianmotorcycle.eu
INDIAN and INDIAN MOTORCYCLE are registered trademarks of Indian Motorcycle International, LLC. Always wear a helmet, protective clothing and eyewear and insist your passenger does the same.  Ride within the limits of the law and your own abilities. Read, understand, and follow your owner's manual. Never ride under the influence of drugs or alcohol.
MEDIA CONTACT
Ian Austin
EMEA Press Indian Motorcycle
Follow us on Twitter @IndianEMEA_PR
+44 7471 030606