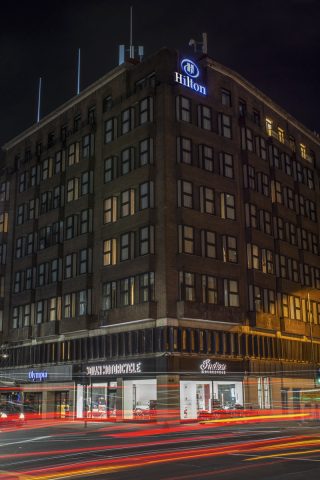 Indian Motorcycle UK dealer awards congratulate achievements as the brand enjoys record growth.
UNITED KINGDOM – Indian Motorcycle dealers from across the region gathered at the brand's first in-person business conference since 2019. Representatives from the UK's 19 dealership locations were rewarded with first-class accommodation and hospitality while taking the opportunity to explore the all-new Kensington based Indian Motorcycle Brand Experience Centre, located within the imposing ground floor footprint of the Hilton London Olympia.
Despite the trading challenges of the previous two years, Indian Motorcycle UK has seen expansion of its dealer network sites and record sales growth across all key market sectors for the sixth year running; motorcycle unit sales have increased by +26% YOY 2021 vs 2020 and Parts, Garments & Accessories sales increased by +35% in the same trading period.
Andy Simpson, National Sales Manager, Indian Motorcycle: "We are happy to report buoyant growth in the Indian Motorcycle UK business, our committed dealer network continues to invest heavily in the FTR, Scout, Chief and our premium touring platforms to maximise the local market opportunity. Our loyal partners are capitalising on Indian Motorcycle's market leading new product offering, assisted by robust sales and marketing support, and yet we are still to fulfil our full retail potential as our network continues to expand with carefully selected retailers – The future is bright for Indian Motorcycle dealers, and we enjoy celebrating that success with our network."
Key to the networking event were the Indian Motorcycle 2021 Dealership Awards, presented by Andy Simpson, to celebrate the achievements and commitments to the Indian Motorcycle brand across all aspects of business delivery.
2021 Award Winners
INDIAN MOTORCYCLE CANTERBURY (ROBINSONS FOUNDRY)
IMR / IMRG Outstanding contribution, for support and development of their dealership rider community. Presented to Dave Martin.
INDIAN MOTORCYCLE POOLE (MOORESPEED RACING)
Outstanding customer care. Presented to Colin Moore.
INDIAN MOTORCYCLE BURY ST EDMUNDS (KRAZY HORSE)
Outstanding destination dealer. Presented to Paul Beamish.
INDIAN MOTORCYCLE LONDON (KRAZY HORSE)
Outstanding contribution to the Indian MC brand. Presented to Rocco Micallef.
INDIAN MOTORCYCLE SOUTH WEST (THOR MOTORCYCLES)
Outstanding sales performance. Presented to Rebecca Hicks
LEVI TUSOON – INDIAN MOTORCYCLE EDINBURGH (SALTIRE MOTORCYCLES)
Outstanding dealership ambassador, awarded to an exceptional dealership employee or representative. Presented to Levi Tusoon.
For more information on Indian Motorcycle visit IndianMotorcycle.co.uk and follow along on Facebook and Instagram.
###
ABOUT INDIAN MOTORCYCLE®
Indian Motorcycle is America's first motorcycle company. Founded in 1901, Indian Motorcycle has won the hearts of motorcyclists around the world and earned distinction as one of America's most legendary and iconic brands through unrivalled racing dominance, engineering prowess and countless innovations and industry firsts. Today that heritage and passion are reignited under new brand stewardship. To learn more, please visit www.indianmotorcycle.eu
INDIAN and INDIAN MOTORCYCLE are registered trademarks of Indian Motorcycle International, LLC. Always wear a helmet, protective clothing and eyewear and insist your passenger does the same. Ride within the limits of the law and your own abilities. Read, understand, and follow your owner's manual. Never ride under the influence of drugs or alcohol.
MEDIA CONTACT
Steve Cain
External Relations Manager
Indian Motorcycle UK
+44 7916 371 113
steve.cain@polaris.com