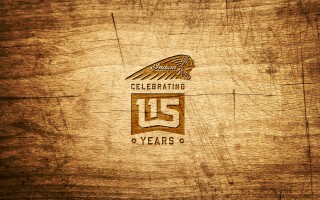 This year marks 115 years since George Hendee and Oscar Hedstrom started working together to make Indian motorcycles.
In 1897 George Hendee was already manufacturing push bikes with the name 'American Indian', but this was shortened to 'Indian'. Three years later in 1900, Oscar Hedstrom joined the firm. Both Hendee and Hedstrom were former bicycle racers and they decided to build a motorized bicycle to use as a pace bike in cycling races.
A prototype and two production units were built in 1901 and the first Indian motorcycles were sold to the public in 1902. In 1903, Oscar Hedstrom set a world motorcycle speed record of 56 mph and in 1904 the company introduced the deep red paint scheme that would become Indian's trademark colour. In 1905 Indian built its first V-twin factory racer, putting a road-going version of the motorcycle on sale in 1907.
In 1923 the Indian motorcycles were selling so well that The Hendee Manufacturing Company changed its name to The Indian Motocycle Company – no "r" was used in motocycle when used along with the name Indian – but the "r" has since returned into the modern day name.
It was a rapid pace of development that Polaris, the modern day custodian of the brand, continues after acquiring Indian in 2011. In the five years that Polaris has overseen Indian Motorcycle, the number of models in the line-up has grown rapidly to nine, with the most recent additions this year being Scout Sixty, Springfield and the Chieftain Dark Horse.
PostsWhile it's an American brand, many European motorcyclists are being tempted by the appeal of an Indian Motorcycle and over 6,000 motorcyclists across the region are now proud to call themselves Indian Motorcycle owners. There's now also a European version of the Indian Motorcycle Riders Group (IMRG) that is gaining in popularity and allowing like-minded owners to meet and ride together (www.imrgmember.com).
The growing community of Indian Motorcycle enthusiasts really pleases Grant Bester, the EMEA general manager for Indian Motorcycle, who says: "Reviving Indian Motorcycle has been a real success story for Polaris. With new models like Scout Sixty and Springfield this year adding to the existing line-up, there now really is a model to suit most demographics. The future of Indian Motorcycle is very promising across the region and we have big plans to leverage the brand and expand the family of proud Indian Motorcycle owners."
The appeal of riding an Indian remains the same today as it did 115 years ago. Back in 1915 a newspaper advertisement entitled "Wouldn't You Like to Be With Them?" featured some words that are equally applicable in today's world.
"Once you own an Indian, the spirit of life tingles in your veins – the exhilaration of power thrills you – the world lies before you to explore – the joys of touring are yours."
See a timeline of Indian Motorcycle's past 115 years here www.indianmotorcycle.com/en-us/history
The next big event in Europe for Indian Motorcycle is the Wheels & Waves festival in Biarritz, France from Wednesday 8th June to Sunday 12th June.
www.wheels-and-waves.com
In the USA, the next big event is the Sturgis Motorcycle Rally taking place from Monday 8th August to Sunday 14th August 2016.
www.sturgismotorcyclerally.com
The European IMRG website can be found at www.imrgmember.com
###
ABOUT INDIAN MOTORCYCLE
Indian Motorcycle, a wholly-owned subsidiary of Polaris Industries Inc. (NYSE: PII), is America's first motorcycle company. Founded in 1901, Indian Motorcycle has won the hearts of motorcyclists around the world and earned distinction as one of America's most legendary and iconic brands through unrivaled racing dominance, engineering prowess and countless innovations and industry firsts. Today that heritage and passion is reignited under new brand stewardship. To learn more, please visit www.indianmotorcycle.eu.
ABOUT POLARIS INDUSTRIES
Polaris Industries Inc. (NYSE: PII) is a global powersports leader with annual 2015 sales of $4.7 billion. Polaris fuels the passion of riders, workers and outdoor enthusiasts with our RANGER®, RZR® and POLARIS GENERAL™ side-by-side off-road vehicles; our SPORTSMAN® and POLARIS ACE® all-terrain off-road vehicles; VICTORY® and INDIAN MOTORCYCLE® midsize and heavyweight motorcycles; SLINGSHOT® moto-roadsters; and Polaris RMK®, INDY®, SWITCHBACK® and RUSH® snowmobiles. Polaris enhances the riding experience with parts, garments and accessories sold under multiple recognizable brands, and has a growing presence globally in adjacent markets with products including military and commercial off-road vehicles, quadricycles, and electric vehicles. www.polaris.com
MEDIA CONTACT
Dan Tye
EMEA PR
@IndianEMEA_PR
+44 7471 030606
press@indianmotorcycle.media