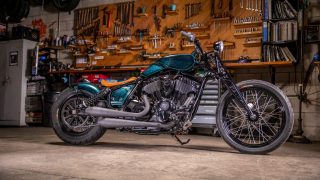 Their first joint project for nearly 15 years
Built for trailblazing tattoo artist Nikko Hurtado
Indian Motorcycle, America's First Motorcycle Company, has revealed the custom Indian Chief by Paul Cox and Keino Sasaki, the first of three customisation projects showcasing the vast personalisation possibilities inherent to the all-new Indian Chief platform.
Bridging the gap between past and future, the duo's unique interpretation of the all-new Chief represents a significant personal milestone; the first time that they have worked on a build together since their tribute bike built for Indian Larry, the legendary customiser and friend, after his untimely passing.
Having always remained in touch, Cox and Sasaki decided the time was right to bring their unique and complementary skills to the table after being approached by Indian Motorcycle to create a custom Chief as part of the 100th anniversary of the iconic model.
"Late last year, Indian Motorcycle spoke to me about building a custom version of their upcoming Indian Chief alongside my old partner, Keino Sasaki. Fortunately, I've stayed busy all these years, through life's ups and downs, and appreciated the fact that Indian Motorcycle had confidence in our work. I talked with them a bit more, and when I finally saw the new 2022 model I said 'yes', it seemed perfect for chopping," said Paul Cox.
Despite having not collaborated for nearly 15 years, Cox and Sasaki swiftly fell back into the groove.
"The Chief was already a little bit retro, but with modern touches that would make a cool version of an early chopper. When Keino and I first spoke about the project, we already knew how the other thinks and works, so it only took about five minutes of brainstorming to basically design the entire bike."
Working from the simple, bobbed lines of the stock Indian Chief, Cox put their ideas to paper before the duo split up the work to achieve the build.
"Having a fine arts background, I enjoy drawing out projects on paper, sketching and engineering as I go. So, I sat down and sketched the profile, working out some geometry issues along the way. From that point, we chose specific tasks to take on and got to work. Keino wanted to handle the gas tank fabrication and exhaust, and I chose to build a custom front end."
For an aggressive feel upfront, they went all in to strip back the front end, even converting to a Jockey hand shift with a foot clutch.
"It already had an aggressive stance, with shallow rake for manoeuvrability, so I built one of my Girdraulic front ends with a steering damper for high-speed stability. We then deleted the levers and the front brake system. We mounted the hand controls on a custom Drag bar set up on Bare Knuckle Performance 6" risers. A perfect fit."
In addition to the new front end, Cox and Keino also had some significant changes planned for the rear.
"To get a lower look at the rear, we ran a swing arm mounted, heavy gauge fender from Led Sled with reworked struts. It hugs the Avon 180mm perfectly. I had an old Indian Motorcycle front fender light that worked great as a tail light with a new red Indian Motorcycle lens."
Keeping the final bike clean and simple, without losing any of the modern features of the Indian Chief, was a key goal of the project.
"Streamlining the electronics was something else I wanted to do, and by making a covered section under the seat, we could conceal a lot of those components along with the smaller Antigravity battery."
With final assembly approaching, paintwork and seating were the finishing touches.
"I painted the bike, including Keino's handmade gas tank, in my custom Soylent Green metal flake and hand tooled a leather saddle for the bike, complementing the paint with the black rimmed wheels. With the bike being built at my shop, we handled miscellaneous wiring, plumbing, controls, concealment, and final assembly there."

"It was great to work with an organisation that had complete faith in the ideas we had, and who were totally supportive throughout the process."
Cox and Sasaki's custom Indian Chief will find its home in Southern California with globally renown tattoo artist Nikko Hurtado. The owner of Black Anchor Tattoo, with shops in Hollywood and Hesperia, CA., Hurtado is well known as a master in the use of colour and a trailblazer in the style of hyper-realism. Hurtado was exposed to motorcycles at an early age, his father spending hours wrenching and customising his own motorcycles in the family's garage.
"Motorcycles and anything that's mechanical and hand built… you can feel the soul in it, and that's what's exciting for me with this bike. You can see Paul and Keino's soul come through in the work," said Hurtado. "I like when brands and individuals push the envelope and that's what Indian Motorcycle is doing right now, and I'm really honoured to be a part of this program."
The Cox-Keino Indian Chief is the first in a series of three renowned V-twin customisers selected by Indian Motorcycle to produce totally unique builds from the 2022 Indian Chief. Later this year, Indian Motorcycle will reveal projects from freestyle motocross legend Carey Hart and Go Takamine, creator of "Bratstyle," the popular brand and globally recognised "throwback" aesthetic for motorcycle customisation and restoration.
The bike will make its public debut at Michael Lichter's custom motorcycle gallery at the Buffalo Chip during the Sturgis Motorcycle Rally. Entrance into the gallery is free, and is open August 9-11 from 2:00pm-10:00pm MT.
Social Channels
Paul Cox: Instagram
Keino Sasaki: Instagram
Nikko Hurtado: Instagram Facebook
For more information on Indian Motorcycle visit IndianMotorcycle.eu and follow along on Facebook, Twitter and Instagram.
###
ABOUT INDIAN MOTORCYCLE®
Indian Motorcycle is America's first motorcycle company. Founded in 1901, Indian Motorcycle has won the hearts of motorcyclists around the world and earned distinction as one of America's most legendary and iconic brands through unrivalled racing dominance, engineering prowess and countless innovations and industry firsts. Today that heritage and passion are reignited under new brand stewardship. To learn more, please visit www.indianmotorcycle.eu
INDIAN and INDIAN MOTORCYCLE are registered trademarks of Indian Motorcycle International, LLC. Always wear a helmet, protective clothing and eyewear and insist your passenger does the same. Ride within the limits of the law and your own abilities. Read, understand, and follow your owner's manual. Never ride under the influence of drugs or alcohol.
MEDIA CONTACT
Ian Austin
EMEA Press Indian Motorcycle
Follow us on Twitter @IndianEMEA_PR
+44 7471 030606
press@indianmotorcycle.media