Files
INDIAN MOTORCYCLE PRESENTERER DEN ETTERLENGTEDE FTR 1200 OG FTR 1200 S - press release
Indian Motorcycle präsentiert die heiß ersehnte FTR 1200 – und überrascht zudem mit der FTR 1200 S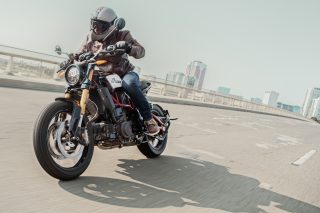 New Flat Track Inspired Street Bike Draws From Indian Motorcycle's History & Success in Flat Track Racing
All-New Platform Combines Flat Tracker Styling with Powerful New Liquid-Cooled V-Twin Engine with 120 Horsepower
COLOGNE, GERMANY (October 1, 2018) – Today Indian Motorcycle, America's First Motorcycle Company, set a new standard for American motorcycling with the unveiling of the FTR 1200 and FTR 1200 S. The FTR platform proudly breaks new ground and answers the call of enthusiasts around the world anxiously awaiting its debut.
Inspired by Indian Motorcycle's storied history and success in flat track racing, the FTR 1200 and FTR 1200 S take design and styling cues from the championship-winning FTR750 race bike that has dominated American Flat Track since it was introduced in 2016. It also takes styling inspiration from the FTR1200 Custom, unveiled a year ago as an exploration of what a flat track-inspired street bike could be. The platform delivers an American motorcycle with true flat tracker style and the performance to back it up.
The FTR 1200 combines race inspired design and nimble handling with an upright riding position to create a commanding riding experience. A new 1203cc V-Twin engine with approximately 120 horsepower (90 kW) provides an impressively flat torque curve for flexibility and strong acceleration in any gear. The new platform is a key component in the company's broader mission to expand its global appeal and reach new riders.
"Our vision from the beginning was to be more than a traditional American V-twin brand. We continually seek to broaden Indian Motorcycle's reach to a wider range of riders, and FTR 1200 represents a significant step forward in that strategy," said Steve Menneto, President, Indian Motorcycle. "Indian Motorcycle was founded on performance and innovation, and we remain grounded by our founder's mindset of constantly pushing forward. In light of that history, the FTR 1200 is a natural extension for the brand that we couldn't be more excited about."
Built around a trellis frame with a sporty riding position, both models feature an inverted front suspension with radially mounted dual Brembo brakes for exceptional control and stopping power. The fuel tank is strategically located under the seat for a lower center of gravity and more centralised weight distribution. Similar to the FTR750 race bike, the airbox is positioned directly above the engine to optimise airflow and maximise power. Both models feature a similar rear suspension and swingarm design as the FTR750 to not only provide a race bike look, but also ensure maximum grip with a compliant ride. Newly-developed Dunlop street tyres with flat track-inspired tread, a chain final drive, and ProTaper flat tracker aluminum handlebars complete the race bike look.
"This is an extremely exciting platform for us, and after investing such a significant amount of time, expertise and energy in the design process, it's an incredible feeling to finally show the world these motorcycles," said Rich Christoph, the Indian Motorcycle Senior Designer who was also instrumental in the design of the FTR750 and FTR1200 Custom. "Our primary focus was to ensure these motorcycles carried the same lines and form language as the FTR750 and 1200 Custom. We knew that's what riders around the world fell in love with. I couldn't be more proud to turn the FTR750 into a flat tracker for the street and help launch Indian into a new era."
Adding to the design is a host of premium features and ride-enhancing technologies. The FTR 1200 and FTR 1200 S models both feature full LED lighting, including a new headlight that provides an unmistakable face for the new platform, a fast-charge USB port to easily charge mobile devices and cruise control for a comfortable ride.
Propelling both models is a powerful new liquid-cooled 1203cc V-twin engine making an approximately 120 horsepower (90 kW) and 85 ft-lbs (115 Nm) of torque. A flat torque curve ensures a progressive, predictable power delivery with loads of low-end punch and flexibility. The engine features a 12.5:1 compression ratio, high flow cylinder heads, and dual throttle bodies for optimal throttle response and power delivery. Additionally, the engine makes wide use of magnesium to lower weight and utilises a low-inertia crankshaft that allows the engine to rev to its redline quickly for thrilling acceleration.
The FTR 1200 S features all that and more, including:
– Fully adjustable front and rear piggy-back suspension with preload, compression, and rebound adjustments so riders can perfectly match the bike to their personal riding style
– 4.3-inch customisable Ride Command LCD touch screen with Bluetooth compatibility
– Lean-angle sensitive stability control, ABS traction control, and wheelie mitigation control for improved confidence and control
– Three Ride Modes (Sport, Standard, Rain) with unique throttle response traction control intervention levels
The new platform underwent extensive development and testing to ensure it meets Indian Motorcycle's high quality standards and performs at the highest levels.
"These bikes have gone through a rigorous, multi-year design and testing process to ensure that they perform as good as they look," explains Ben Lindaman, Indian Motorcycle Senior International Product Manager. "The process was incredibly robust, including over one million miles logged through simulated rides. We also accumulated tens of thousands of test miles on the street with input from racers, including our championship winning Wrecking Crew flat track team and former Grand Prix racers."
The FTR 1200 is available in Thunder Black with a choice of power variants, a full power (90kW) model or a reduced power (70kW) model which can be restricted further for A2 compliance. The FTR 1200 S is available in Indian Motorcycle Red over Steel Gray, Titanium Metallic over Thunder Black Pearl, and a Race-Replica paint scheme, matching the iconic FTR750 race bike. Both models will begin shipping to dealers in the first half of 2019.
For pricing please contact your country marketing specialist. To find the nearest dealer, visit www.indianmotorcycle.eu.
Images are available to download at www.indianmotorcycle.media. Register for access or sign in with your existing account. Note that images accompanying this release may show the North American model or be shown with additional modifications and/or accessories. International models may vary.
###
ABOUT INDIAN MOTORCYCLE
Indian Motorcycle, a wholly owned subsidiary of Polaris Industries Inc. (NYSE: PII), is America's first motorcycle company. Founded in 1901, Indian Motorcycle has won the hearts of motorcyclists around the world and earned distinction as one of America's most legendary and iconic brands through unrivalled racing dominance, engineering prowess and countless innovations and industry firsts. Today that heritage and passion is reignited under new brand stewardship. To learn more, please visit www.indianmotorcycle.eu
MEDIA CONTACT
Ian Austin
EMEA Press Indian Motorcycle
Follow us on Twitter @IndianEMEA_PR
+44 7471 030606
press@indianmotorcycle.media