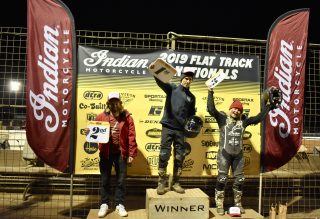 Kings Lynn Arena hosts largest race entry in DTRA history
DTRA Series opener sees spectacular racing across all classes
Tokelove takes fastest lap and a podium in Hooligan Championship Round 1
Build up to European Championship Round 1, Hells Race just weeks away
UNITED KINGDOM – The Indian Motorcycle Flat Track Nationals series, presented by the Dirt Track Riders Association (DTRA), got off to a flying start at Kings Lynn's Adrian Flux Arena last weekend. A record entry list saw 197 racing competitors cross the start line over the two-day event; with representation from all ages across the varied classes, racers travelled from as far afield as Spain to contest the series, which is regarded as the premier flat-track championship outside the USA.
Race Director Anthony Brown Commented "We are really pleased to see the growth in the series this year in the UK and with the European series due to start next month we are really excited to see how things progress in 2019. Round 1 provided some amazing racing and awesome new machines. 2019 is looking very promising for the DTRA".
Indian Motorcycle were represented on track by Krazy Horse Race Team riders Leah Tokelove (#37) and Lee 'KP' Kirkpatrick (#152), piloting modified Scout Hooligan machines.
Both riders quickly mastered the Speedway shale track surface at Kings Lynn Arena, laying down one race win each over the qualifying heats and securing strong podium positions overall. Having refined the Hooligan machines in Krazy Horse's workshops over winter, Kirkpatrick blistered past old rivals from the 2018 series hot on the tail of Tokelove who secured consistent sub 19 second lap-times to claim fastest lap of the final race at 18.854 and a very well deserved P3 on the podium.
Rider of the weekend was undoubtedly last year's Hooligan Champion Gary Birtwistle, who wowed the crowd with a faultless performance, winning both Hooligan and Pro Classes back to back under the floodlights on the Saturday night.
Next stop for the DTRA and Krazy Horse Hooligan Team will be Hells Race, at Dirt Track Lelystad NL for the first round of the eagerly awaited Indian Motorcycle European Flat Track Championship. Practice takes place on Saturday 4th May, with the main event on Sunday 5th May, spectators are very welcome to come and enjoy the atmosphere with fantastic viewing areas all around the circuit. Open paddocks allow unprecedented visitor access to the riders and machines, plus the track offers on-site camping – Come and find out for yourself why grassroots flat-track is growing in popularity across Europe.
Editors Notes:
Hooligan class rules are simple to keep costs down and fabrication to a minimum. Riders must use a lightly modified street bike with 750cc+ Twin-cylinder engines and standard frame, fitted with Dunlop flat track tyres.
2019 HOOLIGAN CHAMPIONSHIP DATES
May 4/5 – Hells Race, Speedway Leylstad, NL – European Championship
May 17/19 – MCN Festival, Peterborough Showground, UK
June 15 – El Rollo, Wheels & Waves, ESP – European Championship
August 9/10 – DIRTQUAKE, Arlington Stadium, Sussex, UK
September 21/22 – Greenfield Oval, Alford, UK – European Championship
Additional images are available to download at www.indianmotorcycle.media
Sign in with your existing account or register for access at www.indianmotorcycle.media/register
###
ABOUT THE DTRA
The Dirt Track Riders Association (DTRA) is run by riders and racers to promote European Flat Track racing. The series has grown year on year and is gaining popularity with riders from all disciplines of motorcycle sport from Rookie riders to Pro racers. Racing classes mean racing is open to many different levels of riders and types of bike. The DTRA has been instrumental in growing all forms of Dirt Track Racing outside of the USA and the UK scene has grown to become the largest outside of North America. To learn more, please visit www.dirttrackriders.co.uk
ABOUT INDIAN MOTORCYCLE
Indian Motorcycle is America's first motorcycle company. Founded in 1901, Indian Motorcycle has won the hearts of motorcyclists around the world and earned distinction as one of America's most legendary and iconic brands through unrivalled racing dominance, engineering prowess and countless innovations and industry firsts. Today that heritage and passion is reignited under new brand stewardship. To learn more, please visit www.indianmotorcycle-intl.eu/select-country/
MEDIA CONTACT
Ian Austin
EMEA Press Indian Motorcycle
Follow us on Twitter @IndianEMEA_PR
+44 7471 030 606
press@indianmotorcycle.media