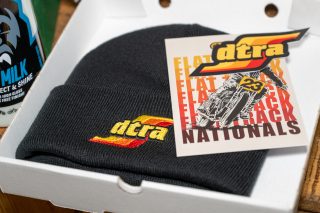 Continued Indian Motorcycle sponsorship supports growth of European Hooligan Racing
Hooligan class renamed Indian Motorcycle Hooligan Championship 2023
Indian Motorcycle has announced the signing of Jamie Kimber and Gerard Bailo to contend the 2023 DTRA Hooligan class following the recent US race team announcements. Indian Motorcycle also continues its long-term support and promotion of flat track racing in Europe with sponsorship that sees the class renamed as the 'Indian Motorcycle Hooligan Championship 2023'.
Indian Motorcycle's continued partnership with the DTRA helps to ensure the future of grassroots motorcycle sport and the development of youth riders. As a result, European flat track racing has grown substantially in recent years, being one of the most accessible and respected entry points to the sport outside of North America.
Anthony Brown, DTRA founder commented, "Indian Motorcycle have helped to grow the Hooligan class in the DTRA since its inception and we are honoured and happy to have them along for the ride in 2023. It will be great to see a mixture of UK and overseas riders battle it out on Indian Scouts and FTRs against the rest of the Hooligan field. With some new tracks and events to be announced in the coming weeks the 2023 Hooligan championship is set to be the best on yet."
Jamie Kimber won her first national race at the June 2021 round of the National DTRA championship and went on to secure third in the National DTRA Minibike-Mod Championship Series. Having been spotted by Indian Motorcycle UK, Jamie was awarded a scholarship as the Indian Motorcycle Academy rider aboard the Indian Scout Hooligan for the 2022 season and proved worthy with fourth in the overall championship standings. A recent graduate in Sports Psychology and Coaching sciences, Jamie has competed in many sports from triathlons to rugby but says there is nothing like throwing a leg over a motorcycle and heading to the start line. Jamie can be followed on Instagram at @jamiekimber421
"Signing for Indian Motorcycle is such an exciting stepping stone for me. It all started in late 2020 when I spontaneously signed up to the ladies class in Scunthorpe on my dad's Sunday S147 pitbike. He taught me the basics the night before and it all went from there. I took to it quite well. I am delighted to have been given the opportunity to ride the Indian FTR as a fully-fledged member of the team. This year, I hope to continue improving, enjoying each moment, and gain National podium results. My heart is with anything two-wheeled and I can't wait to get stuck in at racing this season. I would like to thank Indian Motorcycle for the opportunity; I am excited to see what this season brings," said Jamie.
Gerard Bailo started competing in Supermoto in 2007 when he was just 13 years old and made his Flat Track debut in 2014. Quickly proving competitive, Gerard took third that year and, in 2016, improved to second in the open category. By 2017, Gerard had several regional Supermoto championships under his belt plus the Junior Nations world title and decided to fully commit to Flat Track racing with an opportunity in the DTRA series. Competing only in flat track since then, Gerard had his best season in 2022 winning the FIM Flat Track World Championship. Gerard will compete in the Indian Motorcycle Hooligan series aboard the Indian FTR 1200 prepared by S&S Cycle, while balancing his racing commitments with work in his family's Insurance business. Gerard can be followed on Instagram at @gerardbailo17.
"Taking the world title in 2022 was my best season ever, something I had always dreamed of and being able to make it happen was incredible. We also got more experience on the bigger tracks, so this also helps us for 2023. I am very happy to sign the contract with a brand like Indian Motorcycle. I believe we will be very competitive, and I hope to be able to fight for the 2023 national championship title. Thank you to Indian Motorcycle for their trust in me," said Gerard.
The Dirt Track Riders Association has just announced its dates and full Series details for the 2023 and Indian Motorcycle and the DTRA actively encourage riders to get involved. The atmosphere at DTRA managed races is inclusive for all abilities with classes from Rookie to Pro-Rider. For full race schedules and details of how to enter visit dirttrackriders.co.uk and follow along on Facebook and Instagram.
For more information on Indian Motorcycle visit IndianMotorcycle.eu and follow along on Facebook and Instagram.
###
ABOUT INDIAN MOTORCYCLE®
Indian Motorcycle is America's First Motorcycle Company®. Founded in 1901, Indian Motorcycle has won the hearts of motorcyclists around the world and earned distinction as one of America's most legendary and iconic brands through unrivalled racing dominance, engineering prowess and countless innovations and industry firsts. Today that heritage and passion are reignited under new brand stewardship. To learn more, please visit IndianMotorcycle.eu
INDIAN and INDIAN MOTORCYCLE are registered trademarks of Indian Motorcycle International, LLC. Always wear a helmet, protective clothing and eyewear and insist your passenger does the same. Ride within the limits of the law and your own abilities. Read, understand, and follow your owner's manual. Never ride under the influence of drugs or alcohol.
ABOUT THE DTRA
The Dirt Track Riders Association (DTRA) is run by riders and racers to promote European Flat Track racing. The series has grown year on year and is gaining popularity with riders from all disciplines of motorcycle sport from Rookie riders to Pro racers. Racing classes mean racing is open to many different levels of riders and types of bike. The DTRA has been instrumental in growing all forms of Dirt Track Racing outside of the USA and the DTRA supported 'Indian Motorcycle Flat Track Series' has grown to become the largest amateur championship outside of North America. To find out more visit www.dirttrackriders.co.uk
MEDIA CONTACT
Ian Austin
EMEA Press Indian Motorcycle
Follow us on Twitter @IndianEMEA_PR
+44 7471 030606
press@indianmotorcycle.media