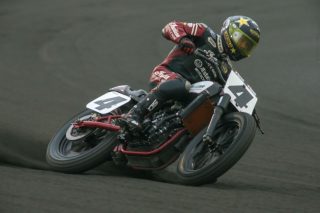 Indian Motorcycle Wrecking Crew rider Bryan Smith wins 2018 AFT season finale, Jared Mees & Jeffrey Carver Jr. finish 2nd and 3rd
EAST RUTHERFORD, NJ. (October 11, 2018) – Indian Motorcycle Racing and the FTR750 swept the top five positions at the Meadowlands Mile, as Wrecking Crew rider Bryan Smith captured his third win of the 2018 season. Wrecking Crew rider and 2018 Champion Jared Mees and Indian Motorcycle privateer Jeffrey Carver Jr. rounded out the podium aboard their FTR750s placing second and third, respectively.
The Main event at the Meadowlands Mile was nothing short of exciting, as Smith and Mees battled for the top position through all 25 laps. Mees led for the majority of the race, though the two exchanged passes throughout. Smith delivered the final pass in turn three of the last lap and captured his third win of the 2018 season. Carver worked his way through the pack and made several key passes in the final laps to get on the box for the eighth time this season.
"The riders raced hard and really put on an incredible show for all the fans," said Gary Gray, Vice President – Racing, Technology & Service for Indian Motorcycle. "The Meadowlands Mile is a fantastic track and a really nice venue. Hats off to AFT and all the riders for a great season and a memorable season finale."
Smith, who suffered a broken leg in the third race of the season, finished the 2018 season by winning three of the final four races, including back-to-back wins to close out the year at the Minnesota Mile and Meadowlands Mile. Mees, the 2018 Grand National Champion, finished the year with 10 wins and an additional six top-five finishes.
Additionally, the Meadowlands Mile marked the final race for AFT legend Kenny Coolbeth Jr. Wrapping up his illustrious career as an Indian Motorcycle privateer aboard the FTR750, Coolbeth won one race and added five additional top-five finishes in 2018. His 25-year career includes three Grand National Titles and his 36 victories lands him fifth all time in total wins.
The top nine in the 2018 final standings included two Indian Motorcycle Wrecking Crew factory riders and seven Indian Motorcycle privateers, including, in order, Mees, Henry Wiles, Briar Bauman, Carver, Smith, Chad Cose, Coolbeth, Jake Johnson and Davis Fisher.
Additional images are available to download at www.indianmotorcycle.media. Register for access or sign in with your existing account.
Photo Credit: Scott Hunter / AFT
###
ABOUT INDIAN MOTORCYCLE
Indian Motorcycle, a wholly owned subsidiary of Polaris Industries Inc. (NYSE: PII), is America's first motorcycle company. Founded in 1901, Indian Motorcycle has won the hearts of motorcyclists around the world and earned distinction as one of America's most legendary and iconic brands through unrivalled racing dominance, engineering prowess and countless innovations and industry firsts. Today that heritage and passion is reignited under new brand stewardship. To learn more, please visit www.indianmotorcycle.eu
MEDIA CONTACT
Ian Austin
EMEA Press Indian Motorcycle
Follow us on Twitter @IndianEMEA_PR
+44 7471 030606
press@indianmotorcycle.media