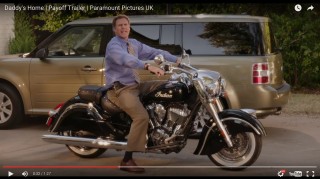 Indian Motorcycle ambassador Mark Wahlberg, 44, is appearing with Will Ferrell, 48, in the comedy film, Daddy's Home, opening on Boxing Day.
The plot follows radio executive Brad (Will Ferrell) who is struggling with becoming a stepfather to his wife's two children, but complications arise when their real father, Dusty (Mark Wahlberg) arrives, forcing him to compete for the affection of the kids.
In one of the scenes Brad jumps on and rides Dusty's Indian Chief Classic motorcycle.
Connect with Daddy's Home online:
WEBSITE: http://bit.ly/1GjvWIj
FACEBOOK: http://on.fb.me/1GVFcNs
TWITTER: http://bit.ly/1iWtgUW