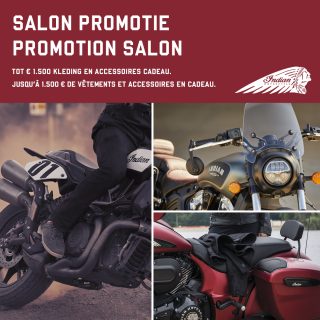 Nu de Brussels Motor Show is uitgesteld tot 2022,
kan de hele regio profiteren van de showaanbiedingen
Als reactie op het begrijpelijke uitstel van de Brussels Motor Show tot januari 2022 kondigt Indian Motorcycle Benelux aan dat de 'showaanbiedingen' voor de bezoekers van deze show beschikbaar komen voor alle klanten in de gehele Benelux die een nieuwe Indian Motorcycle aanschaffen.
Kopers van een nieuwe motorfiets bij een officiële Indian Motorcycle-dealer in de Benelux kunnen van 1 januari tot en met 28 februari gratis een keuze maken uit een indrukwekkend assortiment van onderdelen, accessoires en kleding:
'Showaanbiedingen' van Indian Motorcycle
1 januari – 28 februari 2021
€ 1000,- aan gratis onderdelen, accessoires en kleding

 Indian Scout-modellen

Indian FTR 1200-modellen

€ 1500,- aan gratis onderdelen, accessoires en kleding

 Indian Vintage-modellen

Indian Springfield-modellen

Indian Chieftain-modellen

Indian Challenger-modellen

Indian Roadmaster-modellen
"We zijn dol op de Brussels Motor Show. We ontmoeten er onze rijders en praten met hen over de nieuwste modellen en aanbiedingen. Het is voor ons een van de hoogtepunten van het jaar," vertelt Lynda Provoost, marketingmanager van Indian Motorcycle Benelux. "Het is volledig begrijpelijk dat de organisatoren de show hebben uitgesteld, maar we gaan het contact met onze klanten zeker missen. Daarom hebben we besloten dat al onze dealers in de Benelux hun klanten kunnen laten profiteren van onze showaanbiedingen, zodat ze allemaal hun nieuwe ride kunnen personaliseren."
De Belgische dealers zullen een aantal 'open dagen' organiseren die een weekend lang duren: een perfecte gelegenheid voor de rijders om hun dealer te bezoeken en van deze aanbiedingen te profiteren. Hieronder de data:
Indian Motorcycle België – Open dealerdagen 16/17, 23/24 en 30/31 januari
Nederlandse dealers hebben in elk geval tot en met 19 januari te maken met de lockdownmaatregelen, waardoor de showroom gesloten moet blijven. De werkplaatsen zijn echter wel open voor onderhoud en reparaties. Nederlandse klanten kunnen op www.indianmotorcyclebenelux.com meer informatie vinden over de 2021-modellen. Vanaf 20 januari kunnen zij hun dealer weer bezoeken. Tijdens de lockdown kunnen klanten natuurlijk altijd telefonisch of via e-mail contact opnemen met hun dealer.
De dealers in Luxemburg zijn normaal geopend.
Voorwaarden 'showaanbiedingen':
• € 1000,- aan gratis onderdelen, accessoires en kleding bij de aanschaf van een mid-size motorfiets
• € 1500,- aan gratis onderdelen, accessoires en kleding bij de aanschaf van een zware motorfiets
• Aanbieding alleen geldig bij de officiële Indian Motorcycle-dealers bij de aanschaf van een nieuwe Indian Motorcycle
• Aanbiedingen geldig van 1 januari tot en met 28 februari
• Geldig in Nederland, België en Luxemburg
###
ABOUT INDIAN MOTORCYCLE
Indian Motorcycle is America's first motorcycle company. Founded in 1901, Indian Motorcycle has won the hearts of motorcyclists around the world and earned distinction as one of America's most legendary and iconic brands through unrivalled racing dominance, engineering prowess and countless innovations and industry firsts. Today that heritage and passion are reignited under new brand stewardship. To learn more, please visit http://www.indianmotorcycle.eu/
INDIAN and INDIAN MOTORCYCLE are registered trademarks of Indian Motorcycle International, LLC. Always wear a helmet, protective clothing and eyewear and insist your passenger does the same. Ride within the limits of the law and your own abilities. Read, understand and follow your owner's manual. Never ride under the influence of drugs or alcohol.
CONTACTPERSOON VOOR MEDIA
Lynda Provoost
Marketing Manager Indian Motorcycle/Polaris Benelux
lprovoost@jeegee.nl
+31 172 432 850