Files
Indian Motorcycle partenaire du prochain road trip de Ben Blake qui part fin septembre pour une traversée inédite des Etats-Unis : « dessine-moi la France »…

Login to Download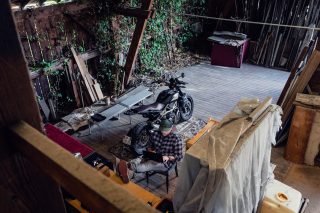 Indian Motorcycle is pleased once again, to team-up with Ben Blake on a new road trip project. For this new adventure, his first in American territories, Ben Blake will realize one of his crazy dreams: to cross the United States… but in his own way… by drawing France.
"THROUGH AMERICA, I followed my country"
At the end of 2022, Ben Blake collaborates with Indian Motorcycle, the first American motorcycle brand created in 1901, partnering on his next road trip.
As usual, Ben wants to think outside of the box and after studying several routes, it was obvious: Blake is going to draw France on the map of the United States. He has named the project "Across America, I followed my country". Once again, the project was too attractive to pass up, Indian Motorcycle is his key partner in the adventure.
WHY TRACE FRANCE in the USA?
Ben has always dreamed of traveling to the United States. But he wanted to approach this American road trip in an original way and move away from the mythical Route 66 on which so many people ride and on which everything has been seen and written. Ben has travelled extensively throughout France and by considering several routes in the US, it was obvious: Ben is going to draw France on the map of the United States. His approach will not stop there. Anglo-Saxon culture has invaded France, but what about French culture in Uncle Sam's country? What is left of us there? Ben will go in search of what still remains of France in the USA between pop culture, monuments, history and population imbued with French culture.
INDIAN MOTORCYCLE and BEN BLAKE, a great story
The meeting between Ben Blake and Pierre Audoin, national director of Indian Motorcycle France, is not new. Their first discussions highlighted a sharing of common values ​​and the same passion for motorcycles and in particular, motorcycle travel. This is the iconic American brand's third collaboration with Ben Blake.
The first two editons were the "Brest-Biarritz" trip, on Indian Chief in 2021, followed in 2022 by "The trip to the country that interested no one", in Romania, on Indian Pursuit.
A CRAZY PROJECT
This time the challenge will be the duration of the trip, two months. The route through, more or less unknown lands following a route of approximately 15,000 km. And, the choice of motorcycle, a 2023 FTR 1200 Rally! This is the first challenge that Ben Blake took on, transforming this formidable motorcycle into a traveller. It took work and ingenuity to equip and transform it for this ambitious journey. After two months of work, the result is here, it meets the specifications that Indian and Ben set for themselves, transforming the FTR into a "travel roadster" without distorting the design of the motorcycle. Two suitcases, an additional tank and a few welds later the result is there, approved by Indian Motorcycle.
THE COURSE AND DATES
There are coincidences that are not coincidences. Without knowing it, Ben Blake chose Minneapolis as his departure city, which is none other than the city where the head office of Indian Motorcycle is located. He will fly to the United States in mid-September. A dealer will prepare the motorcycle for departure at the end of September 2023 from Minneapolis, arriving approximately six weeks later in Louisiana. Ben Blake tells us of his wish to "meet the real American people along the roads, far from the big cities, to discover America without its clichés, the one that television does not show us".
THE LOVE STORY OF BEN BLAKE and THE MOTORCYCLE
Ben Blake, for whom motorcycling changed his life in 2016, lives his passion by going on adventures to meet people.
"My life changed in 2016 when I learned that I was going to be made redundant after 10 years of passion in music. This event forced me to ask myself questions about what really drives me, I decided at the age of 33 to obtain my motorcycle license and set off to travel across France armed with only my smartphone as a witness. On my return, I wrote and edited my first self-taught short film: 'I left everything for a road trip' spotted by the 'Barcelonnette Adventure Film Festival' for which I won the first prize in 2018. Very quickly, the iPhone gave way to a camera, learning takes place, videos multiply, and the public becomes passionate about my stories. Inspired by international cinema and with a background as a professional musician, the cultural mix that emerges from my productions gives me a unique identity in the world of travel" says Ben Blake.
The journey only has meaning through the encounter. This time, he adds a new dimension to his road trip: the defense of French culture and in particular the French language. In fact, he chose to end his road trip in Louisiana to meet the Cajuns, a community descended from the Acadians.
FOLLOW THE ADVENTURE
The adventure promises great surprises that you can follow on the social networks of Indian Motorcycle and l'Equipée Sauvage.
In March 2024, you will be able to discover the whole story in images through three thirty-minute episodes broadcast on the Motorlive YouTube channel.
In the meantime, stay tuned!
For more information on Indian Motorcycle, visit our website IndianMotorcycle.eu and follow the brand on Facebook, Twitter and Instagram.
###
CONTACTS :
·  Indian Motorcycle
Baptiste Grenguet – Marketing France
baptiste.grenguet@polaris.com
·  Ben Blake
Gaelle Lévy, Agence Les Bottes Rouges.
gaelle@lesbottesrouges.com
06 12 35 85 83
###
ABOUT BEN BLAKE
Ben Blake is a videographer, photographer and author. He travels across countries, regions and cities to share with us his passion for motorcycle travel through human encounters. His films, some of which have won awards, are seen by hundreds of thousands of people who praise their quality and poetry.
Key figures: 3 million views on YOUTUBE
30 world travel films
FB : https://www.facebook.com/benblakemoto/
INSTA : https://www.instagram.com/equipeesauvage/
YOUTUBE : 280 000 abonnés sur MOTORLIVE https://www.youtube.com/watch?v=ijjTlK_ysX0&list=PLnew4_Nt-HWyBeeRvCOzph2FX8l8HYjIU
INDIAN and INDIAN MOTORCYCLE are registered trademarks of Indian Motorcycle International, LLC. Always wear a helmet, protective clothing and eyewear and insist your passenger does the same.  Ride within the limits of the law and your own abilities. Read, understand, and follow your owner's manual. Never ride under the influence of drugs or alcohol