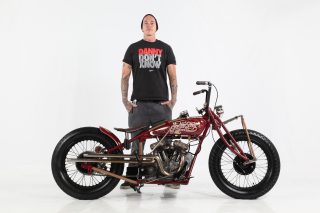 Indian Motorcycle has partnered with former FMX star and award-winning vintage custom builder Danny Schneider for exciting future collaborations.
"This is a huge honour. Indian Motorcycle is an old love of mine particularly since I built my 1931 Scout. Then when the FTR came out, I wanted one so badly. And it's now a reality thanks to the team at Indian motorcycle," said Danny. "I expected the FTR to be quite different and that I'd need a lot of time to get used to it. But as soon as I sat on it, we clicked. I felt super comfy and confident and that's the most important thing whenever you try a new bike. The balance, power, and handling are extraordinary. Plus, I love the display."
While the details of the collaboration are still to be revealed, Danny's personal affinity with Indian Motorcycle has been long standing, and we talked to Danny to find out about his history and his special vintage Indian Scout creation.
Born on August 1974 and growing up in Bümplitz, Switzerland, Danny Schneider went from an early start in BMX to becoming an FMX star then switching direction to become an award-winning custom bike builder. Danny Schneider puts all of himself into anything he does and has bikes running through his veins, he could even wheelie at four years old.
"I was diagnosed with ADHD and needed an intense sport like this, something I could really throw all my extra energy into. I had a blast."
With his natural talent for riding, Danny ventured into Motocross at 16 and by 20 was competing in the extreme sport of FMX (Freestyle Motocross) to become a major force in the developing Swiss scene and a global FMX star. But then Danny had a huge practice crash that saw him in hospital for four months, a career ending injury.
"I knew my competitive riding days were over, but I also knew I couldn't re-train to work in an office. I needed to find something that would let me express myself. As soon as I could, I bought an old bike and started to modify it and what started as a hobby soon turned into a profession. In 2002, I founded my Hardnine Choppers garage and I've been customising vintage motorcycles ever since. Bringing them back to life as roadworthy pieces of art."
Now ranked among the best vintage bike builders worldwide, Danny needed his friends' help in the early days to learn the metalwork skills to be able to realise his creations. But soon his builds started to gain attention and the 2009 D'MX build gained praise in over 20 international magazines.
"That was a real turning point for my career and Hardnine Choppers. The global attention the D'MX bike got was incredible. Soon I was being invited to custom shows and winning trophies in the big competitions."
Danny is a major name in the custom bike world with fans in America asking for his autograph whenever he attends US shows. A big part of Danny's appeal is that he never follows trends or gets stuck creating the same style of build. Whether you like café racers, flat trackers or classic choppers, Danny will have built something that will appeal to you. Including a beautiful 1931 Indian Scout which Danny built in 2012.
"For me, the Indian Scout is the best original looking bike ever. When I saw an early Indian Scout, the first Indian Motorcycle I had ever seen, I was blown away by the design and the technology that Indian Motorcycle had back in 1930. Then, after seeing the movie 'The World's Fastest Indian' it became my dream to be the proud owner of one and to build it up from scratch."
Danny's dream would come true when he was given the opportunity to buy an incredibly special 1931 Indian Scout 101.
"The amazing part was that the bike was owned by Hans Mack in Germany, a one-of-a-kind wall of death rider back in the day. When he sold it to me, Hans was 83 years old, and he was still riding it. I mean, being able to buy a bike from a legend like him with so much history just blew me away."
Danny then had a serious decision to make, restore the bike as it was or customise it.
"When you start researching what people have done with the Indian Scout 101, like 99.9% are in original condition and I might get some heat from people if I modified it. But I just couldn't leave it like this, I have to create unique bikes. So, my game plan was to show respect to Hans by keeping all the original parts, leaving the frame and forks original by not cutting anything off. Welding new stuff on would work because I could always take it away again and take the Scout back to original in the future if I wanted to."
As Danny began to disassemble the Scout, he wanted to create a new fuel tank and bought two fuel tanks to use as the base, but they needed a lot of attention due to their age.
"I hand shaped one new tank out of the parts of the two old ones and it took a lot of sheet metal work because they were in a really bad condition. Then I hand hammered a fender and shaped the bars. It sounds easy but it's a hell of a job, luckily it's one that makes me super happy because I love the work."
In the middle of the build, Danny had the idea to photograph the bike on the Offene Rennbahn Oerlikon bicycle track in Zürich, Switzerland which was built over 100 years ago and had also hosted flat track races in 1920.
"I called up to ask if I could ride there as soon as I finished the bike and they were onboard immediately. But they let me know that the track would be shut for the year from October 13th. Turning around to see a frame with a big mess of parts all around it, and then seeing that the calendar said it was August 27th, my four-month build plan had to go into overdrive. I forced myself to work 18-hour days to complete the bike in time, I wanted to ride this bike on that track so badly."
Luckily just days later, Danny's friend Steve Hopkins rang and Danny told him about the project and the tight timeline. Steve immediately offered to come over to help. Two days later, Steve, a helicopter mechanic, arrived and set to work on all the small, time consuming work like making spacers and fixings for the seat and fenders, plus polishing the engine.
"Steve really helped me with all this small stuff that takes so much time, and I could concentrate on rebuilding the engine. As soon as the fender, bars and tank were done I had them painted. The first time I hadn't used flakes as I wanted it in an old school traditional look, nothing high gloss. After this I sent the fender and tank out to Japan to Mr.G who does a lot of my artwork for me. In my eyes he is the best and he hand painted them in two days, incredible."
While waiting for the tins to return from Japan and the tyres to arrive from America, Danny turned his attention to re-building the wheels and completing the engine build.
"In the meantime, I was thinking about how I wanted to do the pipes. With this engine I'd have to do really tight bends to make it fit which would affect the performance of the engine. It took me two weeks of measuring, bending, welding, re-measuring, and trying again before I got the shapes that I was happy with. Plus, the sound is so nice."
By the end of September, Danny had the project ready for final assembly and with help from Ramon of Hotcycle Pilotes who did all the electrics, the big day came.
"Four kicks and it was running. I adjusted the carb, did a short test ride and I was ready for the big photoshoot. I had the bike completed by October 5th with just days before the Offene Rennbahn Oerlikon track would close. To make a long story short, the track was dry, we shot some great photos and I had an amazing time riding the Indian Scout for the first time. They almost had to shoot me to get me off the track."
Follow Danny and his FTR on Instagram at instgram.com/hard9choppers and Facebook at facebook.com/h9choppers
Photo Credits: Janosch Abel
For more information on Indian Motorcycle visit IndianMotorcycle.eu and follow along on Facebook, Twitter and Instagram.
###
ABOUT INDIAN MOTORCYCLE®
Indian Motorcycle is America's first motorcycle company. Founded in 1901, Indian Motorcycle has won the hearts of motorcyclists around the world and earned distinction as one of America's most legendary and iconic brands through unrivalled racing dominance, engineering prowess and countless innovations and industry firsts. Today that heritage and passion are reignited under new brand stewardship. To learn more, please visit. To learn more, please visit www.indianmotorcycle.eu
INDIAN and INDIAN MOTORCYCLE are registered trademarks of Indian Motorcycle International, LLC. Always wear a helmet, protective clothing and eyewear and insist your passenger does the same. Ride within the limits of the law and your own abilities. Read, understand, and follow your owner's manual. Never ride under the influence of drugs or alcohol.
MEDIA CONTACT
Ian Austin
EMEA Press Indian Motorcycle
Follow us on Twitter @IndianEMEA_PR
+44 7471 030606
press@indianmotorcycle.media