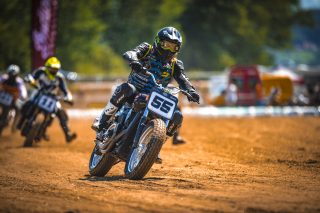 PAYERNE, SWITZERLAND (August 10, 2019) – The inaugural international flat track race event in Switzerland takes place. French multiple Flat Track champion racer, Wilfried Delestre, takes victory in the final race of the Big Twin top-class on a professionally modified Indian Scout. Full grids and enthusiastic spectators hail this Flat Track premiere a success. Only the weather demanded flexibility from the organisers.
As Flat Track racing gains in popularity across Europe, Switzerland is the latest country to host an international round with the Newsstock Festival in Payerne the home for the very first event on August 10.
With an action packed schedule, Indian riders showed strong pace throughout, with four-time French champion, Wilfried Delestre, topping two of his three qualifying runs, before going on to win the final aboard the Krazy Horse prepared Scout Hooligan.
Fellow local Indian Motorcycle riders, Jérémy Ayer (Indian FTR 1200 S, Team Biker Syndicate) and Dominic Schnider (Indian Scout Hooligan, Team Simota) rode brilliantly to rank third and fourth behind Delestre and the Italian rider Jacopo Monti.
Local rider, Dominic Schnider, ranking third on the day, was enthusiastic about the very first Swiss Flat Track race, commenting: "The Indian immediately gave me a positive feeling. Duelling with Jérémy was lots of fun, in particular during the final. This has been a great event for Indian and the sport in Switzerland, a big well done to the Swiss Dirt Track Association."
Flat Track enthusiasts were offered captivating and spectacular entertainment at the event, despite torrential rain on Friday flooding the venue and causing the event to be delayed by one whole day. Despite this, 7,000 spectators not only enjoyed the action in the in the Big Twins category, but also in the secondary classes: Vintage (1975 and older), Youngtimer (built between 1976 and 1995) and Modern (built in 1996 and later).
Image Crédit: Frédéric Duperray
###
ABOUT INDIAN MOTORCYCLE
Indian Motorcycle, a wholly owned subsidiary of Polaris Industries Inc. (NYSE: PII), is America's first motorcycle company. Founded in 1901, Indian Motorcycle has won the hearts of motorcyclists around the world and earned distinction as one of America's most legendary and iconic brands through unrivalled racing dominance, engineering prowess and countless innovations and industry firsts. Today that heritage and passion is reignited under new brand stewardship. To learn more, please visit www.indianmotorcycle-intl.eu/select-country/
STEEL TROPHY / SWISS DIRT TRACK ASSOCIATION (SDTA) MEDIA CONTACT
Peri Hassan Zade,
Event and project manager
+41.78.639.97.27
INDIAN MOTORCYCLE SWITZERLAND MEDIA CONTACT
Luis Stancato
Marketing & Communications Manager
+41.79.685.17.55