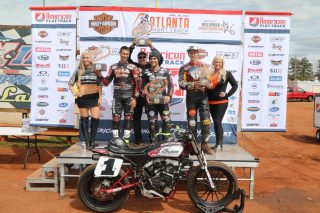 Indian Motorcycle Racing and reigning 2017 American Flat Track Champion Jared Mees scored a repeat victory at the Atlanta Short Track on Sunday.
The first-place finish marks back-to-back seasons Mees has started 2-0 with wins in Daytona and Atlanta.
Joining Mees on the podium was Indian Motorcycle Racing privateer Kenny Coolbeth Jr, who put on a strong second-place performance. Mees and Coolbeth each won their respective semi-final events. In the Main, Mees took an early lead and continued to extend his gap throughout the race. Coolbeth was in a tight battle between third, fourth and fifth. Once securing third, Coolbeth continued and made an impressive pass to secure second place.
"The rain delay made for a long weekend, but we stayed focused and were able to have the Indian Scout FTR750 dialed in on Sunday," said Mees. "We couldn't be happier to be walking out of Atlanta with consecutive wins, just as we did last year. It's a good spot to be in, but there's a lot of talent on the track gunning for us, so we can't let up at any point."
Coolbeth's second-place finish marks his first podium in over a year. The 41-year-old rider is the winningest active rider in the sport, and is in his final season after announcing his planned retirement following the 2018 American Flat Track season. In his first year on the Indian Scout FTR750, Coolbeth has seen early success, as he currently sits in second of the season's point standings.
"Jared and Kenny are not only two of the most accomplished riders in the sport, but two of the smartest and most technical riders," said Gary Gray, Vice President – Racing, Technology & Service for Indian Motorcycle. "With their Scout FTR750s dialed in, they each got better as the racing continued. Jared extended his lead and Kenny skilfully completed impressive passes to reach second place in the Main Event."
Including Mees and Coolbeth, six Indian Scout FTR750 racers finished within the top 10. Indian Motorcycle Racing privateers Henry Wiles and Johnny Lewis placed fifth and sixth, while factory Wrecking Crew Riders, backed by Allstate Insurance, Brad Baker and Bryan Smith finished seventh and eighth, respectively. Through two races, Mees is the season points leader with 50, followed by Coolbeth and Wiles each with 31, and Baker with 26.
The Indian Wrecking Crew and stable of privateers aboard the championship-winning Scout FTR750 will continue its season on April 28 at the Texas Half-Mile.
Please credit all photographs to Scott Hunter/AFT
# # #
ABOUT INDIAN MOTORCYCLE
Indian Motorcycle is America's first motorcycle company. Founded in 1901, Indian Motorcycle has won the hearts of motorcyclists around the world and earned distinction as one of America's most legendary and iconic brands through unrivalled racing dominance, engineering prowess and countless innovations and industry firsts. Today that heritage and passion is reignited under new brand stewardship. To learn more, please visit www.indianmotorcycle.eu.
MEDIA CONTACT
Dan Tye
PR Manager (EMEA)
Follow us on Twitter @IndianEMEA_PR
+44 (0) 7471 030606
press@indianmotorcycle.media