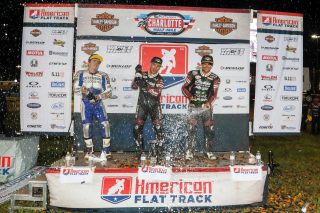 Indian Motorcycle Racing wasn't (April) fooling around on Saturday April 1st as America's first motorcycle company continued its incredible return to American Flat Track with yet another '1-2' finish.
Following an Indian Motorcycle podium sweep at Atlanta Short Track last weekend, Bryan Smith and Jared Mees put Indian at the top of the Charlotte Half Mile podium.
The 1st and 2nd place finish, respectively, marks the race team's third time to occupy those positions in as many weeks.
Through the first three weeks of the season, Smith and Mees, who each won the Charlotte Half Mile in 2015 and 2016, respectively, have podiumed each race in 2017. Opening the season on the Indian Scout FTR750, Smith has recorded a 2nd, 3rd, and now a 1st place finish, while Mees earned Indian's first flat track victory in over 60 years at the DAYTONA TT season opener. Mees followed up the historic night with a consecutive win at Atlanta Short Track, followed by this strong 2nd place finish in Charlotte.
"It felt good to get the top podium position and my first win on the Indian Scout FTR750," said Smith. "My team did an incredible job preparing the bike for this race. We're stoked to be heading into the break on a high note, and will look to keep it rolling next month at the season's first mile in Arizona."
After winning Semi 1, Smith started the main from the second position – flanked by his fellow Indian Motorcycle Racing teammates Brad Baker (first position) and Mees (third position). After running the first several laps from second place, Smith made the pass into the lead with more than half of the race remaining. Mees started to approach Smith, but was ultimately denied as Smith ran a solid race and even recorded the night's fastest lap.
"Indian's original 'Wrecking Crew' received the nickname from winning so frequently and 'wrecking' everyone else's weekend," said Gary Gray, Product Director for Indian Motorcycle. "With three consecutive '1-2' finishes, including a podium sweep, and seven of nine podiums – I'd say it's a pretty good bet today's 'Wrecking Crew' is doing the same."
Indian Motorcycle Racing, backed by Allstate Insurance, will look to stay on top as American Flat Track heads to the Arizona Mile on May 13.
March 16, Daytona TT press release
1st: #9 Jared Mees (Indian)
2nd: #1 Bryan Smith (Indian)
3rd: #17 Henry Wiles (Kawasaki)
March 25, Atlanta Short Track press release
1st: #9 Jared Mees (Indian)
2nd: #6 Brad Baker (Indian)
3rd: #1 Bryan Smith (Indian)
1st: #1 Bryan Smith (Indian)
2nd: #9 Jared Mees (Indian)
3rd: #69 Sammy Halbert (Yamaha)
# # #
ABOUT INDIAN MOTORCYCLE
Indian Motorcycle, a wholly owned subsidiary of Polaris Industries Inc. (NYSE: PII), is America's first motorcycle company. Founded in 1901, Indian Motorcycle has won the hearts of motorcyclists around the world and earned distinction as one of America's most legendary and iconic brands through unrivalled racing dominance, engineering prowess and countless innovations and industry firsts. Today that heritage and passion is reignited under new brand stewardship. To learn more, please visit www.indianmotorcycle.eu
MEDIA CONTACT
Dan Tye
EMEA PR
Follow us on Twitter @IndianEMEA_PR
+44 7471 030606
press@indianmotorcycle.media