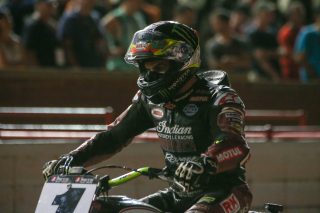 Reigning Champion and points leader Jared Mees earns sixth win, Bryan Smith and Brad Baker place 2nd and 3rd respectively
LEXINGTON, KY (June 4, 2018) – Indian Motorcycle Racing secured its fifth consecutive all-Scout FTR750 podium as the factory Wrecking Crew placed 1-2-3 at the Red Mile.
Reigning Grand National Champion and current points leader Jared Mees continued his dominating season by earning his sixth win in 2018. Fellow Wrecking Crew riders Bryan Smith and Brad Baker rounded out the podium with second and third place finishes.
After winning each semi, Mees and Smith earned the top starting positions for the Main. Mees jumped out to an early lead and steadily increased his lead on Smith. Baker, who had a tough start from the third starting position, battled his way from the middle of the pack to the third-place position. After a red flag restart, Mees again stretched the gap between he and Smith, while Baker battled with Indian privateer Henry Wiles (Wilco Racing/Willy Built/Bandit Industries) and secured the final podium position by .008 seconds.
"The team was awesome tonight. It felt good to get another win and our first Wrecking Crew sweep of the season," said Mees. "It was one of those nights where the Scout FTR750 was just incredible."
Of the 11 Scout FTR750's competing in the Main, 8 finished inside the top 10. In addition to the top four positions from Mees, Smith, Baker and Wiles, Indian Motorcycle privateers Chad Chose (Indian Motorcycle of Oklahoma City), Jeffery Carver Jr. (Roof-Systems, Indian of Metro Milwaukee) and Kenny Coolbeth Jr. (Nila Racing/Columbia Avionics) placed sixth, eighth and 10th, respectively. The Red Mile marked the first race Jake Johnson (Estenson Racing, McCandless Truck Center) put the Indian Scout FTR750 into competition, where he finished in ninth place.
"The track was fast with a challenging and narrow groove. But Mees came out dialled in and ran the line to near perfection," said Gary Gray, Vice President – Racing, Technology & Service for Indian Motorcycle. "Our factory and privateers are consistently competing race-to-race, and we look forward to seeing what the OKC Mile brings us in two weeks."
Through eight races, Mees holds a commanding lead with 170 points, while Wiles ranks second with 116 points. Baker's third-place finish moves him up the leaderboard from sixth to third overall, with 101 total points. Carver and Coolbeth rank fourth and fifth with 99 points. Meanwhile, Smith is pushing his way up the leaderboard after suffering a broken left fibula and missing two races. Since returning three weeks ago, Smith has reached the podium twice and had a top-five finish. He currently ranks ninth with 73 total points.
The Indian Wrecking Crew and stable of privateers aboard the Scout FTR750 will continue its season on June 16 at the OKC Mile.
# # #
ABOUT INDIAN MOTORCYCLE
Indian Motorcycle, a wholly owned subsidiary of Polaris Industries Inc. (NYSE: PII), is America's first motorcycle company. Founded in 1901, Indian Motorcycle has won the hearts of motorcyclists around the world and earned distinction as one of America's most legendary and iconic brands through unrivalled racing dominance, engineering prowess and countless innovations and industry firsts. Today that heritage and passion is reignited under new brand stewardship. To learn more, please visit www.indianmotorcycle.eu
MEDIA CONTACT
Dan Tye
PR Manager – EMEA
Follow us on Twitter @IndianEMEA_PR
+44 7471 030606
press@indianmotorcycle.media