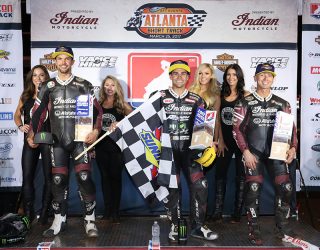 The Indian Wrecking Crew and Scout FTR750 obtain the 2017 AFT Manufacturer's Championship with 11 wins and 30 podium finishes from 14 Races
MINNEAPOLIS (August 21, 2017) – After more than 60 years away from professional flat track racing, Indian Motorcycle has won the 2017 American Flat Track Manufacturer's Championship after a second-place finish at the Peoria TT.
Indian Wrecking Crew rider Jared Mees locked in the title for Indian Motorcycle with a strong second-place finish. Teammates Bryan Smith and Brad Baker finished strong in fourth and fifth place, respectively.
"Securing the Manufacturer's Championship after 14 races is an unbelievable accomplishment," said Gary Gray, Vice President – Product for Indian Motorcycle. "To return to professional flat track racing after more than 60 years away from the sport and win the championship on a brand-new Scout FTR750 race bike is a testament to all the hard work from the entire Indian Motorcycle Racing team."
American Flat Track recognises Manufacturer Champions in each class of racing. The manufacturer that accumulates the most points in each class over the course of a season is declared the Manufacturer Champion.
With four races remaining, and Indian ahead of the next manufacturer by more than of 100 points, Indian Motorcycle has won the titles of Manufacturer Champion.
Aboard the Scout FTR750, the Indian Wrecking Crew have been on the podium 30 times out of the season's 42 total podiums.
Jared Mees, the season's point leader, holds a 41-point lead ahead of Bryan Smith, while Brad Baker rounds out the top three in the season's standings. Jared Mees and Bryan Smith have tallied 11 first-place finishes, with seven going to Mees and four to Smith.
Indian Motorcycle Racing, backed by Allstate Insurance, has its sights set on an individual championship as American Flat Track returns to the Springfield Mile on September 3.
# # #
ABOUT INDIAN MOTORCYCLE
Indian Motorcycle Company, a wholly owned subsidiary of Polaris Industries Inc. (NYSE: PII), is America's First Motorcycle Company. Founded in 1901, Indian Motorcycle has won the hearts of motorcyclists around the world and earned distinction as one of America's most legendary and iconic brands through unrivalled racing dominance, engineering prowess and countless innovations and industry firsts. Today that heritage and passion is reignited under new brand stewardship. To learn more, please visit www.indianmotorcycle.eu
MEDIA CONTACT
Dan Tye
PR Manager EMEA
Follow us on Twitter @IndianEMEA_PR
+44 (0) 1525 270100
press@indianmotorcycle.media