Files
INDIAN MOTORCYCLE RACING WINS MANUFACTURER'S CHAMPIONSHIP FOR SECOND CONSECUTIVE SEASON

Login to Download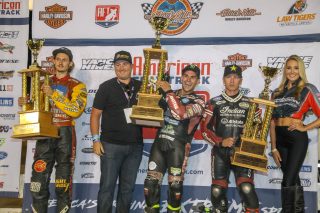 Wrecking Crew Rider Jared Mees Secures 10th Win of Season; Indian Scout FTR750 Sweeps Top 12 at Black Hills Half-Mile
RAPID CITY, SD (AUGUST 8, 2018) – In its second season of American Flat Track competition, Indian Motorcycle Racing has secured consecutive Manufacturer's Championships. At the forefront of the championship season is Wrecking Crew rider Jared Mees, who returned to the top of the podium for the 10th time this season at the Black Hills Half-Mile.
Mees piloted the Indian Scout FTR750 and won a hard-fought race by a mere .032 seconds over Indian Motorcycle privateer Jeffery Carver Jr. (Roof-Systems, Indian of Metro Milwaukee). The epic battle saw multiple lead changes as the two stretched their lead from the rest of the pack. Wrecking Crew rider Bryan Smith returned to action and finished third on the box, completing an all-Scout FTR750 podium sweep for the ninth time this season.
"This is the fastest half-mile on the schedule and the racing proved it," said Mees. "My hat's off to Carver, as he ran an incredible race. I can't thank my team enough for always having my Indian Scout FTR750 dialed in."
Through 13 races, Mees has secured 10 wins, two second-place finishes and totals a remarkable 290 points at the top of the leaderboard. With five races remaining, Mees is 102 points ahead of the second-place rider, Henry Wiles (Bandit Industries/Wilco Racing/Willy Built).
"This has been one of the most incredible seasons in professional flat track history, and we cannot thank our factory team and privateers enough for trusting Indian Motorcycle to supply their race bike," said Gary Gray, Vice President – Racing, Technology & Service for Indian Motorcycle. "Not only are the riders at the top of the leaderboard performing consistently on the Scout FTR750, but new riders like Bronson Bauman and Hayden Gillim are jumping on the bike for the first time and securing top-five and top-ten finishes."
The Indian Wrecking Crew and stable of privateers aboard the Scout FTR750 will continue its season on August 18 at the Peoria TT.
###
ABOUT INDIAN MOTORCYCLE
Indian Motorcycle, a wholly owned subsidiary of Polaris Industries Inc. (NYSE: PII), is America's first motorcycle company. Founded in 1901, Indian Motorcycle has won the hearts of motorcyclists around the world and earned distinction as one of America's most legendary and iconic brands through unrivalled racing dominance, engineering prowess and countless innovations and industry firsts. Today that heritage and passion is reignited under new brand stewardship. To learn more, please visit www.indianmotorcycle.eu
MEDIA CONTACT
Ian Austin
EMEA Press Indian Motorcycle
Follow us on Twitter @IndianEMEA_PR
+44 7471 030606
press@indianmotorcycle.media