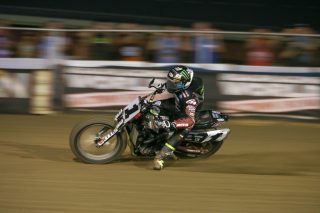 Reigning Champion Jared Mees wins eighth race of season – Indian Motorcycle privateers Jeffrey Carver Jr. and Henry Wiles complete the Scout FTR750 podium sweep
LIMA, OH (JULY 2, 2018) – Indian Motorcycle Racing's Scout FTR750 continued its dominance at the Lima Half-Mile with its seventh consecutive podium sweep of the 2018 American Flat Track season.
Reigning Champion and Indian Motorcycle Wrecking Crew rider Jared Mees took first place, marking a monumental win at his home track and securing his eighth victory of the season.
Indian Motorcycle privateers Jeffrey Carver Jr. (Roof-Systems, Indian of Metro Milwaukee) and Henry Wiles (Bandit Industries/Wilco Racing/Willy Built) rounded out the all-Scout FTR750 podium with second and third-place finishes, respectively.
Mees was seeking redemption on Saturday night at the Lima Half-Mile as this was the only race he did not finish on the podium in the 2017 season. Determined, Mees edged out the competition early in the race and held the lead throughout the Main. Carver bolted to the second position and managed to close the gap between him and Mees in the second half of the race, but Mees was able to maintain his lead and further his lead in the 2018 points standings.
"I've had my sights on winning Lima ever since last year. This is a tough track and getting this win is especially meaningful for me," said Mees. "I have to thank my team who does an incredible job at keeping my Indian Scout FTR750 in top form."
In his first race on the Indian Scout FTR750, Indian Motorcycle privateer Briar Bauman (Zanotti Racing/Roof Systems/Western Powersports) finished fourth. Wrecking Crew rider Brad Baker battled his way to his seventh top-five finish of the season.
"The Lima Half-Mile is one of the most challenging races of the year, and we're thrilled to see another Scout FTR750 podium sweep," said Gary Gray, Vice President – Racing, Technology & Service for Indian Motorcycle. "This was a momentous win for Mees in what has been an exceptional season for him and Indian Motorcycle Racing."
Through 10 races, Mees continues to control the leaderboard with 220 points, while Wiles sits in second with 153 points and Baker in third with 130 points. Carver, Kenny Coolbeth Jr. (Nila Racing/Columbia Avionics), Bauman and Wrecking Crew rider Bryan Smith rank fourth, fifth, sixth and seventh respectively.
The Indian Wrecking Crew and stable of privateers aboard the Scout FTR750 will continue its season on July 7th at the New York Short Track.
For more information on Indian Motorcycle Racing, backed by Allstate Insurance, the Indian Wrecking Crew and Scout FTR750, visit IndianMotorcycle.com and follow along on Facebook, Twitter & Instagram. For information on purchasing a Scout FTR750, please contact racing@IndianMotorcycle.com.
ABOUT INDIAN MOTORCYCLE
Indian Motorcycle is America's First Motorcycle Company. Founded in 1901, Indian Motorcycle has won the hearts of motorcyclists around the world and earned distinction as one of America's most legendary and iconic brands through unrivalled racing dominance, engineering prowess and countless innovations and industry firsts. Today that heritage and passion is reignited under new brand stewardship. To learn more, please visit www.indianmotorcycle.eu
###
MEDIA CONTACT
Dan Tye
PR Manager (EMEA)
press@indianmotorcycle.media