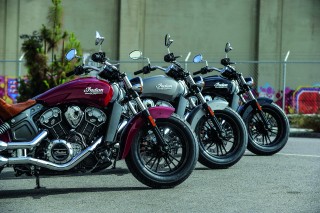 Indian Motorcycle, America's first motorcycle company, presents its full 2015 model range for all International customers at the Intermot Show in Cologne.
Indian Motorcycle have expanded the model range to offer customers more choice, delivering the new American dream with the re-introduction of classically inspired Two-Tone paint schemes for the Chief line.
The benchmark of motorcycle Touring luxury is redefined by the range-topping 2015 Roadmaster, and the much anticipated rebirth of the Indian Scout delivers legendary heritage and performance in an accessible middle-weight Cruiser package.
2015 Indian Scout
Indian Motorcycle is proud to introduce the all-new 2015 Indian Scout, a middle-weight cruiser with exceptional handling, spirited performance, a lightweight design and low 643mm seat height that will appeal to a wide range of riders, experience levels and riding styles. With a legendary heritage of innovation, superb maneuverability and performance dating back more than 80 years, the new Scout represents the thoroughly modern rebirth of one of motorcycling's most storied bikes.
It features:
– A liquid-cooled, 69ci (1133cc) V-twin engine offering 100 HP of performance
– A classic rigid triangle design coupled with premium monotube rear shocks that deliver exceptional handling and comfort
– A 255kg wet weight, 1562mm wheelbase, 135mm ground clearance and 31 degrees of lean for precise high and low speed maneuverability
–  ABS as standard equipment on models sold outside the US – A premium, genuine tan leather solo bucket seat
Availability: Early 2015*
2015 Indian Roadmaster
The 2015 family of Indian Motorcycles includes the all-new Indian Roadmaster, the epitome of luxury motorcycle touring. Originally manufactured from 1947-1953 and heralded as one of motorcycling's most comfortable and durable touring bikes, the new 2015 Roadmaster reclaims that heritage with styling that is thoroughly Indian Motorcycle and an almost endless list of premium amenities for comfort, convenience and luxury.
It offers:
– The proven performance and reliability of the 111ci (1811cc) Thunder Stroke 111 power plant
– Nearly 143ltrs of weatherproof storage including dual hard-sided saddlebags and a roomy quick-release rear trunk
– Power-adjustable Horizon Windscreen, heated grips featuring 10 temperature settings, heated seats and adjustable airflow lower fairings for all weather comfort
– High-resolution Anti-Lock Brakes, tyre pressure monitoring system, keyless ignition with remote locking storage, electronic cruise control, advanced infotainment system, Bluetooth capability for hands-free multi-device connectivity
Availability: From November 2014*
2015 Indian Chief Classic, Indian Chief Vintage and Indian Chieftain in Two-Tone Paint
The 2015 lineup includes the full family of Indian Chief models offering the power, performance, ride and handling of America's most legendary heavyweight cruisers. Powered by the acclaimed Thunder Stroke 111 engine and draped in endless chrome, they include the classic styling and head-turning looks of the Chief Classic, the vintage look and fringed leather saddle bags of the Chief Vintage, and the all-day comfort and superb handling of the Indian Chieftain.
New for 2015, the iconic Indian Chief lineup features gorgeous, vintage-inspired two-tone paint schemes that set them apart from anything else on the open road.
Available color palettes include:
– The 2015 Indian Chief Classic available in Indian Motorcycle Red and Thunder Black
– The 2015 Indian Chief Vintage available in Indian Motorcycle Red and Thunder Black, Indian Motorcycle Red and Ivory Cream, and Willow Green and Ivory Cream
– The 2015 Indian Chieftain available in Indian Motorcycle Red and Thunder Black, Indian Motorcycle Red and Ivory Cream, and Springfield Blue and Ivory Cream
Availability: From October 2014*
2015 Indian Motorcycle Apparel and Accessories
In support of our stunning new lineup of models, Indian Motorcycle is pleased to introduce a full line of all-new apparel and accessories. It includes all-new 2015 collections of classic riding gear for men and women, and casualwear for both riders and loyal fans of the Indian Motorcycle brand. And every diehard Indian Motorcycle owner will want to customise their new 2015 bike with the latest in genuine Indian accessories including; custom exhaust, backrests, highway bars and handlebars in the industry's finest chrome, or premium top-grain leather accessories like seating and saddlebags.
*Availability dates may vary from country to country
– Please seek confirmation form the local distributor or contact the press office for more information.
Editors Notes:
• Pricing MSRPs and Availability will be communicated regionally on a country by country basis