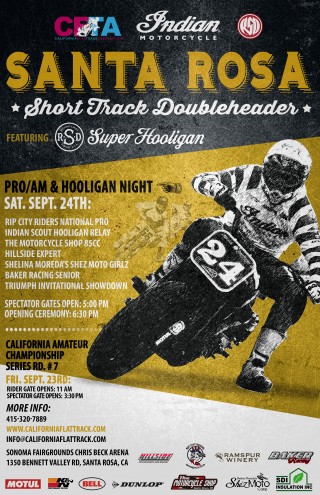 Indian Motorcycle has announced it is sponsoring the Pro/Am Hooligan and RSD SuperHooligan races during an action-packed AMA Finale weekend in Santa Rosa, California on September the 24th.
Nine classes of bikes will compete in a day of handlebar-to-handlebar action beginning at 4:30 pm PDT at the Sonoma County Fairgrounds in the Chris Beck Arena.
Participating in the SuperHooligan race class will be Roland Sands as well as various special guests.
Roland and his team from Roland Sands Design (RSD) will be racing their custom Indian Scout Sixty dirt track racers, which made their racing debut at the "Superprestigio of the Americas" in Las Vegas in 2015.
The RSD SuperHooligan class will be part of the schedule, with tickets and more information about the full weekend of activity available at http://santarosamile.com/.
Tickets for Saturday's shenanigans are available at https://www.showclix.com/events/22716.
Racers interested in signing up for the SuperHooligan class can register here.
 "Over the last year we've stepped up to the plate as a key sponsor of RSD SuperHooligan events across the country to grow this action-packed, entertaining and uniquely accessible sport," said Reid Wilson, Director of Marketing for Indian Motorcycle. "The popularity of the SuperHooligan class and the ease with which our Scout and Scout Sixty models can be transformed into highly competitive racers has helped fuel our involvement. We look forward to a full weekend of entertainment, fun and awesome racing, knowing that the SuperHooligan class will clearly be one of the highlights."
ABOUT INDIAN MOTORCYCLE®
Indian Motorcycle, a wholly-owned subsidiary of Polaris Industries Inc. (NYSE: PII), is America's first motorcycle company. Founded in 1901, Indian Motorcycle has won the hearts of motorcyclists around the world and earned distinction as one of America's most legendary and iconic brands through unrivaled racing dominance, engineering prowess and countless innovations and industry firsts. Today that heritage and passion is reignited under new brand stewardship. To learn more, please visit www.indianmotorcycle.com.
ABOUT POLARIS® INDUSTRIES
Polaris Industries Inc. (NYSE: PII) is a global powersports leader with annual 2015 sales of $4.7 billion. Polaris fuels the passion of riders, workers and outdoor enthusiasts with our RANGER®, RZR® and POLARIS GENERAL™ side-by-side off-road vehicles; our SPORTSMAN® and POLARIS ACE® all-terrain off-road vehicles; VICTORY® and INDIAN MOTORCYCLE® midsize and heavyweight motorcycles; SLINGSHOT® moto-roadsters; and Polaris RMK®, INDY®, SWITCHBACK® and RUSH® snowmobiles. Polaris enhances the riding experience with parts, garments and accessories sold under multiple recognizable brands, and has a growing presence globally in adjacent markets with products including military and commercial off-road vehicles, quadricycles, and electric vehicles. www.polaris.com