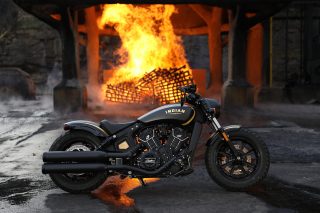 Legendary partnership between the two iconic American brands represents a shared commitment to quality, originality and American craftsmanship
MINNEAPOLIS – Indian Motorcycle, America's first motorcycle company, and Jack Daniel's, America's first registered distillery, have unveiled the Jack Daniel's Limited Edition Indian Scout Bobber.
Only 177 of these bikes will be built globally with the build number a nod to the "Old No. 7 Brand".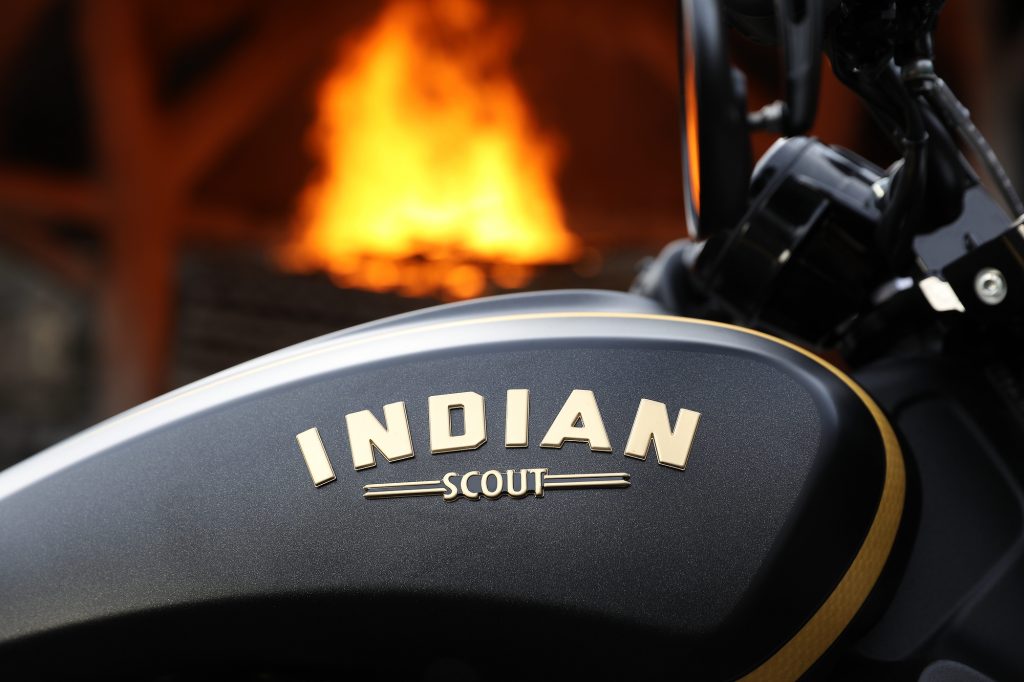 For the third straight year, Indian Motorcycle joined forces with Klock Werks Kustom Cycles to create these bikes, taking inspiration from the gold and black fire trucks used by the Jack Daniel's Fire Brigade, the only distillery in the world with its own fire brigade.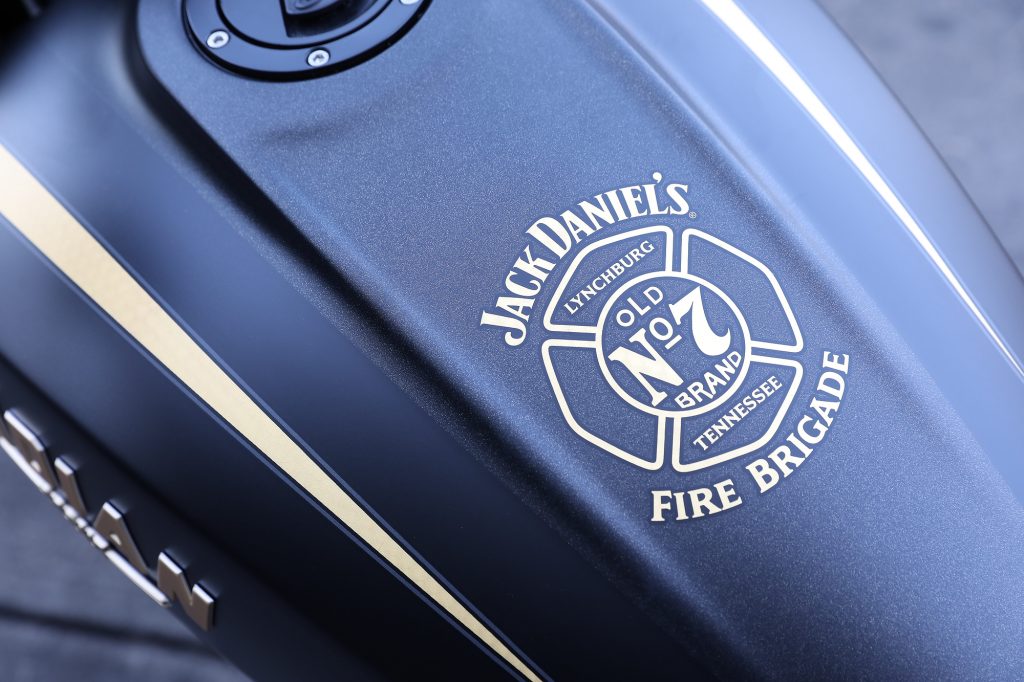 Steve Menneto, Indian Motorcycle President said: "Our partnership with Jack Daniel's celebrates American craftsmanship of the highest order. This year's limited-edition bike draws inspiration from the incredible story of Jack Daniel's Fire Brigade, while honouring the passion and dedication of firefighters and emergency medical responders who serve our country."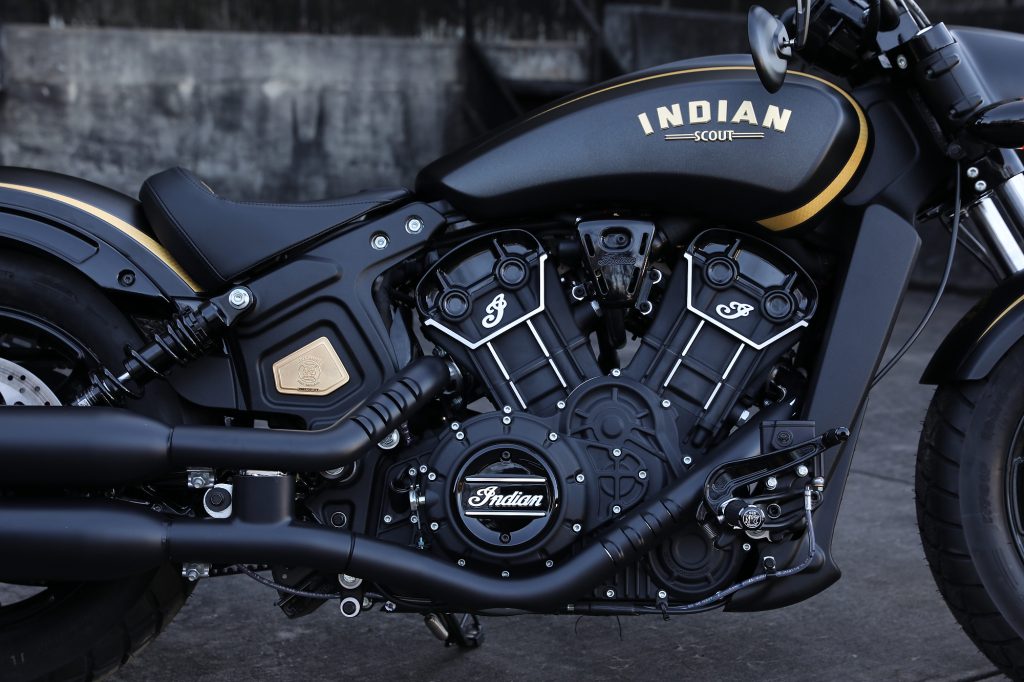 Each of the 177 individually numbered motorcycles are accented with Jack Daniel's Fire Brigade themes. The bike has subtle two-tone matte black paint, a first for Indian Motorcycle, and is covered in real 24-karat gold graphics on the tank and fenders. The 24-karat gold carries through to the Fire Brigade emblem on the tank and the "Bottles and Throttles Don't Mix" emblem on the front fender.
Other custom details include a perforated genuine leather seat with Jack Daniel's embroidery and custom grips, pegs, and shift levers inspired by the Old No. 7 Brand.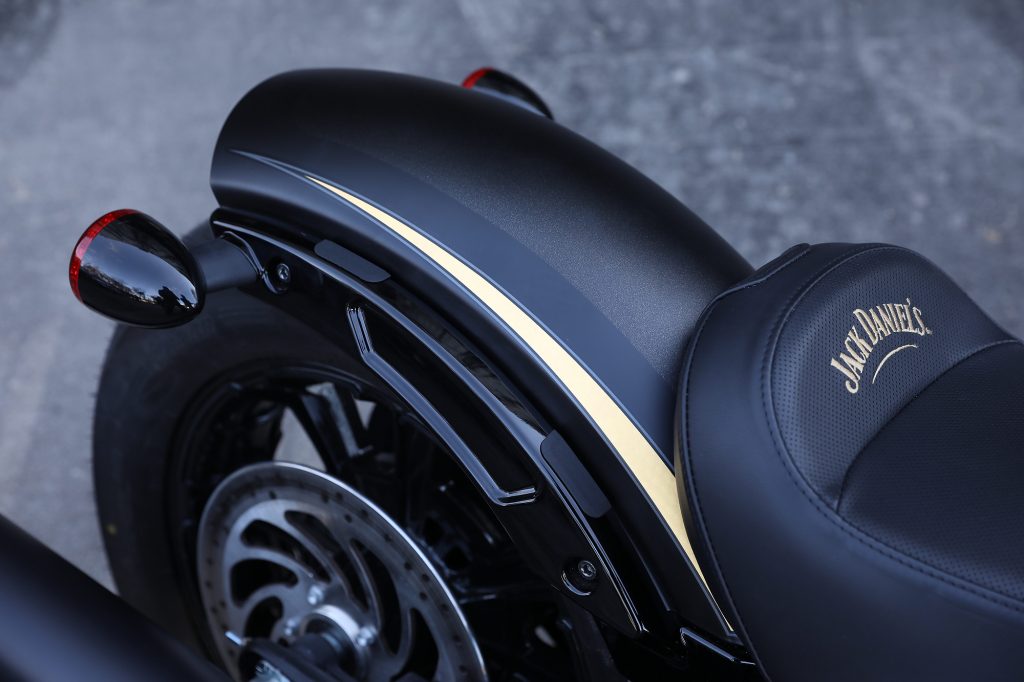 Premium gloss black finishes on the fender struts, hand control levers, engine valve covers, and exhaust tips, while a gold coloured Indian Scout badge further showcases the attention to detail given in the design of this limited-edition bike.
Also unique is a one-of-a-kind Montana Silversmith badge that's individually numbered and coated with real 24-karat gold (below).
"The public's response to the motorcycles that Indian Motorcycle and Jack Daniel's have collaborated on has vastly exceeded our expectations year-over-year," said Greg Luehrs, Director of Events and Sponsorships for Jack Daniel's. "In celebration of this great partnership and our own Jack Daniel's Fire Brigade, we are delighted to deliver a bike that honours firefighters and EMS first responders while also reinforcing the message that "Bottles and Throttles Don't Mix."
The Jack Daniel's Limited Edition Indian Scout Bobber will be available for order starting 12pm EST on Tuesday 13th March.
To reserve one, visit or call your local Indian Motorcycle dealership.
Pricing starts at $15,999 in the U.S. and $19,999 in Canada. Prices in EMEA to be announced. Please note – not every country in the EMEA region will be able to sell this model due to alcohol advertising rules.
Each comes with a two-year unlimited mileage factory warranty and free membership in the Indian Motorcycle Riders Group™ for one year.
The limited edition Scout Bobbers will be hand-painted and built, with delivery starting in July 2018.
The original collaboration began in 2016 when the two iconic brands came together to create the Jack Daniel's Limited Edition Indian Springfield and Indian Chief Vintage in celebration of the 150th Anniversary of the Jack Daniel Distillery. These 2016 models sold out in less than eight hours, while the 2017 Jack Daniel's Limited Edition Indian Chieftain sold out in less than 10 minutes.
# # #
ABOUT INDIAN MOTORCYCLE
Indian Motorcycle is America's first motorcycle company. Founded in 1901, Indian Motorcycle has won the hearts of motorcyclists around the world and earned distinction as one of America's most legendary and iconic brands through unrivalled racing dominance, engineering prowess and countless innovations and industry firsts. Today that heritage and passion is reignited under new brand stewardship. To learn more, please visit www.indianmotorcycle.eu.
ABOUT JACK DANIEL'S
Officially registered by the U.S. government in 1866 and based in Lynchburg, Tenn., the Jack Daniel Distillery, Lem Motlow, proprietor, is the first registered distillery in the United States and is on the National Register of Historic Places. Jack Daniel's is the maker of the world-famous Jack Daniel's Old No. 7 Tennessee Whiskey, Gentleman Jack Rare Tennessee Whiskey, Jack Daniel's Single Barrel Tennessee Whiskey, Jack Daniel's Tennessee Honey, Jack Daniel's Tennessee Fire, Jack Daniel's Sinatra Select and Jack Daniel's Country Cocktails. Jack Daniel's encourages its friends to drink responsibly and reminds bikers that Bottles and Throttles Don't Mix.
MEDIA CONTACT
Dan Tye
PR Manager (EMEA)
Follow us on Twitter @IndianEMEA_PR
+44 (0) 1525 270100
press@indianmotorcycle.media