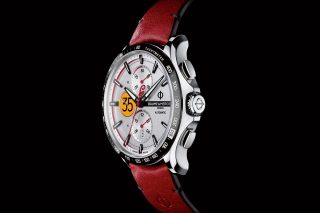 Just 1,967 of the Burt Munro watches will be going on sale
[EICMA Show, Milan] Indian Motorcycle today unveiled the first limited edition timepiece it has made in partnership with the Swiss watchmaker Baume & Mercier.
The watch, called the Clifton Club Munro Limited Edition, celebrates an icon, a hero of speed, while at the same time christening the new partnership with the Indian Motorcycle Company – a collaboration in the same vein as the very successful Shelby Cobra watch that Baume & Mercier made a few years ago.
This chronograph is limited to just 1,967 pieces, reflecting the year that Munro set his iconic record.
It features a number of special details designed to commemorate the extraordinary achievement of Burt Munro.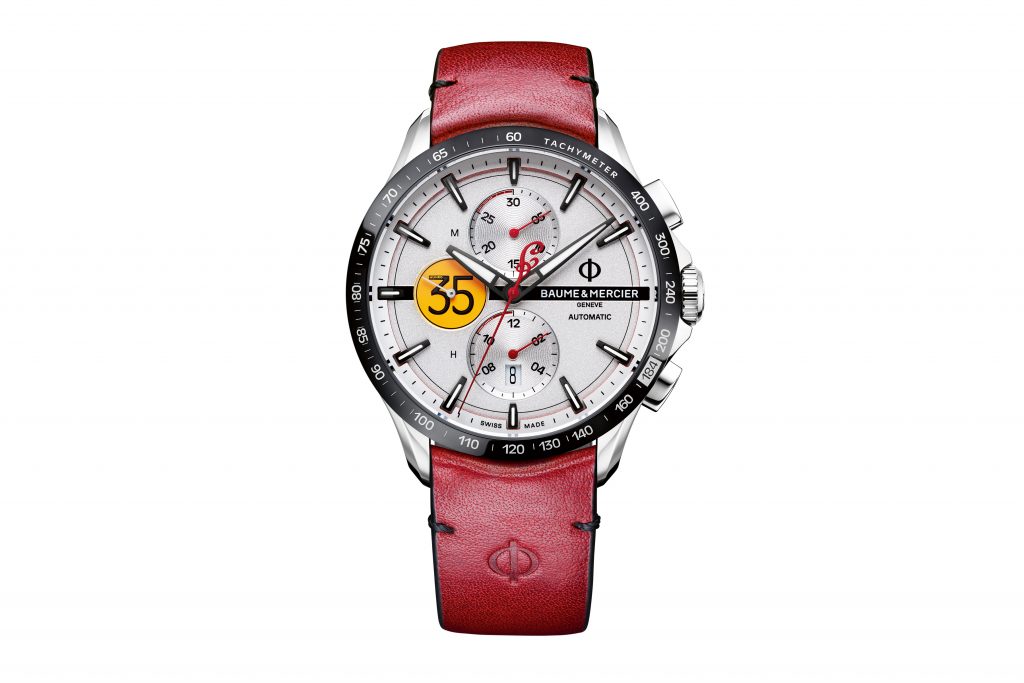 Immediately apparent is the large, yellow number 35, Munro's lucky number, in the chronograph seconds counter.
Next, the calfskin strap is coloured in the deep vermillion red identified with the Indian Motorcycle Company as well as the colour of the Munro Special streamliner that Burt set his record in.
The dial is silver-coloured and sandblasted to mimic the surface of the Bonneville Salt Flats, where the record was set.
The counterbalance of the seconds hand is the immediately recognisable Indian "I".
The 44mm stainless steel case has a tachymeter scale on the bezel, with Munro's record, 184 mph, highlighted on it.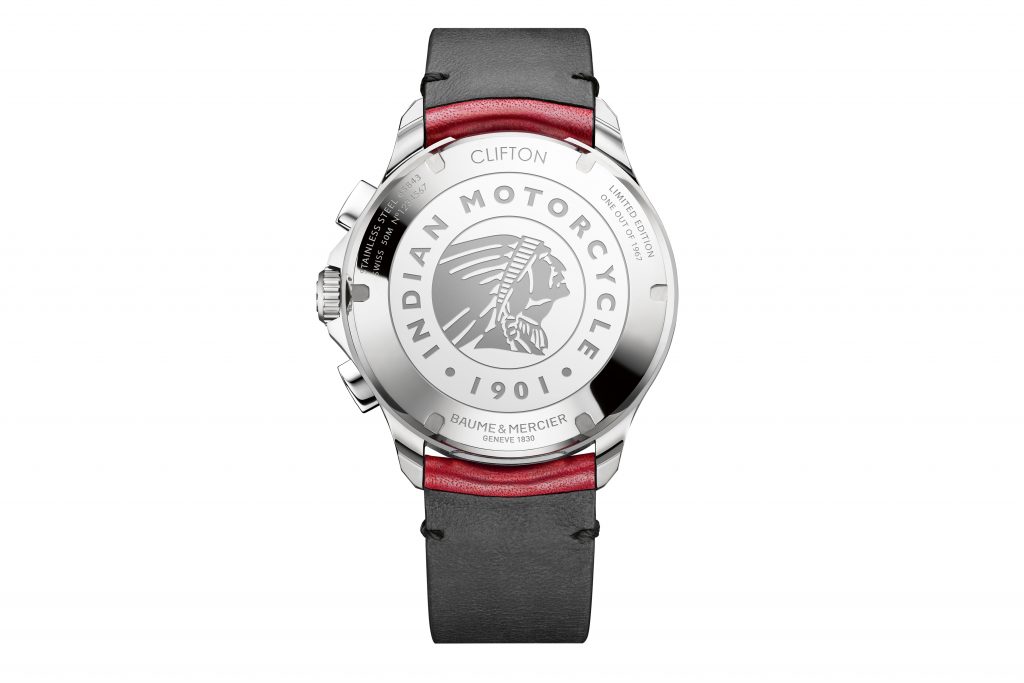 On the back, the famous Indian headdress logo of the Indian Motorcycle Company is engraved, as well as the number of the limited edition.
"We are proud to partner with Baume & Mercier to celebrate the legacy of Burt Munro. Baume & Mercier and Indian Motorcycle are both iconic brands with a storied history. We share many values, and are excited to work together to recognize the 50th anniversary of Burt's most famous land speed record."
– Steve Menneto, President of Motorcycles at Polaris Industries Inc.
"Baume & Mercier is very proud and honoured to pay tribute to the Legend Burt Munro. His passion for speed defied boundaries and created a legend that remains today. His spirit, unparalleled determination and legendary optimism have been an exceptional source of inspiration for Baume & Mercier. This Clifton Club Burt Munro Tribute Limited Edition embodies the man and his dream to make the legend last."
– Alain Zimmermann, CEO of Baume & Mercier
The watch can be pre-ordered now for delivery in April 2018. Expected retail price is 3'300 CHF / 3'750 USD.
###
NOTES TO EDITORS
The Need for Speed
From the very beginning, the two men behind Indian Motorcycle were obsessed in the pursuit of speed. Founders, George Hendee and Oscar Hedstrom, initially sought their thrills in bicycle racing, but when the first gasoline engines appeared, the pair saw an opportunity to mount these to bicycle frames. As Indian rapidly grew, pioneering men took these "motorcycles" and pushed their limits on epic adventures or in motordrome racing. Indian soon became renowned as a brand that set and broke speed records. Even in those early days, motorcyclists were regarded as thrill seekers and daredevils and today, the excitement of riding or racing at high speed is still a great draw.
Spirit is something Indian has shown in all its efforts in motorcycling, just as Baume & Mercier has in its watchmaking. Out of all of Indian's achievements, it is the spirit and legend of Burt Munro that has become a part of the fabric of not just Indian's culture, but of motorcycling culture in general.
When Burt Munro bought the bike in 1926 it was only capable of doing 55mph, but after spending the next 40 years modifying it in his shed, the then 68-year-old grandfather took it to the Bonneville Salt flats in Utah, USA. Here he set an under 1000cc record speed of 183.59 mph (294.5 km/h). However, Munro's son, John noticed that the average speed calculation on the original 1967 record certificate was inaccurate and that the speed reached was actually 184.087 mph (296.11 km/h). The official listing was therefore corrected 47 years later, and set the record that still stands today.
Paying tribute to this 50th anniversary, Baume & Mercier has designed a one-of-a-kind watch. Burt was a man of modest means and built his record-breaking Scout using basic tools and even made his own engine parts from salvaged metal over the course of 40 years. This official Indian Motorcycle watch can be proudly worn to remind the wearer that anything is possible with enough grit and determination and translates the enduring passion, a value conveyed by Baume & Mercier ever since.
A Devotee of the God of Speed
 "It's effort and concentration that makes life worthwhile." – Burt Munro
Burt Munro was an amazing character who dedicated his life to motorcycling. His interest in speed began at an early age. While working in construction, he became a professional speedway rider and continued to race motorcycles, rising to the top of the New Zealand racing scene. In 1926, he had the opportunity to buy a 1920 Indian Scout, but the bike's 50mph speed was not enough for a speed fan like Burt, so he began a project to make the Scout faster. Burt would often work on the Scout overnight, going on to work the next day with very little sleep. The red aerodynamic shell that encased his Scout, called a streamliner, has the black and yellow race number 35 on it, and this is now instantly recognisable as an icon of the can-do spirit that Burt demonstrated to make his dreams come true and make legendary moments.
The World's Fastest Indian
"You live more for five minutes going fast on a bike than other people do in all their life." – Burt Munro
Burt flew out to the Bonneville Salt Flats ten times. His first visit was a sightseeing trip to see what it was all about and during the other nine visits, he set three speed records. Burt set his first record in 1962, an 883cc class record of 178.95 mph (288 km/h) with the Scout engine bored out to 850cc. Four years later in 1966, the engine capacity had been punched out to 920cc and he set a 1000cc class record of 168.07 mph (270.476 km/h). The following year, 1967, after boring the engine out a further 30cc to make it 950cc, is when he set the 1000 cc class record of 184.087 mph (296.11 km/h). However, he was faster in qualifying, with one-way run of 190.07 mph (305.89 km/h). Burt once qualified at over 200 mph (320 km/h), but that was an unofficial run and was not counted.
He passed away in 1978, relatively unknown outside the world of motorcycling speed go-getters. He would never have expected the fame that has followed almost 40 years after he passed away. His story has inspired many generations of motorcyclists since. Burt simply wanted to be fast and set world records to make his mark on the world. His story was immortalised in the 2006 film called 'The World's Fastest Indian', starring Anthony Hopkins. A story, which everyone can dream about, translated by Baume & Mercier in a timeless design timepiece. Honouring a history imbued of a rich human adventure and celebrating extraordinary moments has always been dear to the Maison. Through this exceptional Limited Edition watch, Baume & Mercier is not only telling a story about design, but also and foremost about a passionate man, to make it last.
The Spirit of Munro Continues
 "Piloting a modified Indian Scout on the same salt as my great Uncle Burt will forever be one of my most-cherished experiences." – Lee Munro
Fifty years on from Burt's record run, the Indian Motorcycle' team returned to Bonneville in August 2017 with Burt's first cousin's grandson, Lee Munro. The aim was to pay tribute to Burt by having Lee Munro ride a modern-day Indian Scout that was sponsored and supported by Baume & Mercier. The Scout frame out of Indian R&D facility's 'boneyard' and mated a modified Scout V-twin engine into it along with an aerodynamic fairing. After many hours of work in their spare time, the team created a new land speed racer. Lee Munro and the team took the 'Spirit of Munro Scout' to California's El Mirage Dry Lake to test, and while there ended up setting a new land speed record of 186.681 mph (300 km/h) in the Southern California Timing Association MPS-G (Modified Partial Streamliner) 1350cc class. At the 69th Bonneville Speed week in August 2017, Lee and the Indian team achieved 191mph (307.39 km/h), going beyond the 184mph set by Burt, and almost reaching the milestone figure of 200mph, which he could not reached due to various technical problems.
Baume & Mercier was naturally proud to be part of this tribute as being the Maison celebrating vibrant witness of these unforgettable moments filled with a wealth of emotion.
# # #
ABOUT INDIAN MOTORCYCLE
Indian Motorcycle Company, a wholly owned subsidiary of Polaris Industries Inc. (NYSE: PII), is America's First Motorcycle Company. Founded in 1901, Indian Motorcycle has won the hearts of motorcyclists around the world and earned distinction as one of America's most legendary and iconic brands through unrivalled racing dominance, engineering prowess and countless innovations and industry firsts. Today that heritage and passion is reignited under new brand stewardship. To learn more, please visit www.indianmotorcycle.eu
MEDIA CONTACT
Dan Tye
PR Manager (EMEA)
Follow us on Twitter @IndianEMEA_PR
+44 (0) 7471 030606
press@indianmotorcycle.media